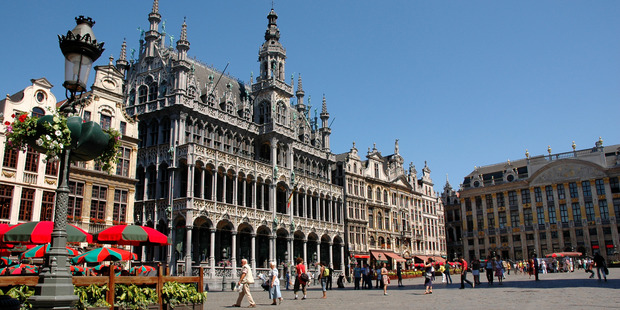 The Belgian capital is celebrating in style this year. 'Brusselicious' is a year-long festival bringing together fine food and Brussels culture.
Brussels has a quirky and creative edge: think swirling Art Nouveau (not least thanks to Belgian architects Victor Horta and Paul Hankar), comic-strip heroes (Tintin, Spirou and others) and Walloon Surrealism masters (René Magritte, Paul Delvaux and more). Today such artistic energy is also expressed through gourmet creativity.
During the Brusselicious festivities you can book a surreal "dinner in the sky", for which renowned chefs are serving gastronomic menus high over the city at venues such as the Atomium and the Bois de la Cambre. You can savour a ride in a sleek gourmet tram and take a tour of the best frites outlets in town.
Yet with or without the festivities, Brussels is a foodie haven to rival the best that Paris and Lyon can offer. And you'll find some of the most appealing gastro outlets right in the heart of the city - even in the most obvious tourist areas.
So start your culinary tour in the epicentre of tourist land: the glorious Grand Place.
It is lined, of course, by the beautiful Baroque facades of historic guild halls: number one, the bakers' hall; number three the tallow merchants' hall; number four the sack hall of the coopers' guild.
However, today number four houses a quite different guild - it is the House of the Master Chocolatemakers La Maison des Maîtres Chocolatiers. Ten of the top Belgian chocolate craftsmen show their products here - sculpted chocolate shoes by De Graeve; witty chocolate beer bottles by Laurent Gerbaud; as well as the finest pralines and the richest dark chocolates. At 4pm every Saturday and Sunday chocolate making demonstrations are held here, in English.
Other impressive sweet creations are just around the corner on Rue au Beurre. Since 1834, number 31 has been purveying biscuits made by the Dandoy family. It's a marvellous old building complete with creaking beams and suffused with the spicy aromas of speculoos, Belgium's much-loved traditional cinnamon biscuits. There's plenty of choice - with flavours such as Earl Grey, almonds, lemon and more.
A few doors down, number 19 is a fabulously chic shop showcasing Pierre Ledent's products, with the rows of stylishly presented chocolates and, perhaps better still, amazing displays of colourful macarons. There are even separate summer and winter "collections" of these increasingly fashionable confections - strawberry and mint for sunny days; cinnamon and green tea for cooler weather.
For restaurant fare, head west of the Grand Place to the Ste-Catherine district, once a great fish market and still thronged with seafood eateries. Join locals for fish soup, a plate of snails or shrimp crevettes at the stand-up-and-eat bar of La Mer du Nord (website in French) at Rue Ste Catherine 45. This no-nonsense fishmonger morphed into a lunchtime venue about six years ago and does buzzing business every day until about 6pm.
For more formal surrounds, make for La Belle Maraîchère at Place Ste-Catherine 11. Owned and run by the Devreker family, it is a classic fish restaurant offering a three-course daily market menu for €36. Or nearby try out the latest take on the food scene: Selecto (website in French) at Rue de Flandre 95 offers increasingly popular "bistronomy", gastronomic menus in a bistro setting - and with bistro prices too: two-course lunches are €18.
Alternatively step into tourist territory just east of the Grand Place. Amid throngs of cafes, Restaurant Vincent at Rue des Dominicains 8 is a much-loved local favourite, complete with atmospheric tiled walls and famed for its lobster, moules and crIpes. While for sheer elegance wander over to Galeries St Hubert where Taverne du Passage (website in French) at Galerie de la Reine 30 is an Art Deco haven serving Belgian classics such as la Poularde de Bruxelles - a richly creamy chicken stew.
Further information: See visitbrussels.be.
- INDEPENDENT