Matt Johnson discovers the leap from medical tourist to moped enthusiast is only a monkey (or two) away.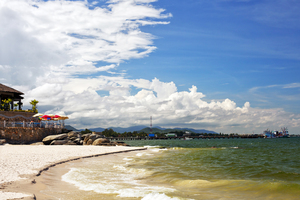 The 9.20am train from Hua Lamphong Station says more about Thailand than any guidebook ever can.
Like the rickety tracks beneath us, the country's infrastructure remains essentially sound but the chiropractic shock of our carriage being shunted on to another is a reminder the old world here has yet to be entirely eclipsed. Bangkok's pink skyline is soon crowded out by a corrugated gauntlet of shanty houses woven from barbed wire and faded Red Bull billboards.
And it is cheap. 132 Baht (around NZ$6) buys you a five-hour journey for two adults and two children.
We are headed south, the only farangs (westerners) in sight. Signs near the rear of our carriage indicate seating for monks only. Air-con is provided by the open windows. Our conductor sports a gun and a toothy smile.
For the journey's first hour or more, remnants of last year's flooding are everywhere; in several places the tracks still lie underwater.
Under one motorway overpass, a row of phone boxes sit half-submerged in mud. Then slowly, space and heat expand the horizon; plot points on a grid of palm fronds and limestone cliffs.
Our destination? Hua Hin, a coastal town 200km south of the Thai capital, home to the King's Summer Palace and a popular weekend getaway for "minted" Bangkokians.
Clearly, for the next three days, I am the only one in my party travelling as a medical tourist. Everyone else already has their togs on.
Six hours later, our farang terminal uniqueness evaporates the moment we disembark.
The footpaths around Hua Hin's wonderfully ornate train station are a euro-cocktail of twenty-something, backpacking extras from The Beach and a slightly more heavy-set demographic stretching out the folds in their bootleg T-shirts or sarongs. I'm reminded of a joke one expat told several nights earlier: he can always tell when he's in Thailand because there are so many Swedish people around.
At our hotel, the kids and their mother disappear to the pool as the woman at the front desk informs me I've missed that day's complimentary shuttle to the hospital. Flexing, I ask her if I look like a man in need of medical assistance. I'm met with the same serene smile train conductors with guns have.
By evening, Hua Hin's appeal is beginning to crystallise. It's officially winter, yet the temperature at 8pm is hovering in the low 20s. Around the centrally-located night market, tuk-tuk drivers take you where you want to go rather than to the nearest tailor or gem shop and, compared to Koh Samui and Phuket, the number of touts to beat off is negligible.
In short, it's not so much Pad Thai as Padded Thai: soft and easy. Thailand Lite for those wanting the rejuvenating glow the Kingdom can offer without the hassle.
Early next morning, my hospital shuttle pre-booked, I hit the streets. As the King's residence of choice, the town's red light district is restricted to one small street, Soi Bintabaht. And even this is free of Go-Go bars. It is deserted during daylight hours, so I'm in no danger of being propositioned when strolling past its shuttered drink spots before 9am.
At least, not until I reach the end of it.
"Hey Mister!"
Across the road, a hand raises itself:
"You want motorbike?"
"What?" I smile back. "To keep?"
The man sitting on a scooter leans forward, takes hold of its handlebars and makes vroom-vroom noises.
"Sabai sabai!" he adds. Or "Sweet As".
In a moment of madness, albeit cheap madness ($6 for the day), I make an inspection, hand over the passport photocopy I carry with me in the event I'm ever hit by a hotel shuttle on its way to a hospital, and rent a scooter. For the first couple of hours, speed is of the essence. The need for a lack of it.
Thais grow up in 50cc transit and consider motorbikes in the same way RAF pilots viewed Spitfires, an extension of their bodily selves. And just like the Battle of Britain, indicating or braking is strictly optional.
Thankfully, I quickly discover my ideal speed - one that enables me to be overtaken by a family of four on a nifty-50, so slowly that both the baby and the rooster standing on its running boards have time to give me the finger, everyone wearing beanies, of course, to guard against the 27C chill. Well, maybe not the rooster.
After that initiation period, Hua Hin's hidden extras begin to reveal themselves: A rehab where elephants washed out on the fumes of Chiang Mai or Bangkok are granted a second lease on life (bananas to feed them cost 50 baht a bunch). A massage school for the blind whose patron is the King; clients welcome. Plots of rice paddies braided together by spirit houses and a stifling work ethic.
And at sunset, across the railway tracks, is a seemingly abandoned Buddha Garden, frozen in the day's final colours. Then a monk appears and begins throwing stones at a grandstand of nearby monkeys.
"Monkey no good," he advises, unconcerned this might be the form either of our next lives could take.
My new-found mobility has uncovered a certain kind of tourist physics at play here - the further away you get from a Hilton, the more interesting Thailand becomes. You find the kind of rough edges that Kiwis have such an affinity for.
Then there is the food. The whole country is a sugar cube dipped in lime, and two wheels offer the opportunity to savour it and remain the only farang face in the crowd, not to mention make friends with the mobile kitchens where locals get their snacks.
The next morning, with both kids happily ensconced at the hotel kiddies' club, I rent extra headgear and take their mum up the coast. Turtle Temple is only 20 minutes away and Sai Noi beach just beyond it.
It isn't till we are heading back along the main drag of Petchkasem Rd, to return the bike and think about packing, that I finally see it. Just beyond a shopping mall. The hospital.
Only one reassuring thought enters my helmeted head: how sick could someone smart enough to book their annual medical at a beach resort possibly be?
TRAVELLERS' TIPS
Boy & Boom Bike Hire (Boy is the boy, Boom is the girl): Poon Suk Rd, Hua Hin. Across the road from the end of Soi Bintabaht. Bikes start at 150 Baht a day, though prices for longer periods of hire can be negotiated.
Hua Lamphong Station, Bangkok: Third class train tickets to Hua Hin level out at 100 Baht ($4), but prices for the first two trains of the day, at 8.05am and 9.15am, are frequently cheaper.
Matt Johnson paid his own way to Thailand, but still hasn't had his check-up.
Thailand's Top 5:
The team at Flight Centre Kerikeri share their top tips of things to do in Thailand:
1. Check out a Thai kick-boxing bout at Rajadamnern Boxing Stadium.
2. Visit the city of Hua Hin, where the Thai royal family spend most of their time. Take a tuk tuk tour through the streets to soak up the history.
3. Take a Thai cooking class. Most start with a tour around the markets so you can check out the ingredients.
4. The Chatuchak weekend markets are a must-do. With more than 5000 stalls selling everything from homewares to silk and handbags, you can haggle to your heart's content.
5. Take an overnight trip to Kanchanaburi. The Commonwealth Cemetery and Museum are a stark reminder of World War II. The steam train across the bridge and Hellfire Pass provides an amazing glimpse into our shared history.
* For more information on Thailand, contact the team at Flight Centre Kerikeri on 0800 427 555.