Bath butlers, shoe removers and fire stokers: tiny Bhutan treats its visitors like members of its royal family, Leah McLennan writes.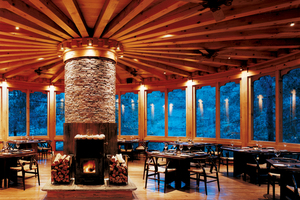 My butler is on his knees untying my shoe lace.
It's a strangely intimate and anxious moment.
I don't know where to look. Boy, I hope my feet don't smell? Do my socks match?
Pema, a charming 32-year-old Bhutanese man, holds my sneakers in parallel and neatly places them on the shoe rack at the front door.
"Now Mrs Leah, would you like to take your bath?"
Goodness me, I hope I'm not expected to stand there while he undresses me and hangs my clothes.
I never thought my first encounter with a real butler would be in the isolated kingdom of Bhutan, a country the size of Tasmania, hidden between India and China.
But this pristine Himalayan kingdom is home to some of the most luxurious hotels in the world.
Tourism has been deliberately restricted in Bhutan to reduce its impact on the environment and society, with foreign visitors required to pay a minimum of US$250 a day and to travel with local guides.
Backpacker hostels, therefore, are nowhere to be found in this haven for celebrities and the well-heeled.
At my hotel, COMO group's Uma Paro, previous guests have included the likes of Leonardo DiCaprio and Keira Knightley.
A steep winding road leads up to this stylish boutique hotel, which is perched on a pine-covered hillside overlooking the small, pretty township of Paro, the country's cultural heart.
Uma Paro is just 10 minutes from the country's international airport and two-hours' drive from the capital Thimphu, but feels isolated and remote, like a Bhutanese monastery.
Echoing the appearance of a dzong (a Bhutanese fortress-monastery), Uma Paro is built from stone, wood and tiles and has been handcrafted using age-old techniques.
The main building has white-washed walls, wonderfully colourful eaves and window frames and an internal stone courtyard with open fires.
The hotel features 20 rooms and nine villas and offers a range of accommodation styles and prices. I'm staying in a one-bedroom villa, which has a kitchen, a lounge with a wood fire, a spacious bathroom and a private massage room.
The white walls are vividly handpainted with traditional Bhutanese flower and animal designs and the view from the large windows over Paro Valley and the surrounding mountains takes my breath away.
The bed cover is made from natural Indian cotton and has been hand-stitched with motifs paying homage to Bhutan's Buddhist culture and the hand-knotted rugs have been sourced from nearby Nepal.
The staff - like most people in Bhutan - wear national dress. The women are gorgeous in their long robes (kira), while the men are in knee-length dressing-gowns (gho).
Each morning I'm warmed by a traditional Bhutanese breakfast - pork and red rice porridge - in the restaurant, which is a stunning circular pavilion set among tall pine trees, with a fireplace at its centre.
Menus at Uma Paro are created by New Zealander Jillene Slui and feature Indian, Bhutanese and Western dishes made from organic produce grown in the surrounding valleys.
I spend my days hiking to Tiger's Nest, Bhutan's most famous monastery, and visiting a nunnery. The hotel helps improve the lives of women and girls by supplying the nunnery with solar panels and other necessities.
In four days I find it hard to fit in everything I want to do: ride the hotel's mountain bikes, explore Paro town, learn the national sport, archery, and make use of the hotel's facilities - indoor heated pool, yoga studio, spa, gym and hot-stone bath house.
On my final day I brace myself for the flight out, downing a stiff drink at 11am. On the incoming flight from Bangkok to Paro the pilot darted his way around the craggy, snow-capped peaks and then banked sharply as he approached the tarmac.
My butler catches me mid-drink in the Uma Paro bar and I explain I'm a tad nervous about the flight.
"Mrs Leah, there is nothing to worry about," Pema says.
"If I could I would come with you and hold your hand. I will miss you very much."
His comment is indicative of the above-and-beyond service I have experienced at Uma Paro and of the welcoming nature of the Bhutanese people themselves.
IF YOU GO
Getting there: Druk Air (the only airline flying to Bhutan) flies from Bangkok, Thailand, to Paro, Bhutan (three hours). Visas are required and must be obtained by a licensed tour operator. Uma Paro hotel can arrange everything from flights to visa applications.
Staying there: COMO Hotels & Resorts operates Uma Paro, near the town of Paro in western Bhutan. The hotel has a range of accommodation styles, from standard rooms to two-bedroom villas. All villas come with a personal butler service (butlers do everything from babysitting to unpacking your bag and generally acting as your personal assistant).
The Kingdom of Bhutan also requires visitors to pay a US$20 visa fee and US$95 a person per day (comprising a daily Royalty Fee of US$65 and a Free Independent Traveller fee of US$30).
Leah McLennan travelled courtesy of Uma Paro.