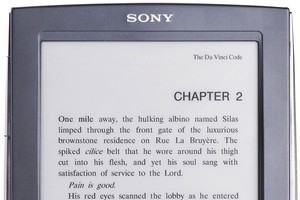 Whether you are convinced or not that electronic book readers are the future (and, being old-fashioned, I'm not totally), there is no argument that their portability makes them the traveller's friend.
Sony's latest, the Sony Reader, is extremely light (it weighs just 168g) yet can hold up to 1200 ebooks on its internal memory and many more if you use micro SD cards.
The most important bit, the screen, is 6 inches, has anti-glare and allows you to turn pages and zoom in and out by touching and pinching (similar to iPads and most smartphones).
The screen, in terms of readability and ease of use, is very good, particularly compared to my basic Kobo. And if the operating software is nothing special, it's easy enough to navigate around.
As is now common with eReaders, this one allows you to connect to the internet using Wi-Fi, which means you can surf the internet abroad.
The Wi-Fi is only sort of useful, however. It certainly means you can connect to Google or Wikipedia if you need an explanation for something you've read.
However, the display is, of course, black and white and it's a bit slow and stuttery visually as it loads webpages.
Its websurfing ability is perhaps best thought of as a back-up if your smartphone runs out of juice.
However, as an ebook reader, this does exactly what it says on the box.
* The Sony Reader is $229.