Savannah is known for slavery, elegance and - as Rob McFarland finds - a famous film location.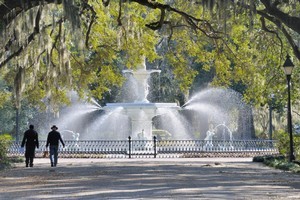 Of all Savannah's 22 elegant, park-like squares, there is one that tourists make a beeline for. It's called Chippewa Square and the reason is because it's where Forrest Gump sat on a bench and famously declared: "Life is like a box of chocolates."
Visitors to Savannah seem to have a good idea what they'll get because 50 million of them have been to the city in the past 10 years, lured by its rich history, graceful architecture and scenic squares.
Savannah has retained its charm despite its popularity. Much of this is because of the region's legendary southern hospitality. People really do talk like Forrest Gump around here.
A good way to get your bearings is to take one of the many hop-on/hop-off trolley tours that leave from the visitor centre on the outskirts of town. I boarded a bright blue Oglethorpe trolley bus and for 90 minutes I trundled around the city's sights learning a little about its history.
Savannah's grid system of streets and 24 squares was laid out by British general James Oglethorpe in 1733.
It was America's first planned city and is known as one of its prettiest. But the design was driven by more practical reasons - the squares provided space for military exercises and were an attempt to reduce the cramped conditions that fuelled the Great Fire of London in 1666.
Today, the 22 remaining squares are shaded havens of green. Dotted around them are dozens of elegant historic homes that offer guided tours.
I'd particularly recommend the Andrew Low House, the birthplace of the founder of the Girls Scouts movement, Juliette Gordon Low, which has been restored to how it looked in the mid-18th-century; and the Owens-Thomas House.
Also worth a visit is cobblestoned River St, beside the Savannah River, which has many shops, bars and restaurants.
In the 1700s Savannah was a thriving seaport. Legend has it that pirates lured men to a tavern near the river, plied them with drink then shanghaied them via secret passageways on to ships, never to be seen again. This notorious inn, which is mentioned in Robert Louis Stevenson's Treasure Island, is now the Pirates' House restaurant and museum.
To finish off my day I headed for 12ha Forsyth Park, famous for its avenues of oak trees draped in Spanish moss. It's also home to a striking memorial to volunteers who died fighting for the Confederacy (the 11 southern states that fought the north in the Civil War).
It's one of many reminders of the Civil War and when I ask a local how people feel today about the conflict, she replies: "You're in the Deep South here, honey. There's some people who don't reckon the war has ended yet."
IF YOU GO
Getting there: United Airlines flies to Atlanta, Georgia, via Los Angeles. Phone 0800 747 400 to book.
Further information: See savannahvisit.com.
Rob McFarland was a guest of United Airlines and Savannah Area Convention & Visitors Bureau.