Getting to North Korea is, in reality, easy and it is certainly the oddest country, but is not for everyone writes Chris Pritchard.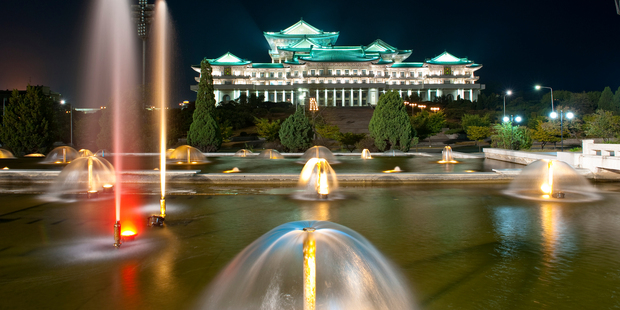 It was like a spy movie, except I couldn't decide whether I was hero or villain.
We stepped from the train at Mount Myohyang. A Volvo squealed to a stop alongside us on the shiny platform. The grey-suited driver jumped out, opened a rear door and we clambered in for a short drive to the pyramid-shaped Hyangsan Hotel.
We were a group of two in one of the world's most extraordinary countries.
Only 1500 westerners travel annually to North Korea - making it one of the least visited places on the planet. They're outnumbered by curious Chinese from across the border and Japanese (mostly of Korean background).
To put this tiny number in perspective: the biggest tourism destinations on earth boast millions of visitors each year.
Even Bhutan - the so-called hermit kingdom in the Himalayas, which limits access and admitted few outsiders until the 1970s - allowed 30,000 visitors annually until last year and has just increased this total to 100,000.
Visiting time-warp North Korea is like stepping into a museum.
A self-styled utopia, it's sometimes called the world's only remaining Stalinist society.
The country was founded after World War II by Kim Il Sung, its first president, who's called the Great Leader. After he died, his son Kim Jong Il took over and was referred to as Dear Leader.
After Kim Jong Il's death late last year power passed to one of his sons, Kim Jong Un, initially dubbed Great Successor and, subsequently, Supreme Leader.
The nation is often termed "forbidden" and getting there sometimes seems almost as difficult as visiting the moon.
In reality, it's easy. You buy a visa, pay an agency and you're on your way.
Those who have been there commonly describe it as the most interesting nation they've visited. It's certainly the oddest.
But it's not for everyone.
If you're not interested in politics and prefer lazing by resort pools, it's not for you. If you object to a long list of rules - including stipulations that photos can be taken only where guides permit - you should choose somewhere else.
Certainly, it's a country where you're not free to wander.
My wife and I slipped from our Pyongyang hotel for a few hours, having been told we were free to go wherever we liked.
When we returned, our minders - Mr Kang and Mr Ri - were pacing in the lobby.
"We were terribly worried," said Mr Kang.
"You must be exhausted," added Mr Ri.
"Please go upstairs to rest."
When I pointed out we weren't tired and enjoyed city strolls, Mr Ri changed tack.
"People may mistake you for Americans," he warned.
"They may get angry and attack you."
Critics of North Korean tours say officialdom shows only what it wants you to see - Mansudae Grand Monument's giant Kim Il Sung statue, Kim Il Sung Square, the Grand People's Study House, the Tower of Juche Idea (alongside the Taedong River, with panoramic views from the summit), Manyongdae Children's Palace, the Triumphal Arch (taller than the Arc de Triomphe), Pyongyang Circus, ornate subway stations (supplementing surface trams), Pyongyang Grand Theatre's opera and handpicked restaurants.
During our three-hour Pyongyang-Mount Myohyang trip, passing collective farms where workers harvested crops, Mr Ri reminded us: "No photos - they can be manipulated for propaganda."
Trains with local residents passed by. Mr Kang - in a country where few have access to foreign broadcasts or the internet - asked the difference between auctions and lotteries. He knew the words but not the concepts. I did my best.
"Isn't Mount Myohyang popular?" I asked.
"Very popular," said Mr Ri.
"So why's this train empty?" I wondered aloud.
"It's your private train," Mr Ri beamed.
This bizarre honour confused me. Were we being segregated from locals or they from us? It was like Pyongyang's streets, where pedestrians treated us as invisible.
It was too early for lunch at the Hyangsan Hotel so we walked to a lobby bar where a giant bottle of insam sul (rice spirit in which ginseng is steeped), containing a dead snake, was displayed.
We shared many glasses, with me playing host, while discussing the afternoon's strenuous hillside walk. With each glass Mr Kang and Mr Ri grew redder and redder until one of them mercifully announced: "We have decided the walk will be cancelled."
Mount Myohyang's main attraction is an International Friendship Exhibition where 90,000 gifts to Kim Il Sung are displayed - ranging from limousines and train carriages to ties, scarves, watches, ivory carvings and paintings. They were presented by presidents (including dead or deposed dictators), other foreign dignitaries and delegations of pro-North Korean organisations.
Back in Pyongyang, Mr Kang asked me - as we passed a previously-visited museum - if I recalled how many bulbs were in its main chandelier.
"I don't remember," I replied truthfully.
"You weren't paying attention yesterday," he admonished. "I could tell."
The next morning we headed south, on a broad but mostly empty highway, to the DMZ (Demilitarised Zone) - a potential flashpoint most tourists see from South Korea, entering huts straddling the border.
Instead, we watched South Korean soldiers watching us watching them.
On the way to Kaesong, where we stayed at the traditional-style Folk Hotel, a road sign advised Seoul, the South Korean capital, was only 70kms away. Jokingly, I suggested we have lunch there.
Mr Kang and Mr Ri stared at me blankly.
"This will not be possible until after unification," explained Mr Kang.
- AAP