Singapore also has an easier-on-the-plastic side, writes Kieran Nash.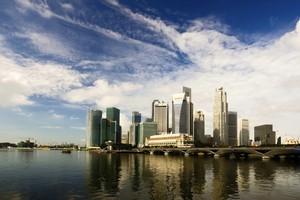 The two main things people associate with the city-state are shopping and the lack of chewing gum available for sale. Other contenders for "top Singapore attractions" include drinking high-priced Singapore Sling cocktails at Raffles Hotel, visiting designer supermalls on Orchard Rd or swimming in the rooftop pool at the 57-storey Marina Bay Sands Hotel (rooms from $400 a night).
These wonders of the modern age can be fun, but they come at a price. A weekend in the ultra-modern city can set even a moderately frugal visitor back $1000. But many travellers are in Singapore as a stopover to an already expensive holiday and are counting every cent - either before their New Zealand dollar gets swallowed by a mightier currency or after the credit card bill becomes a headache.
Although the glossy brochures wouldn't have you believe it, travellers can have a blast in Singapore without emptying their wallets or purses - a weekend's entertainment in Singapore can cost you less than its equivalent in Auckland, Wellington, or possibly even Hamilton.
The first thing travellers need to be aware of is Singapore's food. Like any international city, it is littered with Starbucks' mocha-choca-caramel-marshmallow iced coffeshake abominations and Ronald McDonald's golden arches. Stay away! You'll leave knowing less about the place than when you arrived.
The best place to eat is at one of the hundreds of hawker centres around the city. For the uninitiated, hawker centres are huge food courts with rows and rows of vendors plying their wares. Stalls named Wonderful Yummy, Fortunate Restaurant and Auntie Carrot Cake sell everything from chicken feet to pig's intestines, frogs legs and the infamous "century egg". But in between the more curious items, most are toned down for even the biggest food wusses.
Some of the local favourites are the relatively plain chicken rice (boiled chicken and gravy with rice and vegetables), kaya toast (sweet toast dipped in soft-boiled egg), and yong tau foo, a soup dish that allows you to select your own vegetables and meat which are promptly boiled up and served with or without noodles.
The best part? Most mains will set you back around $3, so it is possible to eat well for $10-15 a day.
People seem to have hang-ups about the quality of food in places such as these. Fear not. Just like in most major urban centres, these places have a food hygiene ratings system, most have a B - and Singaporeans are not people who bend the rules very often.
For those who like to combat the 35C heat with a cool beverage, hawker centres offer an array of fresh juices (watermelon, dragonfruit, lime and a whole rainbow of other flavours) for $1-$3. Beer, which can cost almost $20 for a pint at one of the many fancy clubs on the island, is usually $6 for a 750ml bottle.
Eating is such a national pastime in Singapore that many people don't have stoves at home as it's cheaper and easier to eat out. Visitors could spend their whole time eating and walking off their food en route to the next hawker centre.
But those who are sick of walking and want to experience one of the world's most advanced subway systems can use the Mass Rapid Transport system, known to locals as the MRT. Most of New Zealand's city dwellers are used to waiting 20 minutes for a bus or train, only to crowd onto a noisy, smelly, expensive ride which is about as fun as the interior of a Kinder Surprise. The MRT is not exactly fun, but it will take you to most places in Singapore, the average trip is less than $2 and the most you'll wait is six minutes.
It's virtually impossible to visit Singapore without entering a mall, and one of the most unusual is the Mustafa Centre, a wondrous bastion of capitalism in the heart of Little India. Two buildings, 150,000 products and open 24 hours. The massive area takes up two blocks and even those not wanting to spend money can spend hours wandering around, looking at Pierre Cardin shirts and novelty hats one moment and fluorescent Indian sweet treats the next. However those looking for a second-hand car are out of luck - Mustafa stopped selling them a few years ago.
International trade is one of the building blocks of the manic consumer paradise that is Singapore. But beneath the gilded veneer of the high-end malls and dizzying hotels, there's also a buzzing culture centred around trade at a micro level. It's where people work hard and living is cheap. Visit this side of Singapore and you'll leave with bank balance intact. You might just experience a bit of culture, too.
Take a hike
Walking through lush rainforest is an activity more likely associated with neighbouring Indonesia or Borneo than with the sprawling urban mass of Singapore. But Singapore is probably the only city in the world where it is possible to board an air-conditioned subway train, travel up an escalator to a mall, walk past designer fashion stores and half an hour later be surrounded by forest, complete with pythons, monitor lizards and monkeys.
There are a large number of parks in Singapore for casual walkers and keen trampers alike. It has triple-pronged benefits for budget-conscious travellers - it's free, fitness-oriented and offers a side to Singapore most never knew existed.
One of the smaller parks is Mount Faber Scenic Park, one of the oldest in Singapore and found on the southern tip of the landmass. More cashed-up tourists may take a train to Sentosa Island to drink buckets of beer, but the park itself offers more than enough to keep itchy-footed tourists happy.
It's a short walk from the Harbourfront rail station's three-storey mall and a relatively leisurely stroll, weaving about 5km through the bush with the occasional under-construction skyscraper poking through the treeline like something out of a post-apocalyptic movie. Plenty of water is a must even for a casual stroll - half an hour is all it takes for perspiration to drench the shirt and sting the eyes. One of Mount Faber's prizes is a curved boardwalk which soars over and through the trees, a piece of architecture that is a skateboarder's dream but feels at home in the bush.
Those wanting a more complete jungle experience - and those with more time to spend - can step it up by heading to MacRitchie Reservoir in the centre of the island. A 12km loop starts off an easy hike, past kayakers on the lake and gently upwards as the trees gather overhead in a lush canopy of vine-riddled green.
This is where walkers are most likely to see wild monkeys, although with the size of fangs one displayed when it yawned it pays not to get too close. Signs warn of a hefty fine to feed them, the food making the primates more prone to attack visitors to their habitat. Those with a keen eye are also likely to spot snakes and monitor lizards just off the beaten track.
At about the 5km mark the trail steepens to its climax of the walk - a 250m one-way bridge suspended 25m above the ground offering bird's-eye views of the noisy canopy. The alarming creaks of the narrow bridge are not for the height-conscious but offer a view even unparalleled by some of the city's numerous skyscrapers.
Two to three hours later the walk's over and the skyscrapers emerge. This is Singapore, after all.
Singapore's Top 5
Flight Centre's Edrei Valath originates from Singapore and shares his top five must-do's:
1. Visit the Changi Chapel and Museum to discover the poignant stories of prisoners of war held in the city during World War II. Murals the men painted depict their harsh lives during that time.
2. Wander down Arab St and be amazed at the amount of silk for sale on one small stretch of road. Better still, haggle with the owners for the best prices.
3. Take a cruise on the Singapore River in the evening. You get an amazing view of the Merlion statues as well as the contrast between old shop houses along the river and modern skyscrapers in the background.
4 .Visit Pulau Ubin island and step into the past. This throwback to the 1950s will give you an idea of how Singapore looked and felt before it became ultra-modern.
5. Try the mouth-watering cuisine of the Peranakan. Often spicy, Peranakan food is always fragrant, tasty and delicious. It blends the best of Chinese and Malay cooking into a mind-boggling mix that will leave you begging for more.
For more information on Singapore, contact Edrei Valath at Flight Centre on 0800 427 555.
Kieran Nash paid his own way to Singapore.