Avoid the pre-Christmas madness and invest in some healthy healing time for yourself. Rosie Walford heads to Waiheke Island for a day of alternative pampering.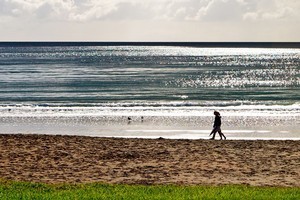 Worldwide, the most authentic healers are not to be found in glamorous marbled spas. The best tend to have loyal followings, and practice their magic from secluded simple treatment rooms. People search them out. And so it is on Waiheke. The island, famous for its natural beauty and restorative powers, hides some remarkable yoga teachers and masseurs among its rolling hills.
The hidden healers we've mentioned here are mature practitioners who have integrated multiple modalities of massage, natural medicine and energy work over the years. Their reputations are such that you won't even see a sign at their door. But book yourself a half-day in advance, cruise 35 minutes across to quirky Waiheke, and they will tailor you a multilayered treatment which takes you far beyond your ordinary realms.
Of course the mere act of leaving the city starts to rebalance the soul. As the Skytower shrinks to the size of a safety pin, and seabirds dive in the ferry's wake, a sense of proportion returns.
You need just a short, traffic-free taxi ride through Waiheke greenery to be delivered - already feeling better - into expert pampering hands.
NEAL GHOSHAL: Individual yoga followed by thai massage
A gravel road winds above the main village and overlooks Blackpool Bay. In a simple glassy cabin, Neal Ghoshal welcomes me with a beam. This willowy and radiant anglo-Indian has been teaching yoga and massaging for 13 years; his past as a banker in the city of London is long forgotten.
I've practiced yoga for some time but have a niggling back. I have been told to visit Neal because I want to resolve it, long-term. Neal initially watches my movements and energy levels, and observes that I override stiffness to reach certain postures. Apparently, I could valiantly practice yoga like this for years and never help my spine. Inspired by his yoga teacher Donna Farhi and informed by anatomical Thai massage training, Neal leads some simple stretches, urging me to feel my body from the inside. With a light hand on my sacrum, he shows me how I can release a habitual tilt of the pelvis and find an amazing sense of alignment up and down my spine from that point, in every pose. I learn resting positions that further support my posture and abdominal lifts that will help me stay aligned. He's teaching me how to look after my ageing body for myself, with kindness and caring attention. It feels great.
As I lie in shavasana, the blissful stillness at the end of a yoga session, my massage begins. I'm still in my loose yoga clothes, and Neal starts by drawing my legs away from my hips. He progresses up my body, lifting, twisting, and loosening me at every joint. He uses his long limbs and the gravity of my bodyweight to achieve deep passive stretches. By the time he's finished with acupressure on my scalp, I'm straightened out and everything feels as though it's in the optimal place. I float off feeling encouraged, unusually graceful, and aware enough to keep myself in good shape.
Three weeks later I have enduring body-memory of the session and a subtle felt-sense of true alignment that feels extremely healthy and beneficial to my back as I practice at home.
Neal's extended individual yoga and thai massage session is up to 2.5 hours and costs $100 per hour. Neal also teaches yoga regularly and offers, periodically, The Big Relax - a deeply relaxing half-day of restorative yoga on Waiheke. He also offers profoundly restorative yoga retreats across New Zealand.
Contact: Neal Ghoshal online or ph (09) 372 7650.
Follow with: A walk along Blackpool beach, over a steep hill and down to the Matiatia ferry. Or visit to Fenice cafe in Oneroa, and a walk on Oneroa beach.
NICOLE BOSTOCK: Ayurvedic massage and sirodhaya hot oil
It seems unlikely, but the place to go for Auckland's most profoundly calming treatment is a clifftop with vast expanses of ocean swirling below. Up a precipitous driveway over Enclosure Bay stands a barn lined with white saris and shelves of herbal medicines. Here, Nicole Bostock works her magic.
Nicole practices both herbal medicine and ayurveda - the ancient Indian system that focuses on mental and physical health from a holistic perspective - so she enquires into my frazzled sleep, digestion, energy levels and moods, taking into account the day's blustery winds as she concocts me a special oil. It's rich with sesame, camphor and organic Indian herbs.
For the first hour, Nicole's hands work in long, oiled sweeps up my body, rolling muscle over bone with assured firmness. She has an extraordinary capacity to sense blockages and works my knots to submission. Where there's a lot of congestion to be shifted, she applies a warming balm and returns later. Throughout, I'm cocooned in warmed towels and cushions in just the right places so, while the massage is profoundly rearranging my physical being, the effect is of complete nurturance and spoiling.
Then Nicole changes headrest and shirodara begins. Hot aromatic brahmi oil trickles evenly and continuously on to my forehead and spreads. At first I conjure mental images of molten chocolate folding over cake, but soon the mind that labels sensations simply surrenders. The delicate sensation is too diffuse, too liquefied to locate and my attention itself becomes a quiet, warm soft pool, perhaps faraway, perhaps deep inside. An hour later, I'm aware of my body in absolute peace, soft, as though it had no skeleton, new and tender as a tiny baby. I rise feeling as though I've had a very safe long comfortable sleep. My body feels healthy and the all-encompassing peace I am left with is a rare and precious thing.
Nicole's extended package of full body rejuvenation massage and sirodara mental wellbeing is a generous 2.5 hours and costs $250. Nicole also offers ayurvedic consultations, teaches ayurvedic cooking and blends remarkably powerful herbal medicines and tonics.
Contact: Ayurveda New Zealand or ph (09) 372 6008.
Follow with: A walk down Nicole's steep track to her private, very rocky beach, or, more easily to tiny, sheltered Enclosure Bay. A short taxi ride would deliver you to the Cory Rd lookout from where you can walk down and east along Palm Beach to the dairy, fish and chip shop, and bus to to the ferry.
SIBYLLA MECKEL: QiGong and abdominal massage
I'm wavering around during a time of transition, and what I want is my confidence and positive energy back. I've heard that Sybilla teaches QiGong - a combination of Chinese medicine, movement meditations and breathing - out in nature, and also offers an ancient internal organ massage. Together, these Taoist practices aim to restore inner balance, energy and trust.
Sybilla certainly knows how to work with the path of least resistance: when she collects me from the ferry terminal, she immediately asks whether I feel most comfortable in bush, hilltop or beach. My answer was bush - and away we drove.
We start with QiGong - movement meditation. Sibylla invites me to stand facing some handsome trees, and to shake up and down with bended knees. It's strangely energising and fun. We imagine scooping up the energy of the earth - it's visualisation really - and in one mad moment, Sibylla asks me to absorb the sweet smell of the earth through nostrils in my toes. I'm surprised how much I'm enjoying this strange activity and Sibylla's explanations.
The sceptic in me asks difficult questions which Sibylla answers intelligently. I do actually pick up an emotional and spiritual vibration from the old, solid tree, and as we consciously soak in the morning sunlight, I feel happy, centred and capable of anything.
We move to Sibylla's massage studio - the downstairs of a semi-rural home - for abdominal massage (ChiNieTsang). It's very delicate and directs my attention right inside. I discover that I'm not breathing down into the lower lobes of my lungs, and unexpectedly this awareness brings up some grief from long ago. Sibylla gently works with the tightness in my chest, helping me release some stagnant old sorrow which I don't need any more.
I still occasionally practise the movements Sibylla showed me, and gain energy, when in nature and alone. I can't begin to rationalise the shifts which my session brought about, but know that Sybilla is helpful in unblocking energy and balancing emotions. Those Taoists were on to something, indeed.
Sibylla's extended package of QiGong and abdominal massage is $3 hours, includes ferry pickup, and costs $250 (sliding scale in cases of need). Sibylla also runs weekend courses in QiGong and regular classes on Waiheke.
Contact: Transformational Bodywork
Follow with: A walk on Oneroa beach and visit to Fenice Cafe, or be dropped for a walk on Surfdale beach and visit Island Thyme deli (but check the opening hours).
After these treatments I felt quiet and beautifully reflective. Waiheke's lush abundant landscape seemed to be the perfect foil. Although there are vineyards aplenty to enjoy, I found the best way to follow these sessions was with a beach walk and notebook, where I could absorb the insights and sensations my treatments had brought.
For solitude you might enjoy a walk through the lush mature bush at Forest and Bird reserve, Onetangi or one of the dramatic coastal walks round headlands on either side of Matiatia ferry terminal. For these you'd need real walking shoes, and a good couple of hours. You can get full and helpful guidance from the Waiheke I-site or ph (09) 372 1234.
One session with any of these talented practitioners is wonderful, even life-changing. They are authentic experts who are justly renowned. Who knows what transformations a series of appointments would bring? Each of the hidden healers likes to work deeper and deeper over time with their clients, and I for one, am intending to arrange a life which allows for regular treatments on Waiheke. I can think of few better ways to invest time and money than directly, like this, on bodily, emotional and spiritual wellbeing.