This revamped monument awes even the most hardened scientists, writes Brandon Loomis.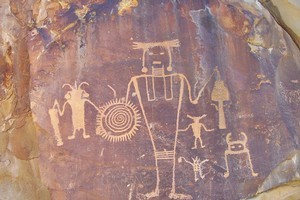 This place just hasn't been its 149 million-year-old self lately. But that's all changing. After five years of safety precautions and reconstruction, the United States' National Park Service is putting the dinosaur back in Dinosaur National Monument.
The monument's 1500-bone quarry - allowing visitors to see and even touch fossils exactly where an ancient river planted them - has returned after structural improvements to the steel-and-glass building preserving it.
It's a one-of-a-kind place where researchers have exposed, but not removed, a 15m x 61m wall of bones.
"Having that magic moment of seeing these dinosaur remains where they were buried is one of the things that is special about this place," says park palaeontologist Dan Chure.
Even hardened scientists stand in awe when they first arrive.
"This wall of bones is really one of the great spectacles ... in the entire national park system."
Its temporary isolation, because of shifting clay that threatened a collapse of the enclosure, built in 1958, saw visitor numbers drop from about 300,000 a year to 200,000.
Nearby in Vernal, Utah, motels reported a decline in customers, especially European travellers who plan their stops months in advance.
Now the eastern Utah tourism engine returns to a regional economy that has relied largely on energy production in recent years.
"I have high hopes that it's going to help us," said Markee Lee Bodily, who bought a petrol station and grill just outside the monument this year.
"Last time I was in the quarry, I was on a first-grade field trip. I'm going next week for my son's birthday."
Of course, there is more to the monument than bones. The park also offers whitewater rafting and scenic drives or hikes into canyon country. There's riverside desert camping among tiny, scurrying lizards, and recently hundreds of sandhill cranes flapped in the Green River on a migratory stopover, their croaks a reminder of the march of time and biology since the Jurassic Period.
The dinosaur bones, though, are what first drew the Carnegie Museum's attention to the site more than a century ago, and later the National Park Service. Scientific teams - most recently from Brigham Young University - are still identifying new species in rocks not far from the quarry.
Over the years, until the government decided to preserve the rest of the fossils for viewing, universities and museums removed the bones of more than 600 creatures from either side of the remaining wall. Besides 10 species of dinosaurs, the quarry has yielded a crocodile, two turtles, a lizard, tens of thousands of freshwater clams and carbonised plant remains.
At least 100 individual dinosaurs remain exposed and the profile skull of a plant-eating Camarasaurus is prominent.
The other species, whose leg bones, ribs and other remnants are intertwined, include: Diplodocus, at 27.4m the longest of the long-necked, planting-eating sauropods found here; Apatosaurus, weighing 54.4 tonnes with pencil-like teeth that show up only at the front of its snout; Camptosaurus, a biped like humans and not any taller, but longer and about 455kg accounting for its tail; Dryosaurus, another relatively small bipedal plant-eater; Stegosaurus, the spike-tailed plant-eater with bony back fins that may have helped regulate its temperature; Allosaurus, the most abundant meat-eater found among this region's sandstone; Ceratosaurus, a sharp-toothed carnivore with a horned nose; Torvosaurus, a meat-eater whose Latin name means "savage lizard".
Besides being safer - the structure is now anchored to bedrock - the building now offers a closer look at most of the bone wall. A fence protecting most of the wall allows an approach within less than 1m, and a section about 7.5m long can be touched by visitors.
A second-level balcony has been extended closer to the wall for a better view of higher fossils.
The visitor centre, which had also started to buckle dangerously, was moved down the hill where a canopy formerly served as a shuttle stop. Visitors will still catch a shuttle from there to the quarry during the busy summers.
"It's really gratifying to see [the] quarry reopen," says park superintendent Mary Risser. She made the painful decision to close the attraction in 2006.
"When you have an engineer telling you you're playing Russian roulette with people's lives, it's an easy decision to make."
CHECKLIST
Getting there: Air New Zealand flies daily to Los Angeles and San Francisco. There are shuttle flights from both airports to Salt Lake City in Utah.
Further information: See the Dinosaur National Monument website.
- AAP