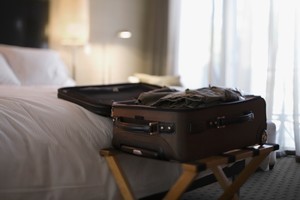 Customers are using the threat of a bad review on websites such as TripAdvisor to try to get accommodation upgrades or refunds.
A report from the British hospitality industry said more than 80 hotel and bed-and-breakfast owners had reported such threats from customers.
TripAdvisor claims to be the world's largest travel site, with more than 50 million reviews written by consumers on its pages.
Incidents included one guest who asked for a 50 per cent discount on check-in in order to prevent a "one-star review" and false reports of theft and food poisoning, the Daily Telegraph reported.
New Zealand accommodation providers say the problem is less common here.
Motel Association chief executive Michael Baines said in the past customers looking for a discount or free accommodation would use the threat of a letter to Fair Go or Target.
"What the internet is doing is giving those guys a few more tools than they've ever had before. TripAdvisor is non-discriminatory and easily accessible."
His organisation advised its members about how to deal with customers using online reviews as a threat.
"It is a form of extortion ... there's still a core of people that think every other person is a mug and they have a right to rip you off.
"There are always people out there. We all know a Basil Fawlty, but there's never been a programme made about some of the guests."
Mr Baines said for owner-operators the unfounded threat or posting of a negative review could be upsetting.
"It's not a cost of doing business as it would be with a corporate, it's actually something that they relate to on a personal level, they feel insulted."
Mr Baines said websites such as TripAdvisor were improving processes for flagging such reviews.
He and his wife used TripAdvisor during a recent holiday in Europe and learned to question overly negative reviews by looking at who was posting them.
If someone had made only a few comments then they were less likely to trust the review, he said.
Hospitality Association chief Bruce Robertson said the key was for accommodation providers to have a good process to engage with anybody complaining.
"You certainly want to look to manage any disputes well. Resolution of those early is the best solution.
"The issue is where you might have what you might call malicious complainers, who are really just trying to rip you off."
In those instances having documentation and evidence of what was provided was crucial to having reviews removed or explained, he said.
"In today's environment of online reviews, it's never been more important to do a good job. Because it's word-of-mouth on steroids."