Liz Light gets in touch with farming New Zealand at the Canterbury A&P Show.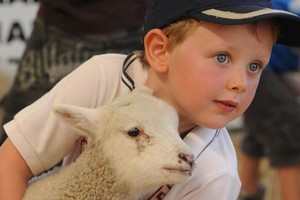 Look at the power in this Angus bull. It looks like a Mac truck and there's a tonne o' meat in him. He's got a nice expression on his face, a calm temperament, a fine pair of testicles. This is a helluva good-looking bull."
"This South Devon cow, she's bright-eyed and feminine. And she has nice feet, firm on the ground, and a pretty, chubby calf. There's a good udder set on her, too."
Six judges for the Beef All Breeds competition have made their winning choices. They talk about the animals with knowledge, enthusiasm and humour. I'm a city slicker and had no idea that an Angus bull could be so interesting or cattle judges such showmen. The judges, and most of the male onlookers, wear their R.M. Williams boots and belts, their best jeans and town-shirts - cotton, ironed nicely, sleeves rolled up and the top two buttons open showing a tuft of chest hair.
I'm at the Canterbury A&P Show. A&P means Agricultural and Pastoral so this show is all about things rural; the country comes to Christchurch. There are no competitions for sewing, baking or growing and arranging flowers that some shows have.
Though, slightly oblique to the overall rural theme, there is an entertainment area with rides for kids and sideshows.
The focus is animals. After the Beef All Breeds competition I catch the end of the Children's Calf Classes. Both the children and their calves are cute, though some of the calves aren't nearly as well trained as the Angus bull. They have leading issues. Some calves lead their children astray and others refuse to budge until given a firm push from behind.
In the livestock pavilion, a vast, covered area, I inch between myriad pens, starting with cattle, moving on to goats, pigs, llamas, alpacas then, finally, sheep. It smells of hay, lanolin from wool and coconut sunscreen from the people walking by. Some animals have rows of ribbons tied to their pens. Others haven't been lucky and sit, blink and chew, waiting to go back to their fields.
The show is on for three days and these hundreds of animals must be fed and watered; 30 tonnes of grass is trucked in and an enormous amount of hay. There is even a milking machine to which dairy-cow owners dutifully take their prize cows twice a day. The logistics behind this (and the mucking out that must go on because the pens and animals are all immaculate) is impressive.
Outside, in the Stablemate Arena, day-long equestrian events are big crowd pullers. This is serious business, not pony club, and show horses have been hauled in from all over the South Island.
The horses are primped; brushed to a gloss with neatly knotted manes, tails plaited tightly. Some even have chequerboard patterns on their rumps. The riders are also immaculate, in tweed hacking jackets, white shirts, ties, close-fitting jodhpurs and black jockey hats.
In a paddock a couple of hundred metres away less conventional people with unusual breeds of horse are having parallel, but lower-key, competitions. Miniature horses, mules and donkeys are put through their paces.
Julie, a mule fancier, tells me that once one has fallen for mules there is no going back. "Mules are more intelligent than horses or donkeys and are loyal until death. Training a mule is more challenging because you have to persuade them to be obedient through give and take. Some people call them stubborn but, once they trust you, they will do anything for you."
Mules look, to novices, like horses with very big ears.
After watching the mule judging I'm flummoxed by the choices on the programme: duck herding in the dog-trial area (where a sheepdog herds a flock of Peking ducks around an obstacle course), a tractor pull and wood-chopping competitions.
I choose wood chopping because the South Island is competing against New South Wales. There's lots of preparation, with support crews carefully positioning knot-free logs for the axemen. What follows is a crazy minute of swinging blades, flying wood chips and sweat dripping. Then it's all over. Until the next lot.
This is fun, but I am hot and tired. I find a shady seat near farmers who are drinking Speight's and yakking with their mates in a low-toned rumble. Some hold their winning certificates and happily accept congratulations. It's convivial and friendly in a blokey way. As I leave I notice I've had a nice sit-down in the Sheep Exhibitors' Club.
The Sheep Maternity Ward is nearby and I, with a flock of wide-eyed children, watch a lamb being born. It's a grunty, messy, bloody process and the floppy, dazed lamb that slides out seems to be yellow. Mum is licking it in a jiffy and when I return half an hour later the smart wee thing is staggering around its mother's wool looking for a nipple.
I, too, need food but the A&P Show is no place for a vegetarian. Avenues of food stalls are selling pies, hot dogs, burgers, beef sandwiches, beef noodles and lamb kebabs; nothing, anywhere, that is remotely vegetarian. I settle for a ham roll and pull out the ham.
The farmyard petting pen is also lots of fun and I would love to get in the pens to cuddle lambs and have a calf suck my fingers, but it's for children only.
The Canterbury A&P Show has delighted visitors for 149 years; the first one was held in 1862. It's a fun day out and a rare insight for townies - these days that's most of us - into heartland New Zealand.
Info:
The 2011 Canterbury A&P Show is on from Wednesday Nov 9-Friday Nov 11 at the
Canterbury Agricultural Park, Christchurch.
Performing bands include The Haze and Smashbox, and the main attraction is a
competitive pole-climbing group from Canada; world champions twice in a row. Their act is called The Bushwhacker Bonanza.