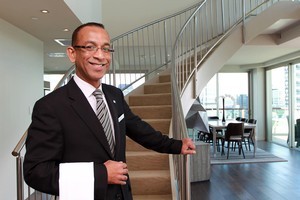 It costs $10,000 a night - but the cream of Auckland hoteliers are calling the Pullman Hotel's new presidential suite a "marketing gimmick".
The newly fitted out 286sq m, two-bedroom penthouse features a staff wing, marble bathrooms and state-of-the-art Skype technology.
But when the Herald on Sunday was invited for a tour last week, the price tag was about the only hint of something special.
There was the queue at reception, greasy fingerprints on the elevator door and a squealing toddler in the lobby. Stepping out of the lift on the seventh floor with general manager Rob McIntyre, we crossed paths with a group of tourists wearing sneakers, jeans and bum bags.
No, VIP entourages don't get the floor to themselves, even at $10,000, he clarified.
Instead, it was the suite's size that made it ideal for rock stars and heads of state, he said.
"People who travel with their own security, chef, butler and nanny."
For touring musicians, it is nice and close to Vector Arena - as long as they don't mind the view of the Fonterra building on one side.
McIntyre said it was the most expensive hotel room in Auckland and a ring around the competition proved this was true.
Rachel Broadmore, of nearby five-star hotel The Langham, said: "Crikey, $10,000? One of our Royal Suites is $3500 [a night, at peak times]. It's very prestigious and comes with full butler service and all the benefits of staying at The Langham."
Joanne Bourke, general manager of Herne Bay's Conde Naste-rated hotspot Mollies, said a 120sq m premium villa was just $1500 a night.
And to ensure upmost privacy, the entire boutique hotel could be booked for $15,000 - which is what American pop star Beyonce opted for last year when she visited with her rapper husband, Jay-Z.
"I don't know how they can get away with [charging that much]. How can you justify it? Those guests would be expecting a lot. I really hope they deliver on it," she said.
But whatever criticism it might attract, the Pullman penthouse suite, completed just weeks ago, has already accommodated an - unnamed - dignitary for 10 days during the Rugby World Cup.
Then again, that booking was made before the fit-out began.
But he did pay full rate apparently.