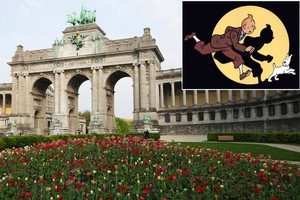 Would Tintin have travelled by Eurostar? The bold outline of the Class 373 trains, still sleek and dynamic after almost 20 years of service, would certainly have captured the imagination of his creator, Hergé. And as I arrived at Brussels Midi station, I might just as well have been transported into the early frames of a Tintin adventure: a bustle of waiting people in the background; passengers disembarking; views of the city beyond; a man in a trenchcoat peering over a copy of Le Soir.
Tintin, perhaps Belgium's most famous son, is celebrated from the moment you step off the train.
In the station concourse, a vast black-and-white scene from Tintin in America greets new arrivals. The extraordinary energy of the drawing - Tintin dressed in cowboy gear, clinging to the side of a coal-black locomotive as it hurtles forward - is a concise demonstration of what makes these cartoons great. In it, Hergé's immaculate attention to detail combines with the heroism of the boy reporter in action. There's an urgency that propels the reader onwards: a very cinematic sensibility.
Since the first Tintin story - In the Land of the Soviets - was begun in 1929, that sense of drama has transformed the character into a publishing phenomenon.
He's now been translated from the original French into around 100 languages (the most recent being Yiddish) with 250 million books sold worldwide.
Next Saturday, Tintin gets a 21st-century makeover with the world premiere in Brussels of The Adventures of Tintin: Secret of The Unicorn, a hi-tech motion-capture film version of his escapades, directed by Steven Spielberg and produced by Peter Jackson.
It's Tintin's chance finally to make it big in America, where home-grown cartoon heroes such as Mickey Mouse and Superman have long held sway.
I'd arrived in Brussels in the company of Michael Farr, the leading British authority on Hergé, and someone whose own adventures in journalism as a foreign correspondent occasionally mirrored those of Tintin himself.
He interviewed the notoriously reclusive Hergé in 1978, while covering the European Parliament. An initial enquiry seemed doomed - "I called his number and asked if I could take him out to lunch. He said, 'Non. Pas de question.'" - but eventually Hergé consented to a meal at Comme Chez Soi, a Michelin-starred eatery still found in an art nouveau building on Place Rouppe.
"He was hard to interview," remembers Farr.
"You would ask him a question and he would pause, and then he would ask you one."
Nevertheless, that first meeting eventually led to Farr being allowed access to the artist's archives after Hergé's death, resulting in books including Tintin: The Complete Companion and, more recently, The Adventures of Hergé - Creator of Tintin.
According to Farr, Hergé was "very modest. He hated to talk about himself and was very sensitive; he had a terribly thin skin".
He was also uncomfortable with the level of celebrity that followed his success with Tintin.
Born in Brussels in 1907 as Georges Remi (he took his nom de plume from his initials, reversed, and then pronounced: "RG") he was, as Farr says, "hugely famous" here by the time of his death in 1983.
The fame of his creation is still evident in Brussels today.
Our first stop involved walking briskly past the taxi rank at the side of Brussels Midi, then peering back down to Avenue Paul-Henri Spaaklaan.
Since 1958 a six-metre-high effigy of Tintin and his canine companion Milou (renamed Snowy for the English version) has revolved on the roof of the Lombard building, once home to Hergé's publisher. As a monument to a local hero, it's bold and striking - a modern-day match for Nelson and his column.
Brussels occasionally features in the stories themselves, although Tintin rarely refers to his home town by name.
Just as Tintin himself was an everyman character - "Nondescript: you project yourself on to him," says Farr - the city also seems pan-European in the books.
However, according to Farr: "It was discreet, but very recognisable if you were familiar with it."
The Metropole Hotel, on a tree-lined stretch of Place de Brouckère, pops up in the background of The Seven Crystal Balls. We wandered past to take a look. The cars have changed since Hergé's time, of course, and he drew a tramline running down the street - the Brussels Metro didn't arrive until 1976. Otherwise, if you narrowed your eyes a bit, it could easily pass for a Tintin backdrop even today.
There are several such "discreet" references, the majority of which are for Tintin obsessives only. If you fit that description, then head to Brussels' stately Parc du Cinquantenaire, which serves as a backdrop to an early scene in King Ottokar's Sceptre. Or to "Rue du Labrador 26", Tintin's home for the first few books, which was inspired by the houses on Rue Terre Neuve, an otherwise nondescript street behind the Marolles district. Back then the Marolles was a down-at-heel area; now it's on the up.
Close by - and far more involving - is the daily flea market at Place du Jeu de Balle. This is where aficionados walk straight into comic book history, for it's where The Secret of the Unicorn begins.
Tintin, on the search for a present for his friend, the cantankerous Captain Haddock, discovers a model ship called the Unicorn here, which leads to an adventure involving pirates, sunken treasure and the iconic shark-shaped submarine designed by Professor Cuthbert Calculus.
The market-sellers are rather more ethnically diverse than in Hergé's time, but this is still visibly the place he used as inspiration for his story back in 1942.
It's also full of exactly the sort of things that pop up in Tintin books: a replica of a deep-sea diver's helmet; walking sticks for Tintin's old sparring partners Thomson and Thompson; totems from Africa; and gaudy chandeliers and carpets for Marlinspike Hall, where Tintin eventually winds up living with Haddock.
Most of the bric-a-brac is laid out on rugs and blankets on the cobbled square. I rummaged through a box of comics and found a copy of Tintin magazine from 17 July 1962, a page of Les Bijoux de la Castafiore (The Castafiore Emerald) printed on the back. This was surely a rare find. After all, when the magazine was initially published, it would have been the first time anyone would have seen the story in print. How much would it be worth today? Twenty euros? Fifty, perhaps? I asked the vendor to name his price. One euro later it was mine.
Comics of all kinds are ubiquitous in Brussels. At the corner of the market, at number 79, the real collectibles can be found in a dusty shop specialising in the genre: copies of Le Petit Vingtième, where Tintin made his debut; original editions of the books; models of the characters.
Meanwhile, the official Tintin boutique - a gleaming modern outlet at 13 Rue de la Colline - lies in the old town, near the many-tiered guild buildings of the Grand Place. Here the key-rings, T-shirts and replica models are all endorsed by Moulinsart, the studio that these days guards Hergé's legacy.
Hergé suffered a blow to his reputation after the war, when he was accused of collaborating with the Germans by publishing Tintin in Le Soir, then a mouthpiece for the Nazi occupation.
Farr describes him in The Complete Companion as "politically naive".
Hergé's own defence was that "I worked, just like a miner, a tram driver or a baker".
Certainly, according to Farr, Hergé's conscience was clear. The Tintin stories published during the war were free of politics, and he had previously been critical of fascism. In King Ottakar's Sceptre, published in 1938, Tintin works to defeat a coup attempt, in what was an allegory of the Anschluss.
It was in the post-war years that Tintin made the greatest strides. As Hergé worked furiously in Brussels, his young reporter travelled the world and beyond, as far as the moon itself. (Explorers on the Moon was completed 15 years before Neil Armstrong made it there for real.)
Tintin magazine began in 1946, with Studio Hergé following in 1950, a team of artists assisting Hergé as he revised the original cartoon serials for publication as colour albums.
***
The work of one of Hergé's collaborators, Bob de Moor, is currently being celebrated in the Belgian Comic Strip Centre, a museum and archive carved from an Art Nouveau warehouse designed by Belgian architect Victor Horta. It's a grand, gracious building, with plenty to attract fans of bande dessiné (strip cartoons), not least the replicas of Tintin and Haddock in spacesuits halfway up the stairs, and the stone bust of Tintin in the hallway.
As you might imagine, it's all treated with the greatest seriousness. Hergé himself is lauded as the progenitor of his own style of drawing, called ligne claire (clear line), which downplays contrast and shading in favour of uniformity of line.
Turn a corner, and there's more cartoon memorabilia: the Bar Dessiné in the nearby Radisson Blu hotel has original art from the likes of Peyo, the creator of the Smurfs, as well as sketches by other Belgian comic-book luminaries.
There are also vast murals throughout the city. A scene from The Calculus Affair graces a wall on Rue de l'Etuve, while Quick and Flupke, a pair of street urchins created by Hergé, tease a policeman on Rue Haute.
Professor Calculus (Tryphon Tournesol in French) even gets his own street name, in the form of a plaque under the sign for Rue Charles Buls.
The big picture, though, is Stockel station at the eastern end of Metro line one, which boasts an extraordinary mural of 140 Tintin characters hurtling down each side of the platform.
Where, though, is the museum dedicated to Hergé himself? Surely the godfather of Belgian strip cartoonists deserves his own centrepiece in the heart of Brussels?
In fact, you have to make a 53-minute train journey from Brussels Central station to find it, in the otherwise unprepossessing university town of Louvain-la-Neuve.
Opened in 2009, the Musée Hergé is a shining example of what good modern museums should be, albeit a shining example that's fetched up in the wrong place.
A swooping, angular building, surrounded at the moment by cranes and rubble from a nearby building site, it gives a good impression of a sleek ocean liner that's been marooned next to the derricks of a chaotic harbour.
Inside, though, the innovative displays are stunning, with plenty of original material on show. Visitors are given special iPods loaded with information on Hergé's life, including his almost obsessive attention to detail, the photographs he hoarded for use as reference material, even his childhood love of the scouting movement, which fed directly into the creation of Tintin.
The evolution of Hergé's drawing style and the characters that populate the books are all dealt with exhaustively, and there are plenty of interactive elements and exhibits to keep younger fans happy. I was particularly struck by a bright cylindrical room lined with Tintin books, where a loop of recordings from readers revealed their favourites.
Farr is convinced Hergé would have approved of the forthcoming film: "He would have been fascinated by motion capture and the technology of it."
Indeed, he says, an intriguing note dating from 1983 found among Hergé's papers appears to endorse Spielberg - "this young American director" who he was due to meet - as the man to bring Tintin to the screen.
"He was like a sponge," says Farr. "He just soaked everything up, whether it was women's fashion or the latest cars."
Yet Hergé was nevertheless insecure about his art form, pondering its longevity in 1969: "Comic strips in the year 2000? I think, I hope, that they will - finally! - be accepted and that, dare I say it, adults will be reading them as much as children."
Perhaps Tintin's journey from Brussels to Hollywood would have been vindication enough.
- INDEPENDENT