Victorian homes give San Francisco a fairy-tale charm, writes Sarah Stewart.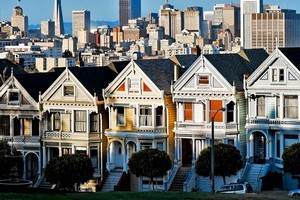 More than a century later, the ghost of headmistress Miss Mary Lake - who once terrified a generation of San Francisco schoolgirls - still looms large in the grandiose four-storey Queen Anne Hotel.
Walking through the draped doorway into the parlour is like taking a step into the city's Victorian past, to the period 120 years ago when this was a traditional finishing school for girls.
It's easy to imagine Miss Lake living in this brooding burgundy space, catching her reflection in the gilded mirror or sitting primly on the gold embroidered love seat, surrounded by crystal chandeliers, intricately carved oak shelving and floral rugs.
This is one of the more evocative stops on Jay Gifford's walking tour of San Francisco's Victorian homes. "No one could stuff a room like a Victorian," Jay smiles, noting that in its heyday a shrunken head on display wouldn't have been uncommon.
The school closed down in 1896, but it seems the old headmistress never left. Guests staying in Room 410, her old office, have felt cold spots and a reassuring female presence. One man who'd fallen asleep on top of the bed told staff he woke up to find he'd been tucked under the sheets, his arms pinned by his sides.
The owner of his own Victorian house, Jay has been treading these streets for 15 years, discovering stories that bring their architecture to life. For a man who can be described as a walking encyclopedia on Victorian homes, he is surprisingly cool, belying his 50-odd years in a casual hoodie and baggy jeans. So why the obsession with an era known for its stuffiness? "I just like anything that's over-the-top and quality," he says. "Victorians are really well-built and I love the detail. I love the gingerbread."
Outside, the "gingerbread" is obvious: gabled roofs, a round corner tower and fish-scale shingles bedecked with fake swallows' nests for good luck are highlighted by a clashing colour scheme of dusty pink, mauve and carrot-orange. These are Hansel and Gretel houses, and 14,000 of them adorn San Francisco's rolling streets, giving the city a fairy-tale charm.
They're lovingly dubbed "Painted Ladies" and, as we stroll through the affluent suburb of Pacific Heights, set on a ridge with stunning vistas of the Golden Gate Bridge, I see why. The sprawling homes are decorated in every shade, from soft grey to vivid red, the owners rarely settling for one colour.
Each facade is a canvas: one house has sea-blue walls, a white picket-fence balcony and big bay windows outlined in turquoise. The porch is framed by latticed trim in pale green and carved wooden flowers swirl across the upper level. On another home, an occasional flourish of gold leaf provides a finishing touch.
We walk on to Pierce St, the home of Jay's favourite Victorian, the Casebolt mansion. Once a humble blacksmith, Henry Casebolt made his fortune in the gold rush and went on to invent the grip that allowed San Francisco's signature cable cars to be pulled up its steep inclines.
But many of the city's grandest Victorians live on only in photographs. The fierce fire that ripped through San Francisco after the 1906 earthquake consumed thousands of the redwood homes. Others were dynamited by the army to create a firebreak.
After World Wars I and II, the remaining Victorians lost much of their colour. With left-over paint from the wartime naval effort in plentiful supply, many were painted in "battleship grey". And, by the 1950s, the desire for detail was waning and modern, cleaner lines were in vogue. Thousands of Victorians were knocked down to make way for new development.
Jay points out others that have fallen victim to what he calls "smothering". They are rectangular boxes stripped of all detail, the character gone.
San Francisco's famous hippies of Haight-Ashbury came to the rescue. Always pushing the boundaries, they began to paint their Victorian homes in the psychedelic hues of the 1960s: canary yellow, bright purple, azure. One reporter described an old lady watching two painters applying a fourth shade to a house. "Now you boys stop dropping acid," she yelled. "You've got enough colours up there already."
But preservationists realised that colour would be their saving grace. Now, the city's Victorians are enjoying a vibrant heyday. The "gingerbread" that had been stripped off is being added back and the architecture is being protected by law. Jay says the dot-com boom, a "mini gold rush", has saved many from falling into complete disrepair.
Hollywood's love affair with Victorian grandeur is helping. We pass a double-turreted extravaganza that the director Francis Ford Coppola once called home. Next door, a carved facade marks the house where the 1990s TV series Party of Five was made. It sold last year for US$6.5 million.
Just down the road is the Mrs Doutbfire house. The film's star, Robin Williams, had a short stroll to the set from his own Victorian nearby. Miami Vice cop Don Johnson also bought a house here. "It's a Victorian on steroids on the inside," Jay confides.
At dusk, I walk south to Alamo Square. This is where the Tanner family picnicked in the opening credits of Full House.
I sit on the hill in front of "Postcard Row", a line of six cookie-cutter Victorians, their brightly painted wooden features juxtaposed against the steel of the financial district below. These are the most famous of the Painted Ladies, an elegant reminder of San Francisco's colourful past.
CHECKLIST
Getting there: Air New Zealand flies direct from Auckland to San Francisco.
Victorian San Francisco: Jay Gifford's tours (US$25 - $31 - for 2.5 hours) leave at 11am daily from Union Square. The Haas-Lilienthal house at 2007 Franklin St is open from noon-3pm on Wednesdays and Saturdays, and 11am-4pm on Sundays. Tours cost US$8.
Sarah Stewart paid her own way to San Francisco.