Lauraine Jacobs is lucky enough to get advice from chef Rick Stein – in Auckland next week for Taste NZ – about which Malaysian foodie haunts to check out.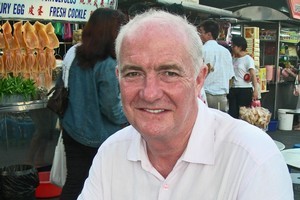 Rick Stein is a traveller. Through his innumerable TV shows I know he gets to eat in fascinating destinations. So when I heard his favourite place to stay was Bon Ton, a tiny resort on the island of Langkawi, in northern Malaysia, I had no hesitation in packing my bags to check it out. But first, I had to talk to him to get the low-down on my destination and find out what I should be eating.
Even after a night in his kitchen at Padstow in Cornwall, I could detect Stein's famous smile as his voice booms down the phone.
Though exhausted from testing dishes to cook on his forthcoming visit to Auckland he waxes lyrical about a snapper dish, cooked with his favourite Malaysian ingredients; blachan, palm sugar and lime juice. The dish had sold out in his cafe that day in a mere 45 minutes.
The following day he planned to trial a special rice with chicken marinated in spices, lime juice and palm sugar, another dish destined for his cooking gig in the Malaysian Kitchen at Taste of New Zealand next weekend.
So what made this very English chef so interested in Malaysian food?
"I've been travelling regularly to Australia and New Zealand since the 80s," Rick explains. "I'm really taken with the ease that the local chefs in both countries include South-East Asian influences in their food.
"For me it is revolutionary, rather like that scene in Star Wars where all those creatures mingle.
"Malaysian food is the most exciting for me for several reasons. So many influences - Chinese, Indian and the indigenous Malay cooking collide together. It's a country where everyone seems to speak English so I have wonderful food conversations, and local foodies are the most talkative in the world.
"I love the intensity of Penang, with its diverse cuisine in contrast to the serenity and calm of Langkawi. There, the food tends to be less regional and there's such a small population. And my friend Narelle McMurtrie, who runs the Bon Ton Resort, is one of those foodies. The food is also healthy and clean and in all the years I have been travelling to Malaysia, I have never been sick."
So I'm off, complete with a long list of Stein's favourite haunts, markets and his favourite dishes to seek out. First stop is Bon Ton Resort. Stein is right; it's a gem. Plenty of glitzy resorts can be found on Langkawi island, with their associated spas, golf courses and full internationally sought amenities, but Bon Ton and its neighbouring sister property Temple Tree provide something different. It's authentic tourism - and that's increasingly hard to find.
Eight Malay wooden Kedah houses were bought for Bon Ton around the local province and moved, piece-by-piece, to a coconut plantation McMurtrie had bought. Next, she sourced almost derelict 80 to 100 year-old villas with different cultural influences from all over the Malaysian peninsula. They, too, were dismantled, every piece of timber numbered and rebuilt on the secluded neighbouring site, Temple Tree.
I stay in Black and White, a large villa with generous verandas. Floors are the original ancient hardwood planks and I love the way when I shower the water runs back to the ground through the cracks between the boards.
The houses are spectacularly comfortable, with colourful, locally-sourced furniture and furnishings, and they cluster village-like together, with lap pools overlooking wetlands alive with birdlife.
The restaurant/bar, serving tasty fusion-style food with Malaysian twists, is one of the most popular on Langkawi. Lunchtime laksa, an aromatic coconut broth with local seafood, noodles and plenty of aromatic herbs from the kitchen garden, is addictive. A delicious Malay banquet is served Saturdays and Tuesdays, a not-to-be-missed feast with spicy prawn fritters and potato rissoles to start, followed by several bowls of spicy Malay specialty curries and stir-fries. Delicious.
Conveniently situated near the island's international airport close to the touristy Cenang Beach, Bon Ton is an ideal base for exploring all points of the island.
Langkawi Island is larger than Singapore but the population is a mere 60,000. As it's the home of the former Malaysian Prime Minister, a lot of money has been spent on infrastructure. The roads are good, there's easy and frequent access by air and sea and beautiful, sandy beaches are perfect for water-sports and relaxation.
Stein had two tips for me. The first, the local night market at Air Hangat, is filled with smoky aromas for its entire length as it meanders away from the road. I'm sure almost everyone on the island turns up as the aisles down the centre are jam-packed with locals tasting and buying pungent and spicy street foods.
There are noodles, curries, icy fruit drinks, satays, sticky sweet treats, banana-wrapped rice parcels, samosas, deep-fried spring rolls, charcoal-grilled chicken pieces, fruit and more. My favourite, the fluffy apam balik, are thick pancakes filled with chopped peanuts and corn in a thick palm-sugar sauce.
Stein tells me he always heads to local restaurant Siti Fatima, in the centre of the island, where the Farid family offers a unique Malay buffet of anywhere from 40 to 60 delicious dishes at lunch every day. I revel in the amazing choice of sweet and piquant curries, rendang dishes, soupy and fiery vegetable dishes, rice, three choices of sambal and a selection of freshly grilled fish straight off the charcoal barbecue. All cooked by the women of the family in their open-air kitchen.
But the pace of Langkawi is slow. A visitor can only take so much rest, so many spa treatments or play golf in that intense warmth. Again taking Stein's advice, I hop on a plane for a couple of days in Penang. A mere 30 minutes' flying lands me on another island that's a complete contrast. Roughly the same size as Langkawi, an almost overwhelming one million people cram into Penang's built-up areas and skyscrapers. It, too, has beautiful beaches and resorts but I head into the heart of Georgetown, a colonial area which recently acquired Unesco Heritage status. Original "shophouses" will no longer be able to be demolished, and canny developers and investors are starting to buy them up and restore buildings filled with character.
On almost every street, heritage work is in progress. My home here, the Straits Collection, is another project of McMurtrie and her business partner Alison Fraser. It's a character-filled shophouse with an original, steep, wooden staircase, sloping wooden floors and the same tasteful colourful furnishings as Bon Ton.
The talented pair are in the process of opening China House, a new space with two end-to-end shophouses. The business is destined to become the hottest new place in Georgetown, featuring an uber-cool coffee shop, Kopi Cine, a smart restaurant Bon Ton Bistro, a hip new bar, library area, art gallery and a performance space.
It's up early each morning as the local mosques broadcast their call to prayers. I love that. I know I am in another culture, one where Chinese, local Malays and Indians live side-by-side amicably here.
I spend time with two knowledgeable food guides. Robyn Eckhardt, a freelance foodwriter, is originally from California and is restoring a shophouse in Georgetown. Warm rain falls all day, but between the thundery downpours Eckhardt arranges a fascinating eating tour. "You don't have to eat it all," she says, as I down tea and noodles in our first stop, a small corner kofi house, Swee Kong, on Burma Rd. But the tastes and textures are so enticing it is hard not to finish everything she suggests.
The bowl of hokkien mee, fat yellow noodles flavoured with soy and garnished with egg and prawns, makes a perfect breakfast. The shop owner offers coffee, tea and a selection of drinks, and individual operators bring their food to hawk from stands placed around the edges. I eat a soft, sweet apam, fermented rice pancake served on a banana leaf and crunchy won ton crisps.
We head to nearby Pulau Tikus market. Eckhardt explains that many people consider this market too expensive but the quality is exceptional. As we move, we frequently stop to taste or buy street snacks from the hawkers surrounding the market.
I'll never think of tofu the same way after tasting it freshly made, warm, slippery and slathered in palm syrup, or sample yet another version of the delicious rice pancake I loved back in Langkawi's night market.
On the west side of the island, Balik Pulau is reached by a winding road that crosses through the central jungle. Eckhardt explains this is the fruit bowl of the island, famed for the large durian fruit that abound there, plus the other exotic tropical fruits; rambutan, mangosteen, nutmeg, and duku.
Luckily, perhaps, it was not durian season as the area is known for feasts of this highly pungent fruit. We go on to taste fresh nutmeg juice, which is sweet and almost salty, and the rarer ambrah juice, which is quite astringent, grassy and herbal.
Eckhardt invites me to try one of the region's best dishes, Penang laksa. At $2 a bowl I try assam laksa and siam laksa in the Nan Guang coffee shop. The former is a thin broth, full of fishy bits and redolent of tangy tamarind that dominates the flavour. The siam version is thicker, sweeter and enriched with coconut and loads of herbs, lemongrass, galangal that's almost gingery and is reminiscent of Thai flavours.
Another guide, Nazlina Hussin, was opening Spice Station in another restored Georgetown shophouse. Hussin was born in Penang and, after a career that has included an electronic engineering degree and running a scuba-diving school, is now running cookery lessons.
She is an ardent slow-food follower and cooks authentic dishes such as nasi lemak and sar hor fun from scratch with her pupils, who then sit down to a feast. An expert on the local area, she guides tours around the heritage area and takes me to Sri Anandha Bahwan, a bustling Hindu restaurant in the heart of the Little India quarter.
We drink highly refreshing ginger tea, and mango lassi, made with sweet mangoes and frothy yoghurt. The specialty is banana rice - a large banana leaf with a central heap of steamed rice and accompanied by a seeming parade of small dishes of curries and vegetables. The surrounding streets are filled with music, vivid colour and excitement as the Diwali Festival looms.
Before I fly home there is one more meal to try. I squeeze into a tiny corner table at Tek Sen, another popular and noisy restaurant that's a Chinese favourite of Eckhardt. For less than $20 I stuff myself with double-cooked pork, assam fish (cooked with stingray), a platter of crunchy stir-fried vegetables, rice and a local beer. As if I needed it. Rick Stein would be proud of me.
Rick Stein will be appearing at the Malaysia Kitchen at the Taste of New Zealand Festival, October 19-23 at Victoria Park, Auckland.
* For more information visit: straitscollection.com.my