Heather Whelan goes off the beaten track to a place where the past is part of the present.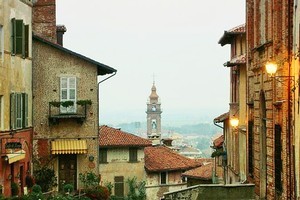 We quickly discovered the description of Saluzzo as "Tuscany without tourists" was wonderfully accurate. We found a place to park right outside a hotel.
Upon entry, we found ourselves in a shabby and deserted old-fashioned foyer-come-lounge area.
After we had rung the bell a few times, a man appeared - whether the owner or the janitor, we couldn't tell. He seemed reluctant to deal with us because he spoke no English and we couldn't speak Italian.
But he must have been in this situation before, as he was able to pull from under the counter a few scraps of paper with English phrases on them such as the price for a room and "how long do you want to stay?"
After much mutual incomprehension, we signed up and he led us up flights of stairs and along warrens of corridors, all dark and deserted, to our room.
As we settled in, we heard loud Italian shouting from a woman below.
I glanced out of the window and caught a glimpse of a yelling and gesticulating Italian mama beating a small boy around the head. We never saw any of these people again.
At breakfast the following day, we were waited on by a silent, watchful grandmother. There were no other guests. Tourist central this was not.
Piedmont, home to Saluzzo, is Italy's second-largest region, but it is not as well-known as most other parts of the country, which was why we chose to visit.
Much of the region is mountainous and its northern parts are popular in winter with skiers. The Lake District, known as Piedmont's Riviera, is the drawcard for most of the tourists who do visit the area, and the city of Turin is also popular.
The southern part of Piedmont, Cuneo, where we were, is little-visited by tourists, although it is certainly as beautiful as Tuscany and has much in common with its French neighbour, Provence.
Like Tuscany and Provence, southern Piedmont has its share of rolling hills, criss-crossed with patchwork patterns of vineyards and bordered by olive groves. Sleepy, ancient hill villages and farms set amid fields of corn look like monasteries - and maybe once were.
Certainly Piedmont has an ancient and, at times, turbulent history.
In early times, Celtic tribes settled there, but were conquered by Romans. After the fall of the Roman Empire, the area was invaded by many tribes, including the Goths and Franks and later the Magyars and Saracens.
Down the centuries, the region was divided into independent territories, and part of it was allied to Savoy in France.
In the 18th century, the Duke of Savoy became King of Sardinia and founded the Kingdom of Sardinia-Piedmont.
Piedmont was an important focus for the unification of Italy in the mid-19th century, but since then its significance has dwindled.
We entered southern Piedmont from France through a tunnel under the Maritime Alps and chose the small town of Saluzzo as a base for exploring the area because we had seen it described as "charming", "exquisite" and "like stepping back in time".
It proved to be all of those things, as well as quiet, old-fashioned and non-touristy. We wondered if we were not just the only tourists in the hotel, but the only tourists in the town.
Saluzzo has an old town spreading out and down the hillside from its castle, La Castiglia, and a new town which is, in fact, several hundred years old.
This more modern part expanded in the mid-19th century when the railway was built, and has broad, handsome streets with colonnaded walkways and paved market squares.
This was the area where we found our interesting hotel.
On our first evening, we wandered around looking for a place to eat. Piedmont is famous for its Slow Food Movement. Local delicacies include truffles, particularly the white alba truffle, cheese - nearby Bra hosts a cheese fair in September - and my favourite, hazelnuts and chocolate.
Every Kiwi family's favourite chocolate spread, Nutella, is made in Piedmont and cuneesi al rhum - meringue biscuits sandwiched together with Nutella fortified with rum - sounded like something I could make at home.
We were drawn to a Chinese restaurant where the specialty was frogs' legs.
My partner rated them better than any he had tasted in France.
Piedmont is also well-known for its wines. Asti spumanti, gavi and moscato d'asti are the best-known whites, and barolo and barbaresco are the better reds.
The Chinese restaurant served very drinkable table wines, red and white, for about €3.50 ($6.10) a half-litre.
The best thing about Saluzzo, though, was its old town.
We left the new town, where there seemed to be markets in all the squares and around every corner, and made our way up through narrow lanes, where each dwelling had a door worthy of a dungeon; carved, studded with iron nails and featuring huge, old-fashioned keyholes.
There were flights of stairs, ancient houses, stately churches, and always, as we looked down, red-tiled roofs, spires and bell towers. Finally we reached Salita al Castello, the ascent to the castle, where palaces and noble residences in Renaissance style basked in their faded glory.
A single inhabitant and her dog wandered past. There were no tourists - not even anywhere to buy a postcard. The Piazza Castello, with its 14th-century castle, was as deserted and picturesque as the rest of Saluzzo. It was just what we had hoped for.
We drove around Piedmont's quiet roads and through its hills as if it wasn't August in Italy. It was hot, there were vineyards to tempt us to stop, great cafes and picturesque villages.
And, best of all, we soaked up the atmosphere of quaint, old Saluzzo where we did feel that we had left the 21st century behind.
CHECKLIST
Getting there: Saluzzo is 78km south of Turin. It's a pleasant drive, or you can go by bus.
What to do: For a small admission fee, you can visit the Torre Civica, with its15th-century bell tower and octagonal interior. The loggia is 50m up and has views of the Alps and the red-tiled rooftops of the city.
The 13th-century castle, La Castiglia, which overlooks the old town, has been restored to its former glory.
Casa Cavassa, the municipal museum, is housed in a 16th-century nobleman's house and has 15 rooms with painted ceilings, decorated walls and works of art.
Food: Look out for restaurants advertising that they are part of the Slow Food Movement - they feature Piedmont cuisine, including local hazelnuts and white truffles.
Heather Whelan paid her own way to Saluzzo.