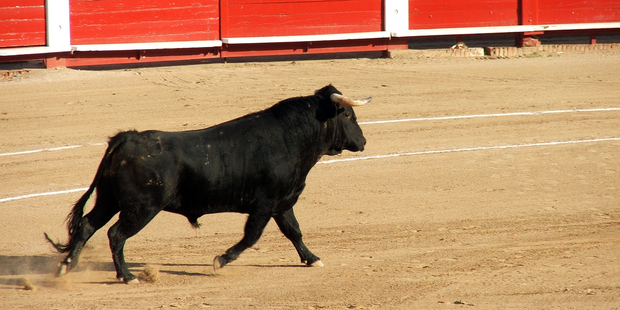 It was once thought to be as ingrained in Spanish culture as tapas and flamenco, but Catalonia yesterday held its final bullfight, becoming the first mainland region to outlaw the spectacle and - animal rights activists hope - signalling the irreversible decline of the corrida.
And as dusk fell in the Catalan capital, sequin-clad local matador Serafin Marin dispatched the last of six bulls on the sand of the packed El Monumental bullring where touts had been offering tickets at eight times their original price.
Nearly 20,000 people saw the final sold-out corrida featuring the top matadors Jose Tomas, Juan Mora and Marin ahead of a ban coming into force next year.
Once championed by the likes of Ernest Hemingway and Pablo Picasso, the bloody pastime is now victim of not only a growing sympathy toward the long-suffering bull, but also a recession-hit populace with little money to spend on bullfighting tickets and indifference among the young to the age-old tradition.
And while critics claimed that the packed stalls in the 97-year-old ring indicated support for bullfighting was far from dead, statistics would suggest they are fighting a losing battle.
Recent polls show that more than 60 per cent of Spaniards now express a dislike for bullfighting, although only half of those are in favour of outright prohibition.
There has also been a drastic drop in the number of bullfights, figures reported by the El Pais newspaper show.
Even in the bullfighting heartland of Andalusia, the number of fights fell by 50 per cent between 2007 and 2010.
"It's a big step forward. It doesn't just give us hope we can widen the ban across Spain, either: bullfighting bans are now in force in parts of Venezuela, too," said Antonio Moreno, president of the animal rights association Cacma who defended the ban in a Catalan Parliamentary commission last year.
"There hasn't been a single city in Spain this year that hasn't seen an anti-bullfighting demonstration. Logically, though, as Catalonia is the most European and modern of Spanish regions, this is where it [the ban] has happened first."
Indeed bullfighting supporters argue that the Catalonia ban - passed in the regional parliament last year - does not in fact reflect a growing nationwide distaste for the spectacle, but a wish by local nationalists to differentiate themselves from "traditional" Spain.
The only other ban in force is in the Canary Islands, where the spectacle has been outlawed since the early 1990s.
Legislation for the Catalonia ban got under way after a petition signed by 180,000 Catalans was brought to their Parliament in 2009, although the region has had a long anti-bullfighting tradition.
Back in 1909, Spain's first bullfighting protest was held in Barcelona, and by 2004 more than 80 per cent of Catalans were reported to be against the practice.
Critics of the ban point out that other bull games such as the Catalan correbous, where bulls have candles or fireworks tied to their horns and are let loose in the streets, remain firmly on the fiesta programme in Catalonia, although new, tougher, anti-cruelty legislation is pending.
But although an attempt for a petition to reverse the Catalan prohibition looks unlikely to succeed - it has so far only collected 60 per cent of the half-million signatures needed before a November 1 deadline - Catalonia's ban has hardened politicians' attitudes in favour of bullfighting in more conservative areas of Spain.
Madrid's government, as well as the cities of Salamanca, Valencia and Valladolid, have announced plans to declare bullfighting an activity of cultural interest, complicating further prohibitions.
Meanwhile, in rural Spain and in the northern city of Pamplona, other more controversial bull games, such as bull-running, show little signs of dying out.
This month around 40,000 spectators gathered for the annual spearing to death of a bull in the village of Tordesillas.
The man whose lance this year proved fatal for a 608kg bull, named Afligido, claimed later to "feel like [the Real Madrid star] Cristiano Ronaldo".
The bull took 20 minutes to die, finished off, some reports said, with a screwdriver.
Such games remain popular among fans in recession-struck Spain partly because they are far cheaper than the formal corrida, with tickets this month for a bull that has slain two spectators and gored five in bull runs reportedly costing €2.5 (NZ$4.30) compared with €40 for the cheapest seats in Seville's bullring.
Bans apart, what may provide the estocada - as the killer blow is called - for bullfighting is its fast ageing fan base.
A survey in 2009 showed bullfighting to be most popular among the over-45s. And with youth unemployment running at over 40 per cent, few of Spain's younger population are likely to have spent the €300 or more demanded by touts for Barcelona's last bullfight.
Fernando Galindo, secretary of a bullfighters' trade union, recognised in El Pais last week that "we have not known how to capture a new public".
"The danger is not a bullfighting ban in Catalonia; it's in simplistic, pro-animal rights slogans," he said.
As for the very young, the times when the only Spanish TV entertainment on interminable hot weekend afternoons was either a mawkish South American soap opera or bullfighting are long gone.
Spanish state television, TVE, stopped showing bullfights in 2006 because "it was considered too bloodthirsty for children to watch".
Moreno, who went regularly to corridas until he had a change of heart at 35, agrees that if bullfighting is no longer part of day-to-day culture for younger Spaniards, this may well bring about its ultimate disappearance.
"In my generation, it was inculcated into us that the bull was bad and the people surrounding it were good," he told the Catalan Parliament last year. "We saw this as normal."
As for the future of the El Monumental building itself, proposals for its use include a street market, luxury flats, a green space, or even - according to newspaper El Mundo - the third largest mosque in the world.
- INDEPENDENT