A small-town grocery store is a treasure trove of New Zealand history, where century-old shelves hold bygone brands and insights into late-1800s living, writes Jim Eagles.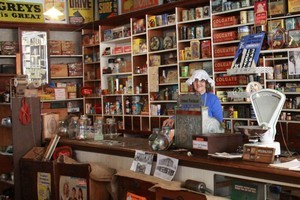 Once upon a time it sold everything from candles to commodes, dynamite to deck screws, and buttermakers to brandyballs to the farmers and traders, loggers and fishers of the Eastern Bay of Plenty. But today the grand old Shalfoon & Francis store in Opotiki retails nostalgia.
Walk into the grocery store and you are greeted by the sight of floorboards which undulate like the nearby Waioeka River and shelves laden with tins of tobacco, jars of sweets and big boxes which once held bygone brands of biscuits. Observe the massive wooden counter with its shiny silver cash register and elegant bronze scales, and, if you're my age, you can easily imagine you've stepped back in time to when you were young ... or even earlier.
Go next door into the hardware section, with its embroidered pull rings for Holland blinds, cardboard boxes containing every size of nut and bolt you could imagine, rows of typewriters, valve radios and an amazing range of film cameras, and memories of yesteryear come even more strongly.
On one shelf I find a collection of metal heel and toe plates. Wow. Just like the ones my Dad always nailed on to my shoes because I wore the heels down on one side. And beside the plates is a footwear last - a wooden, foot-shaped model - like the one he used to nail our shoes back together when the soles came away from the uppers.
Alongside is a range of Fascinac shoe colours which send Dorothy-Ann Wilson - manager of the Opotiki Museum, of which the shop is now a part - into ecstasy.
"Remember when we used to paint our shoes a different colour on Saturday nights?"
No, I didn't, actually. So if you only had one pair of dancing shoes, could you change their colour to match your dress?
"Yes. It was fabulous."
My wife, meanwhile, has discovered a set of Formica samples and is delighted to check out the colours and remember bygone kitchens.
"Oh, people love those," says Dorothy. "We've been offered hundreds for them. But obviously we won't sell."
This amazing emporium in the main street of Opotiki was founded by the Shalfoon brothers, from a family of Lebanese immigrants, about 1870.
Originally they had a small depot and sold matches, buttons, oatmeal and kerosene around the district on horseback. In 1899 they bought a house and converted it into their first shop, and over the next few years added three more alongside which sold groceries, drapery, jewellery, hardware, furniture and farm equipment. At its peak it was the heart of the entire district.
The business finally closed in 2000 and was acquired by the Opotiki Heritage and Agricultural Society, with most of its contents still intact.
The society then added some of the items it had collected over several decades - farm tools, generations of bicycles, discarded hospital equipment, all kinds of clocks and buttermaking gear from the old dairy factory - which might well have been sold by the shop in its heyday.
It's still a work in progress; as Dorothy puts it: "There's a lot of work to be done but not as much as is behind us."
It's difficult to walk through, partly because of the vast array of items stored in the old shops, but mainly because at every turn there's something else to look at.
Over here is a pianola - one of several on display - that invites Dorothy to tinkle out Tea for Two. Over there are several projectors and reels of film.
"We're not sure what's on them yet."
Up on the wall is a carving showing a tiki with two tongues, which used to be displayed outside the store to advise visiting Maori that the Shalfoons could speak both Maori and English.
Round the corner is a wind-up gramophone all set to play an old record.
"That's Ronnie Ronalde," says my wife, impressing everyone, and sure enough the British music hall star of the 1950s promptly bursts into his trademark whistling of bird calls.
"When we have school groups here they love this," says Dorothy, as Ronnie reaches a crescendo.
"The little kids have a great time dancing around."
Out the back is the brick dynamite shed - which doesn't look sturdy enough to withstand an exploding rubber balloon - and a licence to sell explosives.
And the adjoining shed is packed with amazing stuff.
"George Shalfoon [the last owner] liked collecting things and never threw anything away," says Peder Hansen, the museum's designer.
"It's still full of the things he bought and sold."
Sure enough, looking round I can spot a wool press, a commode, a kerosene fridge and a cast-iron stove.
"You can imagine some farmer ordering those but never picking them up," says Peder.
In one corner is a metal-lined room where sugar was stored to keep the rats at bay.
A small alcove used to be the glass-cutting area and still holds some sheets of glass, plus a few broken pieces. On top of some boxes are several bags of corks, which serve as a reminder that the Shalfoons used to import barrels of port and bottle it for their customers.
It's as though the whole emporium has been preserved in aspic - which is probably also on the shelves somewhere - so you can imagine yourself walking through a typical old shop of a century ago. It strikes plenty of chords with me and my wife and I think it would have done the same for my mother and grandmother.
"Visiting here brings back fond memories for everyone," says Dorothy. "People often get tears in their eyes from just looking around."
A look at life as it used to be in rural New Zealand
There's a lot more history on offer in the heart of Opotiki than the amazing Shalfoon & Francis Museum.
Right next door to the old emporium is the wonderful De Luxe Theatre, commissioned by the Shalfoons in 1926 but these days owned by the Opotiki Community Theatre Trust, which keeps the magic of cinema alive in the town.
There's a small cinema for day-to-day showings and a 500-seat auditorium used for big occasions such as the highly successful season of Boy (directed by Taika Waititi from nearby Waihau Bay and starring local teenager James Rolleston), the town's famous Silent Film Festival (held last week) and the Fleece and Fibre Fashion Show (July 6-8 next year).
"It's like cinema used to be in the good old days," says trust chairman Malcolm Ballard.
"We even get Jaffas rolling down the wooden floor."
Next door again is the actual Opotiki Museum with displays of whaling, farming and shipping, churches, pubs and schools, a saddlery, wheelwright's shop, blacksmith, tinsmith and candlemaker, and the kind of laundry, kitchen, bedroom and living room the more successful early settlers might have lived in.
On the top floor is an exhibition focused on local Maori with the highlight being the superb Whakatohea carvings, originally from the Waioeka Marae, recently recovered from Auckland War Memorial Museum.
Altogether it provides as good a cross-section of life in rural New Zealand over the past 200 years as you'd find anywhere in the country.
Just over the road is a more poignant reminder of local history in the shape of the beautiful Hiona St Stephens Anglican Church, completed by Rev Carl Volkner, who came to the district in 1859. The church now serves as his memorial.
Although he seems to have been highly regarded by local Maori, in 1865, as the New Zealand Wars boiled over, Volkner was hanged, beheaded and his eyes eaten, partly in protest at the actions of pro-government iwi against Whakatohea and partly because the missionary was believed to be spying for the government.
Today his body lies in the sanctuary of the church which was later reconsecrated and - appropriately - dedicated to St Stephen the Martyr under whose auspices it once more serves the whole district.
CHECKLIST
Getting there: Renting a Kea motorhome is a great way to get around.
Where to stay: Tirohanga Beach Motor Camp, on the coast 6km from Opotiki.
Further information: See opotikinz.com.
Jim Eagles visited Opotiki with help from KEA Campers.