The traditional ways hold sway in one small corner of the north-west's bustling capital - for now, writes Jim Eagles.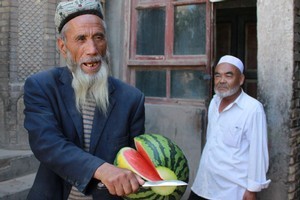 The old man with the long white beard was sitting in a sort of alcove off one of the bustling streets of the old quarter of Kashgar enjoying a quiet chat and a slice of watermelon with three equally elderly mates.
But when we stopped to check out the workings of an adjacent bread shop - the smiling proprietor happily showed us how he baked his delicious buns in a small, wood-fired oven - the old boy decided he ought to share some of his bounty.
Stepping towards us with a huge gap-toothed smile, he held forth the melon, brandished a hefty knife and indicated I should have a slice.
Usually I'm quick to take up such opportunities, especially as it looked fresh and crisp, but I don't actually like watermelon, so I smilingly declined.
No one else accepted the offer, either, but that didn't bother the old man, who nodded in a friendly way and, if anything, grinned even more broadly (maybe he was pleased to be able to keep the melon for himself).
The incident rather summed up the friendly, old-world atmosphere which still survives in this small corner of the otherwise busy, modern capital of China's north-west frontier.
It's a corner which is steadily declining as the Chinese Government continues its relentless drive to demolish old mud-and-stick dwellings and replace them with modern apartments.
But, in whatever time is left to them in their centuries-old homes, the inhabitants continue to keep the old ways alive.
On a corner of one street, a man sat on a stool putting the finishing touches to a traditional square Uighur cap. Further down, two men sat under an awning carving delicate patterns on to gourds.
In another street, a dozen egg-sellers squatted side-by-side on the footpath with their wares piled in front. Next door, a wood-turner created delicately shaped table legs. Nearby, a line of metalworkers hammered sheets of copper into containers.
In the middle of a cluster of workshops, a carver concentrated intensely on shaping the base of a flute. To one side of him, a fine sheet of wood was being gently curved over a metal mould, kept hot by a fire burning inside, to create the base of an inlaid box. On the other side, a knife-sharpener put a keen edge on a small axe.
Down the road towards us came a family of eight or nine squeezed into a tiny donkey cart. Up the other way was an equally small, but slightly more modern, three-wheeled truck, in the back of which a stern-looking man in a white skullcap presided over several giggly girls.
It was all a very long way from the modern offices, gleaming shops and vast industrial parks which make up the rest of the city.
Presiding over the modern Kashgar is a 25m-tall statue of Chairman Mao - said by our guide Abdul to be the tallest in China - standing in lonely splendour with a digital screen displaying propaganda slogans alongside him and a four-lane highway carrying a steady stream of cars and trucks, buses and bicycles in front.
At the heart of the old city is the 600-year-old Id Kah Mosque, also the largest in China, surrounded by gardens and courtyards able to accommodate 20,000 people during Muslim festivals.
It's a tranquil place where old men snooze in sunny corners and, at any time of the day, worshippers kneel on the long lines of carpet.
"There has been a mosque on this site for more than 1000 years," Abdul explained, pointing out pieces of stonework from the original mosque, built in 996. "It is so beautiful that they filmed Kite Runner here."
But even in this bastion of tradition, the modern world is intruding.
"The entrance is new," Abdul said, as we left through a gate which was certainly a marked contrast to the rest of the mosque. "It was built for the Olympic torch procession."
CHECKLIST
Getting there: Singapore Airlines operates 12 times a week between Auckland and Singapore and then on to 62 destinations in 34 countries, including China.
Getting around: World Expeditions operates its Silk Road expedition from Beijing to Samarkand in April, May, August and September. Call 0800 350 354.
Jim Eagles travelled the Silk Road with help from Singapore Airlines and World Expeditions.