Adventurous appetites will be driven to ecstasy by the myriad delights of Italian markets, writes Peter Bills.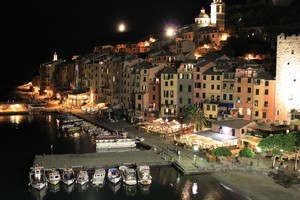 So, let's get this food thing out of the way, straight off.
If you're one those poor souls who goes halfway around the world and demands your usual bowl of bran flakes for breakfast and can't do without the normal plate of chips for dinner, then pack up reading this article now.
Face it: Articles like this, that paint a picture of a different, quite superb culinary experience in a foreign land, are not for you.
If you're still reading, we'll assume you're actually interested in food and you've found yourself in an Italian town boasting one of those incredible markets the Italians do so well.
Maybe they're hopeless when it comes to government finances and running the country. But in a land where the 74-year-old Prime Minister's alleged preferred form of social activity is bunga-bunga sex parties and enjoying the company of 18-year-old girls, we should give thanks for Italian markets.
It was in that spirit that I went to Genoa and travelled onwards down the coast as far as La Spezia. Part of the joy of this stretch of the Italian coast is that there is a train every 15 minutes in peak hours. You don't need to drive a car.
Make your way to Genoa and catch a train from the city's main rail station, Genova PP, and it will take you into a beguiling, beautiful land full of medium-sized towns and coastal villages. It hugs the Ligurian coast line and is one of the loveliest regions in all Italy.
Alight at Santa Margherita Ligure and you can take your morning coffee at a little bar overlooking a wide bay on the beautiful Mediterranean. A 20-minute walk away around the coast is the renowned and suave Portofino, where social status is judged by the size of the yacht you command.
Portofino is for dreamers and millionaires, filled with shops like Hermes, where restaurants set their meals at prices to match.
What doesn't cost, and what is spectacular, is a coastal walk high above the little port across the headland on to a promontory that overlooks the crystal-clear waters of the Mediterranean. As you stroll along the cliff path, beneath olive trees hundreds of years old, lizards scuttle across your path.
But compared with Portofino, the real Italy is to be found elsewhere. Like off Camogli, close by Santa Margherita, from where a ferry boat will transport you to the magical bay of San Fruttuoso.
Here, a monastery built between the 10th and 13th centuries looks out over the azure blue waters of the Med from the back of the beach.
For just an €11 ($19) return boat ride on a vessel appropriately named Paradiso 1st, you can spend the day swimming in the clear waters of the inlet and eating a fresh seafood lunch beneath the shade of a small restaurant overlooking one of the bays.
If you have tired of this dream-like existence by the end of the day, you can catch the ferry back to Camogli and enjoy dinner looking down on the beach or old harbour as the waves break gently on to the shore. Here, fishermen have for centuries brought home the sea's myriad treasures.
While I was there, one local fisherman was feeding a tame heron with small sardines.
A short train ride to the south are the towns of Rapallo and Chiavari.
Neither may appear that special from the station, but these are places - Chiavari in particular - where myriad delights are waiting to be discovered.
And the food? Let's assume you are of sound mind and hearty stomach. Why wouldn't you be orgasmic at the sight of the biggest peaches you have ever seen being sold in the local market at €1.50 per kg? Or paying a miserly €1.74 for an incredible eight fresh apricots which are huge and juicy.
Then there's the shop with a roaring open fire in the back with two spits, full of chickens, turning above the flames. Just €7 will buy you one of these delicious-looking creatures for lunch.
Or in another local cafe you can buy empanadas, little meat pies famous in Mexico and Argentina, for €0.86, or an enormous piece of fresh pizza - enough to satisfy about three - for the ruinous sum of €3.
And on it goes. The Italian markets are a treasure trove where you will find some of the finest, freshest produce available in all of Europe.
In Chiavari, in the little old cloistered walkways past countless old shops, you can discover delectable fruit tarts, fresh meat, delicious San Danielle cured ham and so many other delicacies.
And finally, when your stomach is fully sated and you have marvelled at the food and architectural splendours of Chiavari, jump back on to the regional train and head south to Monterosso and the first of the five villages of the world-famous Cinque Terre region.
But beware of the tourists. Back in Chiavari and also Camogli (if you go in mid-week), you'll find mainly locals. It makes a huge difference to the memories you will take home from a trip to this magnificent part of the world.
The Cinque Terre - I liked the tiny Vernazza fishing port the best and packed Monterosso the least - is full of tourists in summer: people of intellectual gifts, such as the American who sat by me at the front of a boat off the coast and remarked to his wife, "Gee, honey, they sure get a lot of Italians here."
The Cinque Terre has five villages, with Portovenere at its southern point. From here a boat ride that costs €22 can take you up the coast to each village. Or catch a bus to La Spezia and the beautiful harbour at Le Grazie.
Truly, the treasures of Italy.
CHECKLIST
Getting there: Cathay Pacific flies four times a week from Auckland to Milan, via Hong Kong, and offers a daily connection to Rome.
Getting around: Regular train services connect Cinque Terre with Milan. You can buy an Italian Rail pass or Eurail Pass before you leave New Zealand. See raileurope.com.au.
Further information: Visit cinqueterre.it.
Peter Bills went to Cinque Terre under his own steam.