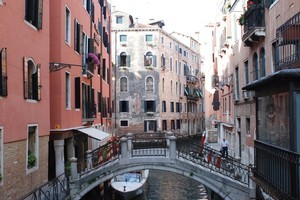 It's easy to see why they named a film made in Venice, The Tourist.
There are thousands of them and it's only June when we're here.
Imagine what August is like.
In fact, at least 16 million a year descend on this most magical of Italian cities, often just for the day off cruise ships.
But it's also easy to get away from them; it takes almost no effort at all.
Just walk out of your hotel and head away from St Mark's Square (Piazza San Marco) or as the concierge of our hotel, the Saturnia, says: turn right not left, and lose yourself in the myriad of lanes and bridges over small canals.
Wander the back alleys, tiny little corners of beauty, and catch the reflection of the buildings in the canals. Peek inside people's windows and check out their potted geraniums and cats. Are the apartments as good inside or mundane like the rest of the world?
It's the most enjoyable way to discover this most exquisite of cities.
You come across little treasures at every turn - a jewellery shop selling gorgeous rings and gold necklaces, an old bookshop displaying rare copies of Casanova for €600 (NZ$1014), a lovely little store full of Italian leather handbags and delicate, multi-coloured sandals, a small square with only a few locals walking through it.
Marvel at the different styles of architecture - Venetian Gothic which combines with Byzantine and Arab influences, and those of the Renaissance and Baroque eras - and the incredible art masterpieces found in darkened churches.
I was amused when somebody asked me if the city had changed since I was last there (in the mid '80s).
In fact, new construction has been almost totally banned there for the past 40 years. And that's what makes it so enticing.
From Marco Polo to Antonio Vivaldi to Lord Byron to Henry James to Wagner and Browning, Venice has always been a magnet to artists, composers and writers, some of whom (like Marco Polo and Vivaldi) were from there and others who were captivated by this city on the Adriatic Sea.
It's a living, breathing museum.
Early in the morning is a good time to go exploring. It's a time when Venetians are making their way to work, when African boatmen are singing as they navigate their way down the canals, stopping to offload their crates of vegetables to restaurants along the way.
Gondoliers are already looking grumpy as they wash their gondolas, and they haven't even had to bargain with a tourist yet.
Cafes are just opening up and you can stop for an espresso and a panino or head down to the markets at Rialto to bargain for fresh food yourself.
Another "sestieri" worth exploring is the stretch of land between the Grand Canal and the Canal della Giudecca, known as Dorsoduro - a kind of Venetian Montmartre.
Home to the Ca'Foscari University of Venezia and the Accademia Galleries, Peggy Guggenheim lived here and opened her home to the public as an art museum, known as the Peggy Guggenheim Collection.
Henry de Regnier, Ezra Pound, John Ruskin, Ettore Tito and Robert Browning also called this area home.
Closer to the main square, at the Doge's Palace, we walk across the Bridge of Sighs and into the prison where tax evaders and others were sent to contemplate their evil ways (and which was used up until 1923).
The bridge, made famous by Byron, was built in 1602 to link up the facade of the palace with the prison and is the only covered bridge in Venice. From the narrow windows many of the prisoners caught their last glimpse of San Giorgio and the Lagoon.
In the palace the walls of the waiting rooms and other areas are lined with paintings by Tintoretto, Titian, Veroneso and many others but here there's just stone blocks that may be the first example of recycling with examples of graffiti on them.
The actual dungeons were even lower but the steps are too slippery and dangerous now for people to enter.
It's wise perhaps before you arrive in Venice to get a feel for the place by watching movies filmed here - and not just ones starring Johnny Depp and Angelina Jolie - although it was fun to arrive in the city the same way Depp did - on a beautiful timber speed boat straight from Marco Polo Airport, pulling up right outside our hotel's "back" door.
The 2005 film, Casanova, starring Heath Ledger is a better start, filmed entirely in Venice with some scenes shot in the Palazzo Contarini Polignac, the 600-year-old palace owned by a French family, where we went for a gala dinner to celebrate Qatar Airways' inaugural flight here. On the Grand Canal, it's one of Venice's most important early Renaissance buildings.
One of the owners, Roger de Montebello, the French-born artist who has an atelier/studio upstairs, explains that Ledger stayed here for a while as did Florian Henckel von Donnersmarck, the director of The Tourist, and other Hollywood types. Tonight it is full of Venetian socialites and "noblesse".
While it might seem romantic to own a palace, the upkeep is enormous and the money from renting it out for such functions goes a long way towards fixing the plumbing.
So while tourists continue to come, many Venetians are leaving the sinking ship.
As the water seeps and bubbles up under the pavement during a high tide and can often flood shops and apartments, the locals are finding it easier to live on the mainland - nearer the airport and train stations and industrial areas.
It might seem romantic to go by boat or walk everywhere but many locals prefer car travel.
Venice itself has a population of about 60,000, having shrunk from about 140,000 people 30 or 40 years ago, while the greater Venice area including the mainland is about four times that.
It's hard to live here when the corner shops are rapidly being displaced by Armanis. And the competition from foreigners to buy homes here has forced prices sky high so it's now unaffordable for many residents.
De Montebello, who spends part of the year in other major cities, has an exhibition as part of the 54th Venice Biennale, which has shows all over town as well as the two main areas - Giardani and Arsenale.
It's too big and too hot to see everything in the short time we have there but at Giardani we do get a feel for the diverse work of artists represented in national pavilions from a record 89 countries.
The Biennale runs until November 27.
I look up in the main hall and see pigeons peering down at me. No, they haven't flown here from St Mark's Square, as I at first think, but are yet more pieces of art.
Also at the gala dinner I meet one of the owners of a famous jewellery shop on the corner of that famous square - we had an aperitif at a cafe there the first night and sighed with relief that somebody else was paying for it.
String quartets competed for attention playing a waltz with ones at neighbouring pavement cafes.
There, as it seems in almost every restaurant including the terrace of The Hotel Danieli (where Johnny and Angelina stayed in the film), we enjoyed a bellini - a traditional Venetian cocktail of champagne and crushed peach juice.
We leave the dinner in a water taxi and arrive on our side of the Grand Canal. Our path up onto the small jetty is lit by a full moon shining on the church of Santa Maria della Salute.
It's as if we're the only people here.
But it wouldn't matter if a million people were thronging around us, because we're in Venice on a warm summer's night.
IF YOU GO
Where to stay: Hotel Saturnia and International.
The writer was a guest of Qatar Airways.
- AAP