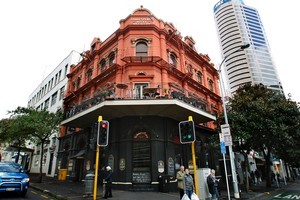 An old central Auckland pub has attracted visitors by advertising itself as a "boutique hotel" - a claim some guests vehemently contest.
According to its website, the Shakespeare Tavern and Hotel, in Albert St, has a 10-room boutique hotel, the perfect place for business or leisure.
But American John Lynch stayed in the hotel in May and sees it differently.
"The place is a dump," Mr Lynch said.
His room was up five flights of stairs from an old bar-room with a TAB and pool table.
On day one, his television was not working, and staff could not get hold of the owners. On day two, his room was not made up and he was told it was the maid's day off.
The pool table and bar were okay - but the rooms should be rented out only by the hour, he said.
"With the Rugby World Cup coming up, potential travellers should be alerted about substandard hotels. The Shakespeare may have brewed good beer in the past, it still might be a quality pub, but to say 'boutique' is a gross misrepresentation," Mr Lynch said.
Others posting on the hotel reviews website tripadvisor.com have agreed "boutique" was misleading.
The tavern's website also continues to list it as a brewery, although it stopped selling its own brews months ago.

Hospitality Association chief executive Bruce Robertson said he could not comment on the quality of the Shakespeare Tavern, but businesses needed to represent themselves as they were.
"I certainly acknowledge it's important that people have accurate representation so customers are happy with what they are presented with," Mr Robertson said.
"One of the challenges is there are different definitions around a lot of these statements. A boutique hotel can be from an accommodation perspective or a food and beverage perspective, or a combination of both, ranging from one star to five star."
The general manager of a website that lists the Shakespeare Tavern, In1solutions.com's Gregg Scott-Brown, said the company's sites listed star ratings, which were a more objective measure.
The Shakespeare Tavern's star rating is listed as "unclassified".
"If you're wanting to stay at a decent place, you need to make sure [it's rated]," Mr Scott-Brown said.
He said the company had received complaints about the Shakespeare Tavern and had sent them to the pub.
The owner of the Shakespeare Tavern declined to comment.