Sheep-stealer James Mackenzie's hideaway is stunningly beautiful, writes Jim Eagles, and the food is equally stunning.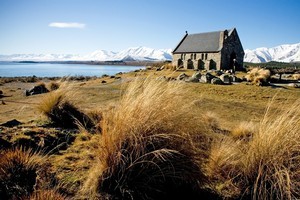 If New Zealand's most famous sheep rustler, James Mackenzie, had been able to enjoy goodies such as giant custard squares, elderflower cordial, chilli and red pepper jelly, bacon, egg and salmon pies, stuffed loin of rabbit and some very nice pinot noir as he rode across the foothills of the Southern Alps 156 years ago, his name might not live on today.
As it was the poor man probably had to live on a diet of stale bread, mutton and creek water, so it's no great wonder he stole a 1000 sheep from The Levels - South Canterbury's oldest sheep run - and tried take them up to a better life in a grassy high country basin he had discovered ... now called the Mackenzie Country.
But anyone following in his footsteps today would be unlikely to waste much time on rustling sheep because of all the country markets, wineries, cafes and gourmet food outlets on offer.
My pilgrimage through Mackenzie Country began at Christchurch Airport where I picked up a rental car and headed south. But it really started at the little town of Pleasant Point not far from where a locality known as Levels recalls the station from which Mackenzie took his sheep.
Outside the old post office, these days the Legends Cafe, a sign proclaimed it to be "the original home of the Denheath Custard Square". That was a challenge I couldn't resist so I sneaked inside and found the biggest custard squares I've ever seen. I had to have one.
Steve Casey, the wiry sheep-shearer who owns the cafe, served one up "Legends-style" with passionfruit syrup and whipped cream, and as I drooled my way through the custard square he explained its history.
When the post office closed about 20 years ago, it was bought by Dennis and Heather McKnight - hence the Den-Heath - as a base for their woodwork and weaving.
Whenever folk came to look at their work, Heather would serve morning tea at which the highlight was always a custard square made to a recipe from her mother.
Before long so many people were flocking in for custard squares that the couple opened a cafe. When they sold the business, Heather passed over the recipe for those yummy custard squares, subsequent owners of the cafe used it as the basis for starting a food company called Denheath Deserts ... and the rest is history.
But Pleasant Point has several other claims to fame besides its custard squares. Just in front of the Legends Cafe, for instance, is the old railway station, built in 1875, where on running days you can board a steam train or even a rare Model T Ford railcar and take a ride to the Pleasant Point Museum and Railway complex at Keanes Crossing. And over the road is the Pleasant Point Butchery where owner Barry Wilson makes his award-winning sausages, bacon and ham.
Although he's been a butcher for 35 years, Barry still bubbles with enthusiasm for the job.
"I'm always looking for new ideas. I get quite a lot of recipes from old people. The other day I had some Italians in talking about their traditional sausages. And a Scottish guy gave me a recipe for haggis which sounds wonderful.
"What I do is take those ideas and play around with them and experiment a bit. If they work I try them on the customers. If they don't I try something else. You've got to keep ahead of the field to survive as a butchery these days."
I took home some of his Little Smoker sausages to cook on the barbecue, and they were terrific with a lovely smokey flavour to augment the taste of his pure pork and six secret herbs and spices.
Even more famous in the Pleasant Point area is Richard Pearse who, around 1902-03, may well have made the first manned flight in a heavier than air machine.
A few kilometres out of town, a replica of one of his planes stands as a memorial above the fields on the banks of the Ophir River where he made his experimental flights. It's appropriately modest recognition of a brilliant man whose own modesty is probably what led to the Wright brothers winning global recognition as the first to fly.
At my next stop, in Geraldine, pioneers of a different kind were awaiting because this is a town full of trail-blazing foodies.
Probably the most famous, Barkers of Geraldine, started 42 years ago on a nearby farm. It is still based there and still owned by the Barker family, but these days turning out more than 600 different jams and curds, chutneys and sauces, cordials and syrups.
I've enjoyed their jam and marmalade before but at their outlet at the town's little shopping mall I was also able to check out such goodies as onion marmalade, a tangy barbecue sauce, lemon and barley syrup and - my favourite - a fantastic red pepper and chilli jelly.
While in Geraldine, I wanted to find out about the locally produced Addmores elderflower cordial, one of the winners in this year's Cuisine Artisan Awards.
Unfortunately because it wasn't elderflower season no one was home, but I was able to buy a bottle of the sparkling elderflower drink to enjoy with our filled rolls for lunch. It was refreshing and delicious, smelling of summer and with a subtle fruity taste that reminded me of lychees.
I also wanted to see Clearwater's organic dairy whose cream-top-yoghurt was also honoured in the Cuisine awards but, again, there was no one home.
When I mentioned this, the nice lady at the Barkers store said, "Oh, they're always at the Saturday food market", and led me to a local park full of stalls laden with bread and bacon, cherries and cakes ... but sadly no yoghurt.
However, the last item on my Geraldine list, Talbot Forest Cheese, was easy to tick off because it also has an outlet in the mall. At the shop, I was able to try chevreton (tasty, but a bit more goaty than I personally like), the marvellously full-flavoured raukapuka red and a delightfully creamy garlic and chive gouda.
I'd like to have sampled more but time was passing, my belt was getting tight, and Mackenzie's trail still had some way to go.
Next stop, after driving through some spectacular scenery, was the town of Fairlie, the eastern gateway to the Mackenzie Country itself, and famous for its bronze statue of James Mackenzie with his dog Friday ... and for its gourmet pies.
The statue is under the trees in the middle of the main street and the pies are produced across the road at the Fairlie Bakehouse and it would be no surprise if the ghost of Friday sneaks over at night looking for a handout because the pies are superb.
But how come a small rural town produces such amazing pies? The answer is that the bakehouse was started by Franz Lieber, award-winning chef, previously owner of the famous Arrowtown Bakery and a firm believer in interesting food.
"Pies shouldn't have to be boring," he said. "They should be as exciting as any good meal."
I asked Franz to nominate the pie he was most pleased with for me to take away for lunch the next day and he opted for his bacon, egg and salmon. It was exciting, interesting and delicious.
Heavily burdened with food as we were, we decided not to take the Mackenzie Pass route followed by the old sheep rustler, but to head up the easier Burkes Pass, past vast areas of golden tussock, trees glowing red and gold in the autumn sun and hilltops dusted with a light sprinkling of snow, to Lake Tekapo and the Peppers Bluewater Resort.
That night, in the resort's Rakinui Restaurant, by way of a tribute to the sort of fare I imagined Mackenzie eating up here in the high country I opted to dine on wild rabbit.
But the meal that arrived - a trio of stuffed loin, fricasse and confit leg of rabbit - was far fancier than anything he would have enjoyed and the intriguing Wooing Tree Winery Beetlejuice pinot noir - named after a rare local beetle - would definitely not have been available back in 1855.
To try to make a connection with those days, I asked Pascal, the maitre de, if the rabbit I was eating was local. "No," he said. "There are lots of rabbits round here but they lead a hard life, they're too tense, their meat is a bit tough.
"But the rabbits up Nelson way are laid back, they're hippie rabbits, their meat is tender.
"So we buy our rabbits from Nelson."
Hmm. Those local rabbits sound a lot like my picture of James Mackenzie. Lean, tough and tense... and hungry.
Next week, Jim Eagles continues his exploration of high country cuisine with a look at salmon, venison, wine and cheese.
CHECKLIST
Getting there: Air New Zealand has direct flights from Auckland to Christchurch and Queenstown.
Getting around: Ace Rental Cars has offices around the country, including at Christchurch and Queenstown airports.
Where to stay: Peppers is a collection of hotels including the Bluewater Resort at Lake Tekapo and the Beacon in Queenstown.
What to do:
* Find out more about South Canterbury food and wine here.
* For Legends Cafe, ring 03 614 7227.
* To contact Pleasant Pt Butchery, call 0800 757 288.