A family holiday on a narrow boat offers up some challenges but all is forgiven with the introduction of gorgeous countryside and a more relaxed pace of life, writes Danielle Murray.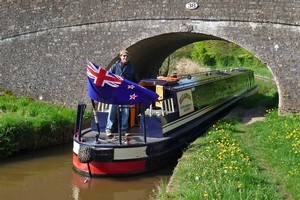 There's a certain freedom in following someone else's dream. Especially when that dream involves one narrow boat, two weeks and three perpetually squabbling siblings. If it all goes wrong, you have no one to blame but that other person.
I'll be honest - I had my doubts - but it was on my husband's list of travel to-do's and sometimes, you just have to go with the flow.
And so it was, on a miserable English day, our Kiwi family - mum Danielle, dad David and children Jack, Julie and Bryn (ages 14, 12 and 10 respectively) set off on the 21-metre Elizabeth and into the soggy mist.
The plan was to journey up the Shropshire Union Canal and down the Trent and Mersey, a 177km loop known as the Four Counties Ring.
The plan did not include rain.
An hour in, drizzle had morphed into downpour and things were not going well. Stuck inside, the kids were going mad. Outside, the slippery back deck, the only place to navigate, wasn't much better. Manoeuvring a totally unfamiliar 20-odd-tonne boat the size of a bus was proving tricky.
I'm sure I read somewhere before we left that canalling was so easy a 9-year-old could do it. "I'd dearly love to meet that 9-year-old", I thought more than once that first day. Particularly when we got stuck on the bottom. Twice.
Eight foggy kilometres later, we moored for the night. Right next to an older Kiwi couple on their third narrow boat holiday. Like us, their New Zealand flag hung at the back.
"Oh, we just love it," chirped Ralph from Remuera. "We were here last year and it rained the whole time. Floods everywhere. Biblical proportions. It's great fun." I began to despair.
"No worries", David whispered kindly in my ear. "There are four pubs here in Brewood. She'll be right."
And the next morning, as if on cue, it was. We rose to bright blue skies and brilliant sunshine. It was cold, mind you, the coldest May in 20 years apparently. But that was okay, we just put on heaps of thermal wear. I think I wore six layers one day. The only downside is I look fat in all the photos.
Luckily I was not the star of the show. That honour belonged to the canal. For as David quickly got the hang of the boat and we were on our way, we soon realised just how spectacular a journey we - or should I say, he - had chosen.
On both sides of the water stretched the most stunning scenery - tidy farm paddocks, cows, sheep and horses, beautiful cottages and stately homes. On the water were ducks and swans and familiar-looking black birds we took to calling Pommie pukekos. Over the water were the many delightful old stone and brick bridges built to compensate landowners inconvenienced by the building of a waterway through their properties all those years ago.
And then of course there were the other boats with which we shared this waterway. Though all the same shape, each has its own personality, wonderfully decorated with charming flower pots on top and differentiated by the traditional vibrant colourful "Roses and Castles" paintwork of the narrow boats called "canal art". It's no wonder my camera was never far out of reach.
If I wanted a good shot, there was always plenty of time to set it up. That's because at a maximum speed of 6.4km/h, we were never in any rush. We couldn't be, even if we tried. The days were spent just slowly cruising along.
And I need not have worried after all. Narrow boat holidays really do have something for everyone.
Bryn, who never leaves home without his rugby ball, managed to turn every seemingly empty canal-side paddock into a rugby field. There was also much kicking of the ball up and down the footpath which stretched almost the entire length of the canal - and more than one water rescue
Julie, whom I often thought was on her own private girl's getaway, could usually be found at the bow, reading one of her many op shop books.
Jack seemed to embrace every aspect of the boat, enjoying everything. He also proved hugely invaluable, often taking over the controls throughout the day. That's because I, as the original co-pilot, never quite grasped the concept of canalling so easy a 9-year-old could do it and remained largely useless. I never really did figure out the whole locks thing, either.
David liked to go on walks, both on the canal footpath and the national public rights-of-way nearby. He also had it bad for English pubs. Not just for their beer, but their history, decor, atmosphere and people.
As for me, I was happiest investigating all the quaint villages along the way, checking out churches and charity shops.
Of course, it wasn't always fun and games. On Day 2, we ran out of water and learned to stop for water at every possible chance. On Day 5, Jack locked the bathroom door - from the inside. It took us an hour to pry open. On Day 7, I'm sure we almost capsized. Naturally David thinks me delusional but everything on the kitchen counter went flying to the floor and the glass coffee pot smashed to bits. No, it was not our fault.
On Day 10, I almost fell into the canal. Having by now become confident jumping from ship to shore, I discovered my reflexes were better than my aim. Underestimating the distance as I hurdled on to the side, I missed and caught the upper railing with one arm as my body lunged into the boat. I ended up with a huge bruise, wet feet and a battered ego. No one saw me. But I knew.
And there was more to our holiday than just the boat. One Saturday afternoon, David and the boys watched the footie at the pub with the locals while Julie and I clothes-shopped and did groceries. We spent a day in Chester.
We walked to Beeston Castle - where some claim treasures belonging to King Richard II have lain buried and undiscovered for almost 700 years. We visited an old nuclear bunker in Hack Green. We had the most delicious Sunday roast lunch in Wrenbury.
And in Wales, we did our best to find a keychain, name plate, something, anything with the name Bryn on it. This we did for Bryn ... who can never find anything with his name on it. We were in Wales, Bryn is a Welsh name. Surely we would find something. We failed.
We also failed to follow the plan. Having veered off into Wales on our little wild goose chase, the days were running out. Though the Trent and Mersey canal was still an option, we'd have to be quick. But by now well-adjusted to "canal-time" and enjoying an unexpected heatwave in week two, we'd become somewhat rush-averse. So flouting our "never go back" policy, we went back.
Turns out, the same way was just as spectacular the second time around. So, luckily for David, there was never a single "I told you so".
Ralph from Remuera was right. Narrow boating really is great fun.
Narrow boat practicalities
There are certain rules of conduct involved in narrow boating. For a list of do's and don'ts just look at "Canal etiquette" online.
Canals are perfectly set up for touring. Water points, rubbish disposal, laundromats and so on are available at regular intervals. We also found grocery shopping easy enough and, unlike small convenience stores in New Zealand, reasonably priced.
Don't want to cook? Pubs along the way are plentiful and reasonably priced, except for the fizzy drinks; beer is often cheaper. You can also park up just about anywhere.
Check to see how many locks your chosen canal route might have. While some folk find the constant stopping at locks enjoyable (and a good way to meet other people and chat along the way) some suffer lock-fatigue early on.
If you like to read, most small towns have one or two charity shops with a brilliant (and even recent best seller) selection of books for as little as 50p.
Have a good look at the type of canal boat which best suits your needs. We noticed a lot of boats don't have much outside seating. As I wanted to be sure to be able to relax on deck, we rented a boat with a large foredeck and reasonable seating at the back so we could all sit together and keep the captain company. Also, note the driver of the boat is usually standing at the back - so something to lean on might also be worthwhile.
Check out the windows. Some boats appeared to have nothing but portholes which looked quite depressing. We found a boat with huge forefront windows which let in plenty of light. I did however think a window at the very front would have been nice so that while stuck inside preparing meals, I could not only see what was passing me by but also what was straight ahead. When you consider the gazillion gorgeous bridges this can be an important consideration.
Most rental boats have television but reception can be dodgy. If you like watching TV, bring DVDs. Radio reception is also temperamental. Cellphone coverage is good enough for texting though I am not sure about voice calls. internet access along the Shropshire Union Canal was not plentiful.
Most narrow boats are around 2m wide so not for those into personal space. If you need plenty of room, hire a boat with king size beds. We found our king size more like a queen but still wide enough that you weren't sleeping on top of each other.
Be sure to find out about linen before you go. Some narrow boat companies require you to bring your own towels and such. As we were coming from overseas, we asked if linen could be supplied. The company did so happily. The same applies to wet weather gear - some is supplied but if you need more, let them know beforehand Bring an extra memory card for your camera. You'll need it.
For basic information on the navigation of the canals, we bought a Collins Nicholson Waterways Guide (Four Counties and The Welsh Canals) which provides excellent information on navigation, mileage, locks, water points, gas points, bridges, turning points, nearby villages, and so on. We found this book invaluable.
CHECKLIST
Getting there: Air New Zealand flies daily to London.
Getting around: See Virgin Trains for internal rail transportation. Fares booked in advance can be as low as 7 ($14.30).
* For more information on Britain's canals see canaljunction.com or britishwaterways.co.uk.
* Collins Nicholson Waterways Maps can be found at this link.
* Canal books can also be ordered online.
* The family hired their boat from Napton Narrowboats.
Danielle Murray's family paid for their own canal boat holiday.