Vicky Jayne finds plenty to see on Route 35 - and all at an enjoyable pace.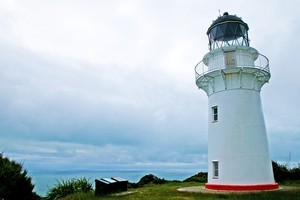 If you go around East Cape, you have to stop at least three times, a friend says. But he's wrong. My count has already far exceeded that and I've only reached Tokomaru.
Route 35 - the Pacific Coast Highway - is a travel version of the slow food movement in that it has to be savoured rather than gobbled.
Clusters of 25kp/h bends don't allow speed, the stunning scenery dictates against it, there's a whole bunch of blink-and-you-might-miss-it treasures that hasty travellers are in danger of missing and, anyway, the pace of life is at the sane end of the rat-race spectrum.
My first stop comes just north of Opotiki at Ohiwa. A loop off the main drag, it hugs the tidal harbour that offers rich pickings for shellfish fanciers or you can try the local seafood at the Ohiwa Oyster Farm whose roadside shop (between Ohope and the Ohiwa Harbour turn-off) looks out over the farm itself.
The well-equipped campsite at Ohiwa is a great base for exploring the surrounding area, including a huge sweep of beach, a wetland dotted with godwits, herons and oyster catchers and the dominating presence of Moutohora (Whale Island), a remnant volcanic cone 9km off the coast that is now a haven for rare birds.
A hint of on-shore birdlife is the yellow road sign warning of "bitterns" crossing. It marks a restoration project that is up for the Keep NZ Beautiful community initiative award.
Nukuhou is the largest remaining saltmarsh in the harbour and has been extensively planted by local enthusiasts.
It's worth a stop to check for fernbird calls and enjoy the pottery bird plaques.
I'd have missed the marsh if I hadn't been directed there by the plaque-makers, Stuart and Margaret Slade, of nearby Cheddar Valley Pottery, who bought the former butter factory to - as Margaret puts it - "make more room for my hobby" 25 years ago.
The hobby is now a thriving business with pots largely thrown by Margaret and painted by Stuart. Unsurprisingly, local birds feature strongly on plates, cups and garden ornaments.
Beyond Ohiwa, where the road runs alongside a long stretch of sandy shore, two red totems mark Waiotahi Beach. Te ara Ki Te Tairawhiti (the pathway to the sunrise) depict Maori arrival here, how Opotiki was named (after two fish), and celebrate Maori/Pakeha togetherness. They're the work of local master carver Heke Collier, who is also responsible for the centrepiece on Opotiki's roundabout as well as the teko teko (guardians) in Hukutaia Domain.
The 4.5ha domain is another diversion off Route 35, a few km out of Opotiki township. It was set aside as a reserve in 1918 mainly to protect the 2000-year-old puriri, which once served as a sacred burial tree. The tree, known as Taketakerau, is now surrounded by one of New Zealand's most extensive collections of native plants, some 1500 species, many collected from offshore islands.
Beyond Opotiki, the highway winds in and out of a series of scenic bays. I stop at Opape, which boasts the area's first coastal walkway, the Maraenui hill lookout, Motu River, which offers rafting and jetboating, Whitianga and stop for the night at Hoana Waititi Reserve in Omaio, where freedom campers have the use of a paddock on a knoll overlooking the bay.
First stop next day is Te Kaha, another gorgeous bay, boasting a range of accommodation from backpackers to modern beach resort.
And then it gets hard to stop stopping. There's beautiful Whanarua Bay where you can eat the world's most delicious macadamia ice cream while gazing at one of the world's most attractive views, courtesy of Pacific Coast Macadamias.
Nearby, an unmarked track goes through private land to a surprisingly impressive waterfall - and I'm not even halfway. Two must-stops along Route 35 are churches. The first is easy to spot, the famous white Anglican Church standing on a promontory at Raukokore; the second, St Mary's Church, 90km further down the road at Tikitiki, is easier to miss, which would be a shame as it is truly a work of art.
Designed to show Maori craftmanship at its best, St Mary's features decorative tukutuku panels on walls and ceiling, beautifully patterned stained glass, carved pews and a decorated pulpit that was a gift from the people of Te Arawa.
Between these two wonderful churches, and off the main highway, on a windy and isolated stretch of unsealed road, is what feels like the apex of Route 35: the East Cape Lighthouse.
After overnighting at a now derelict campsite along the access road, I arrive too late to see the first light of dawn but clouds spoil the effect anyway.
Even the enthusiasts who'd dossed down on the hill where the lighthouse was shifted in the 1920s (from Whangaokena Island) missed out. As one German tourist, heading back down with tripod slung over his shoulder noted: "There was light ... somewhere ... I couldn't see."
Still, it was well worth the 750-step climb to the lighthouse. And it was my only overcast day on the Pacific Coast Highway.
By Tokomaru, sky and sea are again bright blue, dotterels scurry on the driftwood-encrusted shore and I finally get phone reception. Suddenly, modern life intrudes. With a South Island ferry to catch, I have to up my pace so other treasures along Route 35 will have to remain hidden for now.
CHECKLIST
Further information: See Pacific Coast Highway.