Julie Symons and her fiancé take to the air in magnificent flying machines.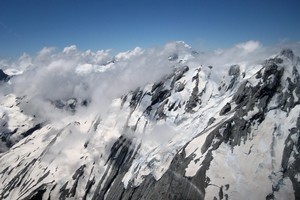 You don't need to be able to walk if you want to fly. Even if you're a paraplegic, there's nothing to stop you enjoying the thrill of swooping through the sky and enjoying the stunning lake and mountain scenery from a historic Tiger Moth.
So we discovered when I surprised my fiancé Jeremy with a trip over Wanaka with Classic Flights, a company that offers flights with a difference. They go out of their way to accommodate passengers who would normally be confined to wheelchairs.
The trip I'd booked, a Freedom of Romance package that included a picnic at a high-country station, was cancelled due to bad weather, but Classic Flights boss Peter Hendriks offered an exhilarating 20-minute flight over lakes Wanaka and Hawea, with Mt Aspiring National Park and the Southern Alps framing the picture.
Our planes looked like something from a war movie and, within minutes of arriving at the airport, so did we. Kitted out in old-fashioned flying jackets, helmets, scarves and goggles, we felt like we'd stepped back in time.
Mobile phones and car keys locked behind, we farewelled the 21st century and embarked on a 1930s' adventure.
The passenger sits in the front seat of a Tiger Moth, the pilot in the seat behind.
A headphone system allows you to communicate.
But first we had to get into our planes. As Jeremy has some limited movement in his legs, he was able to wriggle himself up a gangplank next to the plane on his backside, then transfer himself into the cockpit by using his hands to lift his legs over the side. Then Peter strapped him in.
The biggest challenge for paraplegics is entering and exiting the plane. Jeremy noted afterwards that paralysis affects people differently but, after seeing Peter's can-do attitude firsthand, he was confident that Classic Flights would find a way to assist passengers with less mobility than him.
Getting into my plane was less of a problem, though sitting in an open cockpit was still daunting at first, but I gained confidence from the seat belt, which straps your whole upper body firmly against the seat, so there's no chance of falling out of the open cockpit mid-flight.
We thought the planes would be cumbersome taking off. Instead I was momentarily distracted from take-off by the archaic-looking instrument panels and when I glanced up we were soaring through the air after smoothly coasting along the runway.
Just metres away, looking like fictional aviation hero Biggles, Jeremy was completely at home up the front of his flying machine.
We flew over fields towards the township and lake, the mountains surrounding Wanaka all around us. When we lifted our cameras to photograph the spectacular scenery the wind buffeted us. It was hugely invigorating.
The Tiger Moth is a 1930s-40s-era biplane that was used to train pilots for aerial battle in World War II.
As Jeremy put it afterwards, "at the risk of sounding like a 12-year-old the entire experience was awesome.
"With a lot of modern things these days like cars and aircraft you are sort of detached from the experience. But with a Tiger Moth it's very organic, it's very in your face."
Jeremy acknowledged that making the flight was a challenge. "I was a little uncomfortable as to whether I'd be able to get into the plane, but Peter made it so easy. And it was well worth it."
CHECKLIST
Further information: Classic Flights is based at Wanaka Airport. Freephone 0508 4FLYING (4359464).