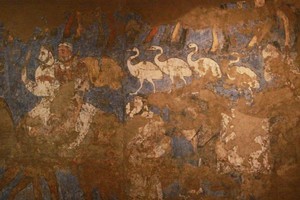 A fresco recovered from ancient Marakanda, displayed in a Samarkand museum. Photo / Jim Eagles
Something orange-coloured shone in the dry soil at my feet. I picked it up and rubbed off the dirt, revealing a small piece of terracotta, probably part of an ornamental tile to judge from the slight patterning. It was a remnant of the 3000-year-old lost city of Marakanda.
Perhaps, I imagined, the tile came from the house of some rich Sogdian merchant who made his money acting as a middleman between Silk Road traders from Persia and China, India and Russia, exchanging furs for tea or silk for coloured glass.
Guilty, I slipped it into my pocket. Entirely wrong, I know, but I couldn't resist the chance to bring home a centuries-old souvenir from my journey along the Silk Road of today.
Marakanda, in Central Asia, was for more than a thousand years the hub of the great east-west and north-south trading routes.
Its fame was such that when Alexander the Great conquered it in 329BC he is said to have exclaimed, "Everything I have heard about Marakanda is true, except that it's more beautiful than I imagined."
The city changed hands often, also being conquered by Arabs and Turks, and finally by Genghis Khan, who not only tore down the buildings Alexander had admired but also destroyed the water system that made life possible.
All that remains today is a scrub-covered plateau; rough mounds indicate places where fortifications once soared, hollows point to old archaeological digs and the scattered bits of marble and terracotta indicate there is still much to be found.
A small museum on the site reveals that excavations have already found 11 layers of civilisation, dating back as far as 700BC, and displays a fascinating collection of the pottery and coins, frescoes and sculptures, household implements and weapons recovered so far.
But Marakanda did not entirely die - 150 years after the Great Khan's onslaught, a new conqueror, Timur, built around it the equally fabled city of Samarkand as capital of his empire.
In fact, even as I explored the grave of the old city I could see, on the hill opposite, the majestic turquoise domes of Timur's great monuments.
War may have caused these two cities to fall and rise but it was the wealth generated by the Silk Road which sustained them and it is the memory of the Silk Road which still brings visitors today.
Getting here, to ancient Samarkand, and finding that tile, a remnant of even older Marakanda, was for me the culmination of a four-week pilgrimage along the great trade route.
For nearly 2000 years - from around 300BC until the Ming emperors closed the doors to China in 1500 - this network of roads linked most of humanity for the first time.
It not only carried trade but also religions, ideas and, perhaps most important of all, inventions like printing and gunpowder, the marine compass and the mechanical clock, changing the shape of the world.
And it still has the power to fire the imagination today.