Liz Light enjoys nature's abundance in a pristine part of Papua New Guinea.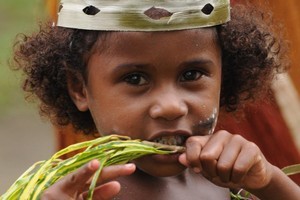 The 20 men in the war canoe are all rippling muscle as they power across the bay, chanting to keep time, pointed paddles digging into the sea. The pencil-thin canoe skims over the water, around a distant marker and back. The body of it is striped black and white like a sea snake and the stern has a carved tail incorporating images of a bird of paradise, a crocodile and a whale, all powerful creatures here.
On shore, the community is out to support them, shouting encouragement and applauding their arrival back on land. A team of dancing girls, faces painted, grass skirts and bands of decorative grasses strung across their bare breasts, waits to welcome them ashore.
It's party time in Waga Waga village, in Milne Bay Province, on the eastern tip of mainland Papua New Guinea, but this is just a dress rehearsal for the real thing, which will happen a few days hence. Every year there is a war canoe competition and cultural festival in Alotau, the provincial capital. These men are lucky, they have to paddle for only a few hours across the bay; other competitors spend weeks paddling from distant islands.
With 15,000 people, Alotau is the bright lights and big city in a vast area of mainland and islands covered mostly in jungle and with thousands of tiny family-based hamlets dotted throughout.
Alotau has two supermarkets, a high school, a hospital and a busy port, from which boats to the outlying islands constantly come and go. The market is abuzz with folk spending their hard-earned kina and a walk through it, past luscious displays of produce, is indicative of the area's fecundity and people's gardening skills. There are peanuts, papaya, pomelo, bananas, mangoes, star fruit and melons; rows of root vegetables such as taro, yam and kumara, and stacks of green vegetables, many of which I can't identify. There are sago cakes to go, freshly baked cookies and smoked fish of all sizes.
Milne Bay was a vital piece of geography in World War II. The Japanese held the islands and the mainland to the north, Australians held Milne Bay and its three vital airfields and Americans arduously fought their way north in the nearby Solomon Islands.
The locals were bemused by the chaos around them, as incomprehensible world politics collided on their land. They usually quietly sided with the Australians, helped them haul supplies up mountain paths, passed on information about Japanese activities and cared for wounded soldiers. These fuzzy wuzzy angels, as the Aussies called them, won the heart of Australians and it's a bond that has not been forgotten. It's difficult to imagine a war in this serene place where fragrant frangipani trees quietly drop flowers, gentle waves ruffle the shore, dolphins cavort in quiet coves and, when we pass on a path, smiling people say, "Goodie morn," pigeon for good morning.
The war's wrecks remain though; hundreds of Japanese and American ships, bombed by each other's aeroplanes, lie silently on the ocean floor, changed now into extraordinary reefs. The Coral and Solomon seas, which meet at Milne Bay, are the world's best dive destinations, with thousands of islands and pristine reefs and the added attraction of sunken, twisted iron and steel.
Near Waga Waga, the wreck of a coal carrier, Muscoota, mortally wounded in 1942, has a rusting bow protruding from shallow water and the rest of her slants down into the inky blue depths. It's a terrific site for snorkelling because, after 68 years, the underwater world has transformed the ship into a glorious marine ecosystem.
Giant clams with zigzag jaws cluster inside the funnel, angel fish circle the anchor in shafts of sunlight, iridescent blue starfish and sea eggs with extravagantly long quills cling to the deck, purple and orange corals hang on to the sides and flower-like tendrils of sponges wave from the cabin top.
On shore, sitting in shade, girls from the village's school are studiously drawing "things they see in nature". The drawings are of butterflies, flowers and tangled vines that thrive in this lush tropical climate.
In the evening I see other tropical creatures. Staying at Ulumani Treetops Rainforest Lodge, up the hill from Waga Waga, I walk the bush path to my cottage, passing toads taller than coffee mugs; unafraid of torchlight, they peer at me with googly eyes. Giant snails with pointed shells crawl around. I thought they were vegetarian until I see one greedily eating another that I inadvertently stood on earlier in the evening.
Ambrose, whose family owns Ulumani Lodge, takes our group in his boat up the Dawadawa River. We pass hamlets sparkling after rain, surrounded by gardens with tall jungle on the hills behind them.
The houses are made from natural, local materials. Palm bark is flattened to make walls, palm leaves are woven for roof thatching and the floor, furniture and support structure comes from forest hardwood. Food, too, is locally sourced. Gardens flourish in the rapid changes from rain to brilliant sunshine, pigs roam around and fish is in the river, game in the jungle, for those who care to hunt.
We stop at an eddy and Ambrose's bush telegraph has worked. Men arrive by outrigger canoe. People are introduced, "Goodie morn," they say and hands are shaken.
A young cassowary, which looks like a moa, stalks about ? it's a pet, belonging to the people in the house nearby, who enjoyed feasting on the giant drumsticks of its 55kg mother.
The journey up river continues. I sit on a slab of timber that straddles the topsides of the dugout, as does John, my pink-mouthed mahogany-toothed beetle-nut-chewing paddler.
Birds call from tall trees, hornbills fly across the river, cicadas hum and giant dragonflies helicopter by.
The air is filled with perfume and John points out the trees whose insignificant flowers proffer such sweet aromas. He points out the palms from which the loved betel nuts hang. It gives the chewer a head-rush followed by a feeling of relaxed contentment, he says.
I feel blissfully content without it. The soft dip of the paddle, the sun on my back and nature, perfect and unsullied by man's frantic industry, is all around me.
IF YOU GO

Get there: Fly Air New Zealand to Cairns. Night-over in Cairns and get the early Pacific Blue flight to Port Moresby. It connects to an Air Niugini flight to Alotau. Port Moresby is worth avoiding.
Stay: Alotau, in Milne Bay, is lovely and it's worth staying a couple of days.
Napatana Lodge and Driftwood lodge, both on the beach, are delightful.
Treetops Rainforest Lodge (email treetops@kulamail.net) is charming. If there is a group of more than four Ambrose will arrange trip up the Dawadawa River.