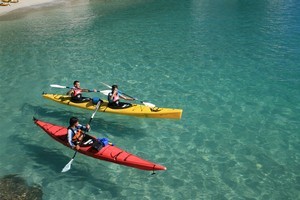 It seems that simply sitting on a beach with a novel is just not, well, novel enough for us Kiwis. In fact, mucking around in, on and under the water could be called a national pastime. So here are a few water sports you may want to get your teeth into this summer, and how to get involved.
Stand-up paddle boarding
They're like an invading Viking flotilla, these days, particularly at Takapuna Beach on Tuesday nights, when a stand-up paddle boarding (SUP) race is held as part of the State Beach Series for the increasing numbers of converts to this marine pursuit.
SUP riders speak of their sport with the conviction of zealots and, from a distance, they certainly give the impression they are walking on water.
The act of propelling the board, which can from between 2.7m to 3.9m long (beginners will find a longer board easier), can be a tranquil, easy cruise, or a strenuous core workout. It can be used both on flat water and in the surf.
Wind is the enemy of the SUP rider. Your body acts as an efficient sail, and making headway into strong wind is slow going and quickly becomes a slog. Fine if you want a workout, but no fun for a leisurely paddle. Really strong winds can blow your board away from you faster than you can swim, so if you go out on a windy day, tether your board to your ankle with a leash.
Boards range in price from $1300 to $2500, and a carbon fibre paddle will set you back in the region of $300-$600. It's around $40 for a SUP lesson. For casual hireage, around $15/hour.
Hire and learn:
Madloop, Lake Pupuke, ph 021 958 812
Auckland Kitesurf Centre, ph 021 954 022 (based in Takapuna, Orewa and city bays).
NZ Board Store, ph (09) 815 0683
Watersports South Pacific, ph (09) 486 7739
Spear fishing
For the pescatorially challenged - i.e crap fisherfolk - spear fishing may just be the answer. It's by no means an easy ticket to bulging chilly bins, but at least it beats trying to will an immobile rod into action.
Spear fishing's current renaissance may be due to it being the most environmentally friendly form of fishing in that there is no "by catch" - the spear fisher chooses which fish to kill.
The spear fisher has to effectively "hunt" fish, swimming over rocks and through seaweed to surprise his or her prey. Learners do best in shallow water and as breath-holding ability increases, they can go deeper. Forget snapper for a while - they are wily and generally only speared by experienced spear fishers. Butterfish are common, and great eating. If you see a John Dory, it is usually a doddle to spear.
The speared fish are threaded on to what's called a float line and they will drift back away from the spear fisher. As well as having the advantage of having any bleeding, twitching fish away from your person (in case any curious sharks come for a look), it leaves you free to go on hunting for more.
Experienced spear fishers will laugh heartily as beginners worry about sharks. While not an uncommon sight, no spear fishers have ever been attacked by sharks in New Zealand waters.
Equipment for spear fishing includes a wetsuit, mask and snorkel, fins, speargun, floatline and buoy, gloves and weight belt. A diving knife is recommended. It is possible to hire a full spear fishing kit for just over $100 for the day. To buy a full kit for a beginner, expect to spend in the region of $1000.
Hire and learn:
Ocean Hunter, Westhaven, (09) 377 0896
Wild Blue, Albany, (09) 478 8695
Some dive shops also sell spear fishing equipment.
Surfing
Surfing is ridiculously addictive; those who start are generally in it for life.
What initially appeals is the simplicity of the sport, that you can actually tame a heaving slab of water with nothing more than a fibreglass and foam board.
But for a simple sport, it certainly takes some practice. It's not the getting to your feet that's difficult, it's the fact that the stuff underneath them is moving - and fast. Add to this that each wave is different, so subtle variations on the basic techniques are required.
A spring suit (short arms, short legs) will cost between $100 and $300. A board can be anywhere from $300 to $1500. A leg-rope (which tethers the board to your ankle) will cost around $50.
While it is possible to learn to surf on a short board (around 1.8m long), a mini Malibu (around 2.1m to 2.4m) or a full-sized Malibu longboard (anything over 2.4m) will provide more buoyancy and stability. Surfing schools often use foam longboards, which are softer to fall on.
Surfers in Auckland play the waiting game, either for the waves on the west coast to die down to a manageable size and the wind to turn offshore (the optimum conditions), or the intermittent swell on the east coast to rise.
Hire and learn:
Aotearoa Surf Company, Te Arai/Mangawhai (09) 431 5760
Muriwai Surf School 021 478 7343
Offshore Surf School, Kumeu 027 214 4231
Kite surfing
Traditional windsurfers stood around in small groups saying to each other that "it couldn't possibly be that much fun" when kite surfers first started appearing at their traditional sailing spots. But their murmurings grew quieter as rapidly swelling numbers made them a commonplace sight and on any gusty day in Auckland a number of spots will be thronged.
From those early days, kite technology has made the sport much safer (stories of kite surfers being pulled across beaches and roads made the news early on) and more accessible. A de-powering system is engaged when the bar on the kite is let go.
In a south-westerly wind (the prevailing wind in Auckland), good spots include Pt Chevalier, the Tamaki Estuary or Bayswater. In strong north or north-easterly winds enthusiasts head for Orewa or Takapuna.
Kite surfing is one of those sports where lessons or guidance is almost imperative, as without learning the basics a beginner would struggle to learn the technique.
A full rig - kite, lines, board and harness - starts from around $3000. Wetsuits range from $100 to $500.
Hire and learn:
Auckland Kitesurf Centre (09) 846 9686
Watersports South Pacific (09) 486 7739
Anabatic (09) 889 8001
Wings and Waves (09) 446 0020
JC Kitesurfing, ph (09) 551 1658
Sea Kayaking
Sea kayaking's PR took a hammering when Andrew McAuley tragically died so close to completing his transtasman journey. However, his was at the extreme end of the risk spectrum, and provided some paddling basics are mastered, it is a safe and enjoyable sport.
The Hauraki Gulf is the perfect sea kayaking playground, with strings of islands featuring safe harbours and minimal swell to hamper beach landings.
Sea kayaks are designed for overnight trips, with storage compartments in the front and rear - enough for a tent, sleeping bag, some food and water and perhaps a bottle of wine. The kayaks also come built for two.
Beginners should aim to first have a go at paddling an open kayak, on which you sit on top, rather than in (sea kayaks have a cockpit covered by a spray deck - a kind of neoprene skirt, which keeps out water). This will develop your paddling skills and confidence before you start crossing significant stretches of water.
Hireage of kayaks starts at around $15/hour, and when you feel comfortable, go for a guided trip. Complete this and you'll know if it's the sport for you. If it is, you're looking at $3500 upwards to get yourself equipped with a kayak, paddle, spray deck, paddle jacket, buoyancy aid, pump and paddle float.
Hire and learn:
Ferg's Kayaks, Okahu Bay (09) 529 2230
Canoe and Kayak, Sandringham (09) 815 2073
Sea Adventures, Titirangi (09) 813 3511
Outdoor Discoveries, Auckland (09) 443 5720