Backpacking overland through Asia is daunting enough for cocky 20-somethings on their OE. But Kiwi mum Jacqui Thomas has taken a year out to backpack round the world - with her 7-year-old daughter.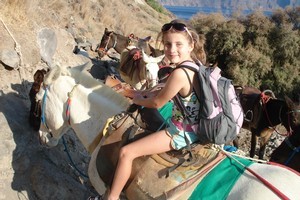 The Penang taxi driver was turning nasty. It was 4.30am and he'd quadrupled the price on me. I couldn't afford to be taken for a sucker. My daughter, Samantha, and I were on a budget, and this taxi driver was about to blow it.
So I smiled, offered him the right money - a trick that usually works - but he was having none of it.
He yelled and swore, then things turned ugly. He started pushing me and trying to take our backpacks. Then more abuse and yelling. Eventually, I threatened to call the police and he backed off, accepting the cash.
It wasn't the sort of scene I wanted Samantha to witness but that's what happens when you backpack round the world - you have to take the good with the bad and the ugly.
We spent the next couple of hours on the footpath under a street light until daylight came when I was game enough to venture out in the streets to find us a hotel.
The flipside of our dubious introduction to Penang was that we found a wonderful guesthouse run by an eccentric British barrister.
Staying there was a bit like having a walk-in role in Faulty Towers but it was fun and, as a result, we ended up staying there twice as long as we initially intended. We went fishing with a local and Samantha even had a puppy to look after for a few days, rescued off the streets by the guesthouse owner.
It was the recession-driven downturn in business - and the sight of friends' children leaving on their big OEs - that first caused me to ponder about the possibility of going travelling with my daughter. Fifteen years ago, as I backpacked around various Third-World countries, I always thought it would be a wonderful life experience to repeat the adventure when I had children.
With Samantha already 7, I realised there would never be a better time.
The only real stumbling block was cash - or lack of it. But after a bit of research and a few calculations I realised that by sticking to a backpacker budget we could travel the world for about the same amount as it costs to live in central Auckland. I had skills I could use anywhere and, with technology, I could work remotely.
And so, a month later, armed with nothing more than a laptop, a one-way ticket to Australia, a gutsy 7-year-old daughter, and a backpack each, we set off on Jac & Sam's Round the World Adventure.
A backpacking adventure with a child as a travelling companion is certainly different. We didn't get very far before I was wondering what the hell I'd gotten us into. Within days, I'd unwittingly let her paddle in the sea at Cape Tribulation, having completely missed the crocodile warnings.
Then there was the 3m croc in our camp ground, which the guy running the place sent us up a track to have a look at. Was he serious? Yep, fair dinkum. It's a bit disconcerting when the resident croc isn't sunning himself like he is supposed to be. Samantha did find him eventually, coming up from a swim.
Just days later, we were at Dreamworld on the Gold Coast, dangling from some contraption 139 storeys high. Samantha's reaction? "Mum, that was so freaky, I couldn't even breathe or scream ... Can we do it again?"
Australia didn't really count in my terminology of "global backpacking adventure". Our real adventures began once we hit Asia. The heat, the smells, the noise, the contrast from life at home - these are the things I love and wanted Samantha to experience. But she didn't completely share my enthusiasm for the "Third World" experience. The "real" experience needed to be punctuated with Sprite, ice creams and swims to keep her happy and at a regular temperature.
Cheap-and-cheerful accommodation in Asia features open-air bathrooms and resident geckos to help manage the mosquito population. So as a treat we stayed at the luxurious Legian Beach Hotel in Bali for a couple of days and then again at the Pan Pacific Hotel in Singapore. The Western-style breakfasts and sparkling swimming pools helped buy me a bit more time in Asia without Samantha completely losing the plot.
Food can be an issue for anyone on a budget in Asia but it's worse with a small person. Kids can be fussy anyway, but when it's hot and smelly and the food is unusual, it can be a battle to get some decent food into them. Thank God for chicken satay and rice - Samantha's main stay diet throughout most of Asia.
I still tease her about the market we were sent to for breakfast in Malaka. Our guesthouse owner told us that was the best place to go. Great - if you like to start your day with pig's innards and noodles. There were almost tears that day, until I managed to find a 7/11 store and buy apple juice and something vaguely resembling cornflakes.
In Malaysia, we met an Irish family who, like us, had decided to take a year out to travel the world. They were about six months into their experience when our paths crossed. We spent a couple of days in the Perhentian Islands hanging out with them, including a blissful day snorkelling with a wealth of tropical fish and corals, and a fairly healthy turtle population. I even swam with my first shark.
Samantha, who does miss her friends, loved spending time with children her own age. The language barrier in the playgrounds was an issue at first. But I've taught her a smile is universal and, if she's friendly, she can play with other kids on the beach or at playgrounds and it doesn't matter if they don't speak the same language.
By the time we left Asia and headed for the UK, I was a tad exhausted. Although travelling the world sounds glamorous, the reality is that it takes a lot of work to keep the wheels turning. We've had some fantastic experiences and met some fabulous people but it does require a lot of effort to make it all happen. Luckily, we were able to spend some time with friends and family in England to recharge our batteries before continuing on.
In Europe, our first stop was Santorini, Greece. Perched on the edge of a volcano, Samantha had a science lesson. Maths occurred while climbing the 387 steps to the village above. Reading took place waiting for the bus. And while she didn't do spelling as such, she did learn at least five useful phrases in Greek, including a handy trick to remember how to say thank you - efaristo - sounds like "a ferret's toe".
Even so, people regularly ask me why Samantha isn't at school. But I'm satisfied that she's not going to fall behind. She reads regularly while we're travelling, maths quite often occurs through our money exchanges and when she's bored on long journeys. Writing is done via her diary of our trip and the scrapbook she's keeping. Her spelling list has all sorts of weird and wonderful words in it she's encountered through her diary writing, like 'iguana", "rickshaw" and "snorkelling".
Without the luxury of a travel agent and large amounts of cash, budget travelling means booking trains, buses, ferries and the occasional cheap flight, and traipsing around to find cheap accommodation once we get there. We do have a loose itinerary that has largely been shaped to follow the sun and, obviously, taking in places we'd like to visit.
I must admit this inability to plan too far ahead can sometimes be a bit stressful, especially when you have a small person in tow that you need to keep safe and secure.
And like any travel companions spending 24 hours a day together, we've had our moments. The hardest part is probably having only each other for company so much of the time. I love my daughter dearly and we have lots of fun, and enjoy sharing many adventures together.
But we have reasonably strong personalities and we've been together for many more hours a day than we are used to. So, every now and then, we clash. Even the tightest companions are bound to have their moments when they need a bit of space, but when one of the travel companions is a child, it's a bit trickier to have a breather from each other and still maintain their safety.
And so boundaries get tested, patience wears thin and we get to the point when we are completely on each others' nerves. All the normal parenting strategies apply and all the variables that trigger bad behaviour still exist. Is she thirsty, hungry, tired, bored, feeling unloved or insecure? How am I feeling - is she feeding off my stress and concerns? These things are all still manageable but they take a bit of extra work on the road. When it's 40 odd degrees, they need more water to stay hydrated (obviously). When you're in a strange country with weird food, it takes a bit more effort to ensure they eat well. When you're flying around the place, it takes awhile to adjust your body clock to the time differences. And when you're constantly on the go, meeting (and saying goodbye to) new people, and experiencing different things, then I guess it makes sense that a child may be a bit more on edge and behave accordingly.
Add to that my stress and concerns - where are we going to stay tonight, what can we find to eat, how can I catch up on my work commitments, how can I ensure I earn enough money to keep us safe and happy - then I guess it is only natural that there will be a bit of tension in the air.
So on the bad days, I hope my child is a normal human being experiencing a lot of change and not just a complete brat. She may well be one of the only kids to have ever been in "time out" in the National Archaeological Museum in Athens, or on the Waterloo Bridge in London, but that's life.
Now that we're a few months into it, we seem to have found our groove. Is it easy? No. But, is it doable? Yes. And is it worth it? Absolutely.
To read more about Jac & Sam's Round the World Adventure, visit their website: roundtheworldadventure.com.