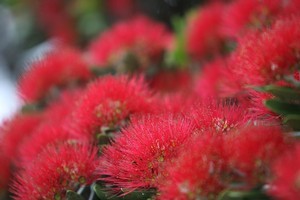 The Coromandel Peninsula celebrates the start of summer with the Pohutukawa Festival, which coincides with the flowering of the region's many pohutukawa trees. From November 19 to December 5 over 20 events are scheduled, including a dive festival, concerts and music festivals, art exhibitions, heritage trails and markets.
On the web: pohutukawafestival.co.nz
Showing off
The Whangarei Summer Show offers a lively programme of equestrian events, dairy and beef competitions, shearing, Highland dancing, wood chopping, and trade exhibits. There's also a farmyard nursery, entertainment, vintage machinery displays, pony rides, a big dig, pet competitions for the kids, a food and wine marquee, and much more. It's at the Barge Showgrounds, December 4-5.
Contact: (09) 438 3109
On the web: summershow.co.nz
Christmas in Assisi
Assisi Gardens near Masterton is a large country garden situated on a hillside with spectacular views over the surrounding countryside. The garden is usually open by appointment, but on December 5 the public are invited to the Assisi Summer Fair, which runs from 10am to 4pm. There'll be stalls featuring art, food and drink, and it's rumoured Santa will swap his sleigh for a boat and arrive via the lake.
On the web: assisigardens.co.nz
Body of art
The NZ Tattoo and Art Festival in New Plymouth showcases the history, art and culture of tattooing, with New Zealand tattoo artists joined by renowned artists from Japan, Singapore, the US, Malaysia and Holland. More than 140 artists are attending, and dozens of booths will feature live tattooing and piercing. There'll be retail stalls, exhibitions featuring Maori art and graffiti art, plus plenty of food and drink. Live entertainment includes bands and burlesque performers. It runs November 27 and 28 at TSB Stadium. Admission is $15 per day or $25 for two days.
Contact: 021 0243 5487
On the web: nztattooart.com
A country affair
The hamlet of West Melton near Christchurch dons its Christmas colours for the West Melton Wonderland Christmas Country Fete on December 5. Stalls will offer a wonderful range of quality products, or you can relax with a snack from a variety of food and drink stalls while you listen to live entertainment.
On the web: westmeltonwonderland.co.nz