Beauty, mystery, death and destruction await Jim Eagles when he makes a long-anticipated visit to the Chatham Islands.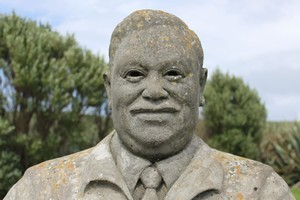 In the weatherbeaten rock face above Nunuku's Cave, named by Moriori for the ancestor who brought a culture of peace to the Chatham Islands, someone has gouged in big letters the Maori words "Te Ana a Moe", meaning cave of sleep ... or dreams ... or possibly even death.
Further along the cliff, with its rare Moriori carvings of seals, birds and flounder, another message has been scratched into the rock, "Don't change history for money or you'll lose it," the fresh white letters standing out sharply on a surface blackened with age.
It wasn't quite what I had expected to see after following our guide, Val Croon Jnr, over the slippery green rocks along the edge of the tea-coloured Te Whanga lagoon, yet in a sad way it was appropriate.
One of my main reasons for wanting to visiting these windswept islands 860km east of Christchurch was to see for myself the unique tree and rock carvings, described by Michael King in his marvellous book, Moriori: a people rediscovered, and it was well worth the effort.
But I was startled to find how little is left. The tree carvings are disappearing as the groves of ancient kopi trees - our karaka - die off. The rock carvings are gradually being eroded by weather, cattle and now vandalism. Soon there may be nothing left of the memories carved on this landscape by a unique Polynesian people.
Ironically, this loss is happening when in other ways Moriori are probably better placed than at any time since the islands were invaded by Taranaki Maori in 1835 and the inhabitants slaughtered or enslaved.
The number of people identifying themselves as Moriori in the New Zealand census has risen from just 35 in 1901 to 945 in 2006. And funding provided through Treaty of Waitangi settlements has allowed Moriori to increase their landholdings on the Chathams and build a magnificent marae as a focal point for their culture and a place to tell visitors their tragic story.
Kopinga Marae, which sits on a knoll overlooking Lake Huro, the lagoon and the sacred Moriori meeting place at Te Awapatiki, is quite deliberately a marae like no other.
Although their ancestors almost certainly came from New Zealand 400-500 years ago, Moriori didn't have marae as such - the name kopinga comes from the groves of kopi trees which served as formal meeting places - so the design isn't based on tradition but on local features. The building is shaped like a soaring Chatham Islands albatross, the main meeting room has the circular shape of a kopi grove, the five-sided central seat is a tribute to the basalt rock pillars at Ohira Bay and most unusual of all - from a mainland New Zealand perspective - in recognition of the challenging weather conditions visitors are welcomed not on to the forecourt but into the building itself.
In our case the welcome was provided by the chairman of the Hokotehi Moriori Trust, Shirley King, who proudly showed off the decorative carvings based on traditional themes, a central pole carrying the names of the 1500 Moriori known to have been alive when the invasion occurred, a stetson-style hat which provides a rare example of fine weaving, stone weapons, replica tree carvings and other taonga.
But Shirley mourned the absence of a superb carving held in the Auckland Museum "which we had hoped to put on display but the museum wouldn't release because it has been claimed by Ngati Mutunga [one of the Taranaki iwi that invaded]".
When we expressed amazement, she added that this was not an isolated incident. "Ngati Mutunga still claim that we lost our rights when we became their slaves. They deny our right to compensation, they claim our taonga and they even claim our old bones when they are returned from overseas. Because of this the sadness continues even today." (Incidentally, I later heard a Ngati Mutunga woman on the island commenting on this very issue, "We keep claiming bones and things which we know perfectly well have nothing to do with us. It's embarrassing.")
This led naturally into the story of the invasion, and tears welled up in her eyes as she described how when the Taranaki Maori arrived, in a bad way after a rough ocean voyage, the Moriori cared for them.
Even when the new arrivals recovered and started taking possession of the land Moriori stayed true to their peaceful traditions, Shirley said.
"They met at Te Awapatiki to discuss what to do. Some of the younger ones wanted to fight the invaders and because the Moriori were much more numerous they could probably have defeated them. But the older leaders wished to honour the teaching of Nunuku-whenua and so they did not fight."
On the wall of the marae is a photo of Gandhi whose non-violent resistance movement won independence for India. But such a stance didn't stop the Moriori from almost being wiped out, providing an object lesson that for pacifism to be effective requires some sort of moral equivalence on the part of the enemy.
Lack of action by colonial governments meant that even though slavery was officially abolished in mainland New Zealand in 1840 it wasn't until the 1860s that the few surviving Moriori were finally released.
By this time few full-blooded Moriori were left and the last one, Tame Horomona Rehe, better known as Tommy Solomon, died in 1933.
At the time his death was widely viewed as the end of the line but 50 years later, as a Moriori revival started to gather pace, a statue of Tommy was erected as a symbol of that rebirth.
To see the statue we drove to Manukau Point, where Tommy used to farm, and Val pointed out his grave in the family cemetery on private land over the fence, as well as the site of his home. "It fell down years ago and there's nothing left now."
The years have also taken their toll on the statue. Tommy's sturdy figure still smiles imperturbably out to sea but the joints have had to be patched up with concrete, the surface is pitted and covered with patches of orange and grey lichen.
The tree carvings, which are the most famous artefacts of the Moriori, have fared even worse. A detailed survey in the 1940s recorded 1145 but by 1998 only 185 could be found and many of those were almost illegible.
The best place to see them now is the 33ha JM Barker (Hapupu) National Historic Reserve where cattle have been fenced out and the kopi trees cleaned of moss and algae to make the carvings clearer. A pleasant track weaves its way through the gloomy forest, in which the Moriori figures meditate, creating an atmosphere rather like that of a cathedral.
We spent some time admiring the dozen or so carved trees, including representations of albatross, flounder and human figures that looked like the inspiration for Hollywood's ET, and I came away impressed at how much there was to see.
But when I met Val's mother Lois, a member of the Chatham Islands Conservation Board, she was quite depressed after having recently made her first visit there for some years.
"There are hardly any left. They've nearly all gone. At this rate in a year or so there will be only one or two remaining."
The most important of the island's ancient kopi groves was at Te Awapatiki - called "the pathway of the flounder" because it stands at the entrance to the huge lagoon which takes up a third of the island- where Nunuku-whenua first persuaded Moriori to give up fighting and where they met again to decide how to meet the Taranaki invasion.
Access can be a bit tricky, especially since the island was sodden after weeks of wet weather, but I managed to persuade Val to take us there, he turned up with a couple of 4WDs, gave me the wheel of one - plus the nickname Jim Crump - and off we went across the muddy fields and down the long, flat beach.
Every so often the lagoon entrance silts up and because of the flooding caused by all the rain the local landowners had just cut open a channel to the sea, through which a torrent of dark-brown water was racing, flocks of sea birds had gathered to feed on the freshly exposed mudflats and the skies were threateningly dark.
Amid this moody scene the ridge where Te Awapatiki lies had a dark and mysterious air, seeming almost ominous, as befits a place where such crucial decisions were taken.
I didn't try to slosh my way through to its base to explore, contenting myself with taking a few photos, leaving in peace the ghosts of the Moriori who were butchered there after their last great meeting.
There was a similar dark atmosphere on the other side of the lagoon where the few surviving rock carvings are found, and access there is even more difficult.
In fact after stumbling our way round the shore of the lagoon to reach Nunuku's Cave - the rest of the group having opted to explore a rather safer-looking sandy beach and search for fossilised shark teeth - Val and I were confronted by a sign nailed to a tree proclaiming: "Private property. Pests executed. No access," its message amplified by a drawing of a hanged man.
The rock carvings are now protected by a fence and a length of roof, apparently erected by the Historic Places Trust, which is starting to collapse. Unfortunately, while these precautions have kept rubbing cattle and eroding rain at bay, the growth of trees and the absence of sunlight has also allowed mosses, lichens and algae to grow across the carvings so that they are more obscure than the photos in King's book.
I didn't go into the cave - which has a low entrance and doesn't look very big - but on the surrounding rock face I was still able to see rows of dancing seals, schools of plump flounder and what looked like a shining sun, recording happier times for Moriori. But the most prominent carving on this historic art gallery is now the rather more sombre message of "Te Ana a Moe."
Who was responsible for this this cultural desecration? None of the locals I asked wanted to speculate. But it seems pretty clear that it is yet another nasty incident in the 175-year-old struggle for authority over these beautiful, lonely islands.
Once obviously a place of celebration, Nunuku's Cave is now a disturbing sight, offering a tragic warning that if you want to see these last vestiges of the unique culture that Moriori developed on the Chatham Islands you had better go sooner rather than later.
CHECKLIST
Further information: Pukekohe Travel runs all-inclusive tours to the Chatham Islands. Phone 0800 785 386.
Jim Eagles was taken to the Chatham Islands by Pukekohe Travel.