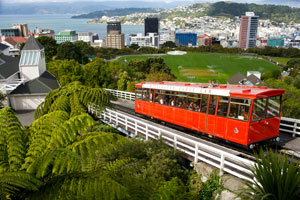 Wellington has been voted the fourth top city in the world to visit next year by Lonely Planet, while Auckland has been left out in the cold.
Lonely Planet's Best in Travel in 2011 guide chose 10 cities based on feedback from bloggers, travellers, tweeters and a panel of in-house judges.
The guide refers to Wellington as the "coolest little capital in the world".
Prime Minister John Key, who first lived there between 1985 and 1988, said the capital was a good place to live.
"It's a compact city, I think it has very interesting architecture [and] for all the hard time that Wellington gets about its weather, I think it adds to the dimension of the place," he said.
"I thoroughly enjoy going round the harbour when it's blustery and windy. It kind of has a very New Zealand feel to it to me."
Wellington also had wonderful restaurants, he added.
However, Mr Key said it was a stretch to say he preferred Wellington over Auckland.
Positively Wellington Tourism chief executive David Perks said sharing a top 10 listing with cities such as New York was "priceless recognition for New Zealand and its capital".
Wellington's coup came at an opportune time as New Zealand geared up for the Rugby World Cup next year, which was expected to attract about 85,000 visitors to the country, he said.
Lonely Planet writer Catherine Le Nevez said Wellington's arts, cultural events, culinary and film scenes were some of the reasons it stood out.
"Its compact size energises its sense of community. Locals love their city ... and get a kick out of helping visitors fall in love with it too," she wrote.
Lonely Planet editor Shawn Low described Wellington as New Zealand's "most innovative and inspiring city".
Wellington has more than eight million visitors a year and visitor spending in the capital accounts for about 10 per cent of its regional domestic product.
MIX OF EXOTIC AND TRENDY
Lonely Planet's top 10 cities for 2011:
* New York, USA
* Tangier, Morocco
* Tel Aviv, Israel
* Wellington, New Zealand
* Valencia, Spain
* Iquitos, Peru
* Ghent, Belgium
* Delhi, India
* Newcastle, Australia
* Chiang Mai, Thailand
- NZPA