Many of China's terracotta soldiers are still waiting to fall in line, discovers Jim Eagles.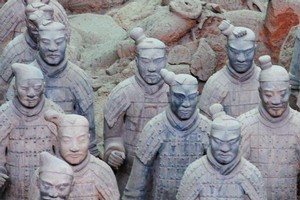 On the edge of a newly excavated area, a terracotta warrior was struggling to break free from the soil which had imprisoned him for more than 2000 years.
His head was already clear, as was his torso, still clad in its protective breastplate, though his arms were missing, his wooden spear had long since rotted away and he appeared to have some crushed ribs.
Someone had obviously been working hard to dig the warrior out but his legs were still stuck fast and so his imprisonment continued.
On his face was the sort of resigned expression you'd expect from a lowly soldier accustomed to being told what to do by others and well used to waiting around.
But all around in Pit 1 at the famous Terracotta Army, an hour's drive from the ancient Chinese capital of Xian, was the evidence that his long wait would eventually be over.
At the head of the massive excavation were hundreds of his former comrades - archers, infantrymen and a few horses and charioteers - who over the past 35 years have been painstakingly restored and put back on parade.
At the other end, a team of archaeologists was carefully carrying on the seemingly endless task of cleaning the broken pieces of other warriors and fitting them back together like a giant jigsaw puzzle.
Behind them were rows of partially restored soldiers already lined up, many with gaps awaiting missing pieces, all with lines showing where their parts had been glued into place.
While I watched, a young woman lifted a head reverently out of a container, placed it on her desk and began carefully photographing, measuring and cleaning. I started to photograph this fascinating example of the restoration project in action but apparently such work is top secret because a policeman swooped in to stop me.
"It is very difficult work," said our guide, Bin. "It can take one person one whole year to put together just one figure."
There's a walkway right round the outside of the excavation area, and by Chinese standards the crowds are modest, so visitors get a good view of both the army and the ongoing archaeological activities from every angle.
As most people now know, this magnificent army was originally assembled around 200BC by Emperor Qin Shi Huang, the brutal but brilliant ruler who first unified China and provided its name (the Qin is pronounced Chin), because he wanted a powerful force to guard his vast mausoleum and kill his enemies in the next world as he had slaughtered them in this.
Tales of mysterious booby traps seem to have kept the Emperor's mausoleum unscathed but there was no such luck for the guarding terracotta warriors. Shortly after Qin's death a peasant revolt toppled his dynasty. The angry rebels broke into the underground barracks where the figures were awaiting the call to action, smashed everything and set the supports on fire so that the roof collapsed.
And there they stayed, buried under the earth for 2000 years, until in 1974 a group of peasants digging a well came across an underground chamber filled with pieces of a terracotta army on the site of what is now Pit 1.
Over the years, extensive excavation has uncovered around 7000 figures there; mostly infantry but also a smattering of officers, archers, charioteers and horses (though the chariots themselves have rotted away).
They make for an extraordinary sight, the completed warriors lined up neatly in their rows, bodies poised, seemingly ready for battle, the others awaiting archaeological first aid, anxious to return to duty, and each one unique, their faces all individually cast, with several different body shapes.
Since then further discoveries have been made. Pit 1 is now thought to have been a major army unit. Pit 2, where only 68 figures have been located, was probably a command centre but, interestingly, guide Bin told us no figure of a general had been found. "Probably that was to be the Emperor himself." Pit 3, which is still being explored, housed a mobile unit of infantry, archers and charioteers.
A fourth museum on the site now displays two bronze chariots, each drawn by three fiery horses, dug up at a spot closer to the mausoleum. They are magnificent, the charioteers holding their reins with expert ease, eyes focused on the enemy, the horses eyes wild and mouths agape with effort.
Also on display here are a few of the finest terracotta warriors. At close hand the detail of their faces and uniforms is simply superb: larger than life but incredibly lifelike. It's easy to understand why the Emperor thought they would be a force to be reckoned with in the afterlife.
The digging continues and, as Bin said, "Who knows what other treasures are under this earth."
The area where the terracotta warriors have been found is now a sprawling complex with the four huge museums - Pit 1, the largest, was accurately described by Lonely Planet as "the size of an aircraft hangar" - plus a scattering of two-storey brick buildings.
It's all a bit reminiscent of a university campus, but with signs like: "The solely global theme board with Qin culture", "Imperial meals of Qin dynasty", "Cultural relic replica centre" and, by way of contrast, "Subway" (though there's no sign of McDonald's yet).
Inevitably, there are lots of other tourist shops offering everything from Chinese pancakes to "Ling tong pomegranate juice fermentationed" and from zillions of replicas to gaudy dynasty costumes you can dress up in.
Hawkers aren't supposed to enter the actual museums but a couple of times I was approached by locals in long black coats who flashed wooden boxes containing six small warriors and muttered out of the side of their mouths, "Only $1. You want to buy?"
But despite the commercialism there's no doubt that the focus is very much on the welfare of the unfortunate warriors, on getting them battle-ready, and after 35 years of intensive care the army is, literally, rising from the grave. I've no doubt if I went back in a few months I'd find the poor fellow I saw struggling to get free from the earth dug out, patched up and lined up with his comrades again.
CHECKLIST
Getting there: Singapore Airlines operates 12 times per week between Auckland and Singapore and then onward to 62 destinations in 34 countries, including Malaysia, China, Japan, Vietnam, Thailand and Korea.
Getting around: World Expeditions Operates its Silk Road expedition, from Beijing to Samaraknd via Xian in April, May, August and September. Ring 0800 350 354 for further details.
Jim Eagles visited China with help from Singapore Airlines and World Expeditions.