April Fonti is given a whistlestop tour of laid-back Santa Monica.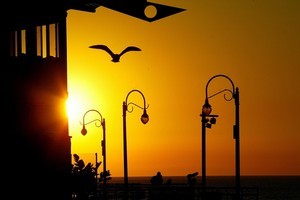 The most intriguing person I met during my visit to Santa Monica was my cab driver, a raspy-voiced old rascal, who told tales of his encounters with the local celebrities.
He'd picked us up at the Santa Monica pier, the famous landmark where scenes from Forrest Gump and Beverly Hills Cop III were filmed.
It was now threaded with people riding skateboards, hot dog stands, men selling sombreros and a little Hispanic girl in a tutu chasing seagulls along the creaky old boardwalk.
As he cruised past the pier with its Ferris wheel and ghostly old carousel and down the broad, palm tree-lined boulevards, he barked facts through the dirty plastic barrier.
He had rough skin and a voice so scratchy it sounded like he was shouting to be heard over the roar of a cement mixer.
According to him, Santa Monica was nice, very nice. LA was dangerous and all the young celebrities were crazy.
His commentary was a little incongruous amid the scenery. The boulevard was bordered by vivid green stretches of grass where couples rode tandem bikes, Paris Hilton look-alikes jogged and elderly couples in matching pastel gym gear strolled.
This is where Baywatch was filmed. It's a place where people actually wear bandanas while working out.
Santa Monica is Los Angeles' laid-back neighbour. It's the place to stay if you're keen to avoid the congestion of LA and don't mind paying a little more for a hotel.
When we reached Venice Beach promenade, the cabby said, "You know Venice Beach, it used to be like all you could smell was the marijuana. Man the smell!
"This one time there were these girls in my cab, they said, 'C'mon, come and drive over to this guy'. So this guy was that singer what's his name? Snoop Dogg. Now that guy stunk of marijuana, oh my gawd the smell!
"So these girls they wanted his autograph. So this guy was so high he just started signing $20 bills and handing them out.
"He's like, 'You want one?' And I said, 'Nah, you give that to me I'm just gonna spend it'. He got so mad he tried to beat me up. It was only his bodyguards that stopped him. He was crazy man."
I found it hard to imagine any sense of danger here. The city oozed an ambience so mellow it was hard to believe we were only half an hour from the hard edges and smog of Los Angeles.
Santa Monica has a lower than average crime rate compared to the rest of the United States, it's one of North America's leading sustainable cities and it's known as a tolerant place with few race hate crimes and a gay friendly community.
And Venice Beach is the eclectic cultural heart of the city. This was home to the Beat Generation. Jim Morrison once lived here, Arnold Schwarzenegger pumped iron here in preparation for the Mr World Competitions. Former residents have included Julia Roberts, Robert Downey jnr and Anjelica Huston among others.
"Who was the nicest celebrity you ever met?" I ask.
"Oh yeah that would definitely have to be Ray Charles, oh man he was a nice guy, a really nice guy.
"He wanted to know if I was black or not, so I just kept trying out different accents and he was just laughing the whole way. A really nice guy.
"But my favourite is Lindsay Lohan. Once I saw her shopping back on Montana Avenue.
"This was the week the cops found a little coke in some Levi jeans she was wearing. She was looking at a rack of jeans, so I shout out, 'No, not the Levis, not again'. And she just gives me the finger, ahhhahaha."
These days, he rasps, "young celebrities here just want to be Britney Spears. Now she's crazy," he laughs, stopping at a red light and staring out the window, bored, as a skinny guy caresses a large woman's bare midriff.
Minutes later he swerved out of Lincoln Boulevard and towards Los Angeles Airport. As we fumbled for change, he forced a pile of glamour headshots of a pretty young girl upon us. "Ya gotta write about this girl, she's gonna be a star, a star I tell ya. Take it, take it."
Then chuckling he drives his beaten up cab off into the smoggy LA sunset, an unlikely tour guide to beat them all.
CHECKLIST:
* Getting there:
Air New Zealand flies daily to Los Angeles. See airnz.co.nz
* Further information:
See the California Tourism website at visitcalifornia.com
- AAP