You have to be tough to survive in Orkney, writes Peter Calder.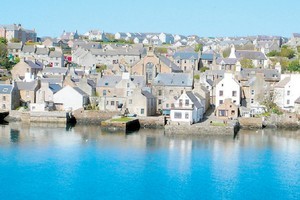 The woman working her way along Broad St, past the red sandstone hulk of St Magnus Cathedral, is making painfully slow progress.
In Kirkwall, the major settlement on the main island of Orkney, off the northern tip of the Scottish mainland, I've stopped to see the 12th-century cathedral built by the Norwegian earl (now Saint) Rognvald.
I've just parked the car when the elderly woman, struggling on two crutches, draws level with me.
"Can I help, madam?" I ask, unable to walk away. "I'm happy to give you a ride wherever you want to go."
Without breaking stride - though stride is hardly the word - she flashes me a look devoid of any expression, except concentration.
"I'm just going to get the paper," she says, flatly. It is a statement of fact, not an invitation to further discussion.
She is not accepting my offer but neither is she rejecting it rudely.
It seems an apt illustration of the spirit of the Orcadians, the inhabitants of the islands collectively known as Orkney - and incorrectly as "The Orkneys".
The word "tough" seems to sell them short. And a few days on the islands are enough to show you why.
This is a life of northern exposure. Kirkwall and the other substantial settlement, the smaller, prettier Stromness, are at 59 degrees north - more northerly than Moscow and almost at the level of Stockholm and Anchorage, Alaska. Even in early May, with the equivalent weather of our November, the sun rises before 4am; the corollary, of course, is that daylight comes well after 9am at Christmas.
Only a dozen of the archipelago's 70 treeless and windswept islands are inhabited, but, in their rich soil, some of modern Scotland's earliest settlements took root. The great local writer, George Mackay Brown, whose Portrait of Orkney is a poetic evocation of the islands, famously said that "the Orkney imagination is haunted by time", and there is plenty of time here.
At Skara Brae, on the west coast of the main island, a settlement of 10 stone houses comprise Europe's most complete Neolithic village.
The site, which has been dubbed the "British Pompeii" , was settled at least 5000 years ago - it was abandoned, for unknown reasons, at about the time work started on the Great Pyramids.
But because it was buried in sand until a fierce storm unearthed it in the mid-19th century, it is stunningly well preserved. Stone kitchen cabinetry, beds and dressers are intact and even a primitive toilet system can be discerned. Archaeologists tell us that the inhabitants of Skara Brae lived well as pastoralists (they grew grain and made beer), hunters (of boar and deer) and fishermen. Certainly, they had a better time than the Picts, who endured waves of Viking invasions 3000 years later.
Elsewhere on the island, chambered tombs constructed of massive slabs of stone hint at complicated rituals and even priesthoods. At one, the sunset on the summer solstice illuminates the main chamber almost straight down a long passage. The passage of time, not the builders' imprecision, is behind any imperfection of alignment: the Earth has moved on its axis somewhat since 3000BC.
They're an independent lot on Orkney. The flag you'll most often see flying is their own, not the Scottish one. They don't call mainland Britain "the mainland", either. That name is reserved for the largest island in the group. The bit over the Pentland Firth, from John O'Groats south, is called "Scotland". It may seem an index of their insularity but there is no accompanying hostility.
The wind that whips across the islands is chill - in the Kirkwall Hotel, a sign on the outer door instructs you to wait until it closes before you open the inner one, so as to leave the weather outside - but Orcadians are warm.
As in any culture that endures climatic extremes, hospitality and kindness to strangers is taken for granted. Only in more temperate climates have humans learnt to turn their backs on each other.
The tone of voice of the real islanders betrays their Norse bloodline.
Orkney was invaded by Vikings in the 8th century - they found a "dark, sturdy, imaginative people", says Mackay Brown - and its earliest written history, the 13th-century Orkneyinga Saga, is in Icelandic. Those traces remain in the locals' distinctive Scandinavian sing-song accents. But settlers from "Scotland" - known affectionately as "ferryloupers" - probably outnumber true-blue Orcadians now.
A young woman working behind a bar had trained as a journalist in Stirling, near Edinburgh, and returned immediately to Kirkwall. The reluctance to migrate further south surprised me. "I'm happy here," she said. "It's where my family is and there's always plenty to do. It's where I belong."
CHECKLIST
Getting there: Cathay Pacific has regular connections to Britain via Hong Kong.
Orkney: Orkney has its own website at visitorkney.com.
Further information: To find out about visiting Scotland see visitscotland.com.
Peter Calder travelled to Scotland with assistance from VisitScotland and Cathay Pacific.