The temple of a famous Buddhist reconciles tensions between communism and religion, writes Jim Eagles.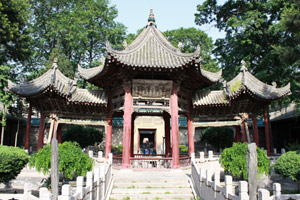 A song bird in a cage that hung from the trees trilled a cheerful welcome as I approached the towering Big Wild Goose Pagoda in China's ancient capital of Xian.
More birds joined in, several of them also in cages, but many more flew down to join their imprisoned brothers in the melody.
From behind the walls of the adjacent monastery, I could hear monks chanting their prayers and I could also see a few in their saffron robes chatting with friends under the trees or simply enjoying the sun in sheltered corners of the grounds.
It all combined to make this an otherworldly place, far removed from the noise and bustle of modern China, and a fitting tribute to the monk Xuan Zang, who made it all possible.
I had read about him a few years ago in a remarkable travel book, Ten Thousand Miles Without a Cloud, by Sun Shuyun, which tells the story of a young woman's journey from Xian to India following the path taken by Xuan 1400 years earlier.
Xuan's aim was to clarify the teachings of Buddhism at their source and, when he returned from India in 646 after an absence of 18 years, bringing with him more than 600 scriptures, the emperor built the great pagoda as a place for him to work.
Sun's journey, by contrast, was to find space in which to reconcile the communist rejection of religion, drummed into her as a child, with her much loved grandmother's gentle joy in Buddhism.
The fact that the pagoda is once again being used by ordinary Chinese after the bleak years of the Cultural Revolution - and still standing despite an earthquake two years ago - seems to me a perfect illustration of how both pilgrimages ended happily.
Sun gained an insight into Buddhism's power to help people and I watched many locals coming in to light incense sticks, kneel before statues of Buddha and pray.
Xuan spent the last years of his life translating his Indian treasures into Mandarin and the scriptures he worked on were once again on display in a cluster of temple rooms. The monastery is once more training monks and the Buddhist message he brought to his homeland is again available to those who wish to hear it.
The pagoda itself is a spectacular sight, standing seven stories or 65m high, thanks to a couple of extra levels that were added when it was rebuilt after an earthquake in the 16th century.
But it is merely the focal point of a vast complex, some of which is only accessible to monks, but most of which visitors are allowed to explore. As well as some beautiful statues of Buddha and displays of ancient scriptures, there are also countless works of art including a superb marble relief depicting the life of Buddha.
The monastery has its own impressive drum and bell towers, which are used to mark morning and evening.
There is a cluster of impressive burial pagodas which hold the remains of prominent monks.
All this is set in beautiful grounds with great beds of flowers, ornate pergolas, leafy glades and tranquil nooks containing statues of Buddha. My favourite spot was a glade surrounded by trees, which was home to a jolly, chubby golden Buddha statue, with a prayer wall next to it covered with written requests and a red cushion out front for those who might prefer to pray directly.
There was a good view of the towering pagoda from this glade and I thought what a nice photo it would make if someone came to pray. Soon enough, an old man came shakily through the trees, approached the statue and slowly started to kneel.
My camera was poised for action when four other men appeared, all waving mobile phones. Two of them stood behind the old man as he prayed, taking photos of themselves and the statue with their phones. The other two stood next to the statue, talking on their phones, presumably not to Buddha but to some friends.
The golden statue seemed to find all this quite amusing.
CHECKLIST
Getting there: Singapore Airlines operates 12 times a week between Auckland and Singapore and then onward to 62 destinations in 34 countries, including China, Turkey, Malaysia, Japan, Vietnam, Thailand and Korea.
Getting around: World Expeditions operates its Silk Road to Samarkand via Kashgar expedition in April, May, August and September. Ring 0800 350 354 for more details.
Jim Eagles visited the Big Wild Goose Pagoda with help from Singapore Airlines and World Expeditions.