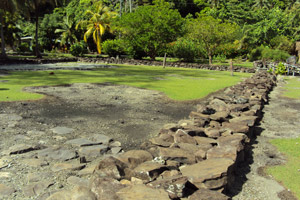 Christian missionaries wrought radical changes to the traditional way of life throughout the Society Islands from the 1820s onwards. Belief in the Polynesian deities, such as Oro, the god of war, and Hiro, the god of thieves, was supplanted by Church of England Protestantism and French Catholicism.
The old places of worship and ritual - the marae - had been constructed laboriously from slabs of basalt hewn from the islands' bedrock. But by the mid-19th century these marae had been abandoned, replaced by churches throughout Tahiti, Moorea, Huahine, Bora Bora and Raiatea.
In recent years, however, there has been increasing interest in resurrecting the islands' ancient marae. This rehabilitation can best be seen on the island of Huahine, northwest of Tahiti.
Huahine is in fact two islands, Huahine Nui and Huahine Iti. Connected by an elegant bridge, they are both high volcanic islands deeply indented by bays and sounds. The islands' only town and port, Fare, is in the north-west of Huahine Nui, and pretty villages punctuate the roads which hug the coasts of both islands.
The principal marae of Huahine Iti, Marae Anini, is on a level promontory at the island's southern extremity, adjacent to a passage through the reef, Araara Pass. The upright and horizontal basalt slabs of this marae, where traditional Tahitian religious rites, including human sacrifices, were carried out, are well maintained, although today the local lads show much more interest in the very good surf break out in the pass.
The most extensive archaeological site on Huahine Nui lies at Maeva, alongside a tidal inlet called Fauna Nui, between the main island and Motu Ovarei. Here there is a vast complex of restored marae which in pre-Christian times comprised the seat of royal power on the island. More marae lie amid the forest on the slope of the hillside above Maeva. Detailed information boards and a museum (open 9am-4pm, Mon-Fri) explain the significance of the stone platforms and the rituals which were carried out upon them for hundreds of years. Within the inlet itself are ancient fish traps made of stones which are used by local villagers to this day.
After a hard day's marae exploring, there is no lovelier place to sit and savour the sunset and a cold Hinano beer than the waterfront of Fare. The crystal-clear waters of the harbour, the white sand beach and the profile of Raiatea Island on the horizon comprise a uniquely beautiful locale.
CHECKLIST
* Air Tahiti flies several times a day from Tahiti to Huahine. The flight time is 40 minutes.
* There is a variety of pension accommodation on Huahine, in the vicinity of Fare and the Marae Anini.