The musical city of Melbourne seems an appropriate setting for a stage production of Mary Poppins, writes Megan Anderson.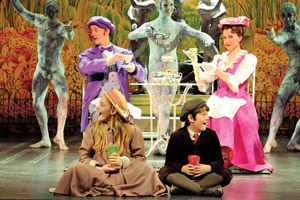 There's a strange kind of music to Melbourne, and that's what makes the stage version of Mary Poppins so right for this town.
It's late afternoon and I'm sitting in one of the darker coffee roasteries in Degraves St. It's all shadowy, because both sides of the lane have to huddle inwards to keep warm, but the rich coffee-bean vapour of the place keeps it cheerful.
Everything is quite still, until Victoria by the Kinks blasts from the kitchen. Suddenly the staff start singing, the barista is dancing and there's some serious head-banging and hair-flicking.
It isn't really that surprising. The entire city seems locked into exactly the kind of musical madness you see when all those chimney sweeps swarm into the show's Cherry Tree Lane.
Buskers plant themselves on street corners, and most are pretty damn good. Roam the place and you'll find not only impromptu cafe performances but gigs and concerts.
The clip-clap of trotting, so reminiscent of Mary's London, is not uncommon either, as horse and carriages trot by, flanked by clattering toybox trams. This city is the perfect setting for the sensory pastiche that is the musical.
It took more than 25 years for producer Cameron Mackintosh to bring the Mary Poppins musical to fruition and now, finally, it has found its way to the southern hemisphere. Mackintosh and scriptwriter Julian Fellowes drew not only from the iconic Disney film for their creation, but returned to the source - the Mary Poppins books themselves - to enrich the story.
As they should, because Pamela Travers, the creator of this inherently contradictory nanny, was born and raised on the Queensland coast in the small town of Maryborough.
Though Travers penned the Mary Poppins stories in England, where they were published in 1934, the name of Poppins had already appeared in a story she'd written 10 years before in Australia.
Travers was at odds with what the Disney factory brewed up once she let them get hold of her books. While she received a hefty payout from Walt Disney and was consulted for the film, she was apparently pretty traumatised by the whole thing, and particularly dismayed at the 1964 premiere to find her stories populated with singing penguins.
Travers' fierce protection of her stories goes some way to explaining the antipathy felt by Richard Sherman, who co-wrote the film's music with his brother Robert.
"I worked with her, God help me," Sherman says rolling eyes so deep and twinkly you would swear he'd just stepped off a Disney set.
"I guess her entire contribution to what we were doing can be summed up in one word: 'no'."
For all his battles with Travers, Sherman says he still loves and respects her stories and you can tell that the nanny means a lot to him.
Before Mary came along, the Sherman brothers would just grasp whatever assignment Walt Disney happened to throw their way. Until, one day, "Walt said, 'I have a book I want you to read, tell me what you think.' We knew that was the moment of truth."
This was the Shermans' big chance, but it required a great deal more, he says, than simply sketching some songs to accompany Travers' stories.
"They're wonderful adventures and colourful, and with great characters and juicy stuff, but there's no reason for Mary Poppins to come and no reason for her to leave. Nothing vital happens, so we had to drum up something."
The film that resulted, with Julie Andrews in the title role, became a legend. Here is a man, I couldn't help thinking, responsible for many childhood hours of fumbled piano playing, strained singing and failed attempts to jump through the grim pavement.
It was, Sherman says, the melancholic Feed the Birds that secured the brothers' future with Disney.
"I remember when we played that the first time for Walt and he said, 'That's what the whole picture's about'. That's the day he put us on staff, not just to write Poppins, but to write his music, and for 10 years we wrote practically everything that came out of the Disney studios."
Funnily enough, Mary Poppins worked a similar magic for actor and novelist Julian Fellowes. Mackintosh rang Fellowes on the set of Monarch of the Glen to ask him to write the script for the musical.
Fellowes, a fan of the books from childhood, was more than obliging. "In this business your lucky break is when someone allows you to do something you haven't ever done before," Fellowes tells me in his delightful aristocratic drawl.
"Cameron took a chance on me for this. You always love the people who take a chance on you ... because they don't have any guarantee. It's a risk, and so I was very grateful for that."
It's premiere night already, and the street outside Her Majesty's Theatre is lit by hundreds of golden bulbs glittering over red carpet. There are famous names milling about, of course, but everyone knows the most famous of the lot will be the one holding that curious parrot-handled umbrella.
One can't help think Travers might feel a little happier about how things turned out this time. Under the raised curtain, the incredible vanity and oxymoronic charm of her Mary Poppins, as played by Australian Verity Hunt-Ballard, becomes comically irresistible.
As Travers wrote, more than seven decades ago, "Mary Poppins was very vain and liked to look her best. Indeed, she was quite sure that she never looked anything else."
But the show is memorable not just for Mary: flamboyant supporting characters, the stamping swish and dance of the chimney sweeps, and pop-up book sets all make for a thrilling sensory blast.
Sure, sometimes the sugar proves a little too sweet, the character of Winifred Banks (Marina Prior) a little too weak, and some fans may be dismayed (or pleased) to find the absence of both the suffragette theatrics of Mrs Banks and the laughing Uncle Albert. But the firm leads of Hunt-Ballard and So You Think You Can Dance judge Matt Lee (as Bert) are more than enough to pull an audience through.
Melbourne really does love Mary. I know this because, as the curtain dropped, the entire audience stood up as tall as they could, clapping, cheering and smiling into her cherry-cheeked face.
Later, I'm sitting in one of Melbourne's best side-alley pizza joints. The place is so tightly packed the waiters have to dance the steaming pizzas over the heads of customers. By now, I've learnt better than to be surprised when the radio is suddenly turned up.
An Italian waiter archly lifts his head and belts out Freddy Mercury's grand chorus to Somebody To Love across the room. "Can anybody find me somebody to love?" he croons.
Obviously the news hasn't hit him that Mary's in Melbourne. It's Mary that we love.
CHECKLIST
Getting there: Qantas offers three daily services to Melbourne from Auckland and a daily service from Wellington. For the latest airfares phone 0800 767 400, or contact your bonded travel agent.
Mary Poppins: Mary Poppins is at Her Majesty's Theatre, Melbourne, showing eight times a week, until October 17.
Further information: For more information about Melbourne and Victoria visitmelbourne.com.
Megan Anderson travelled as guest of Tourism Victoria.