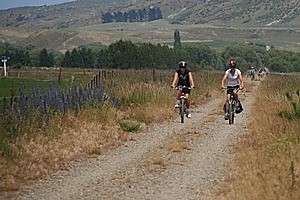 We ate the pub hogget when we were warned to have the steak; ordered the sticky date pudding and got ticked off by the waitress for risking a heart attack; and lunched leisurely on a shady cafe lawn long after the others had left to head up the trail to the brown hills yonder.
It sounds like three men, away from home, going off the rails. But we reckoned we were on track. A change from our city regimen and diet would be offset by the tonic of fresh air and open spaces and hours a day exercising in the best gym in the world - a bike seat on the Otago Central Rail Trail.
A vague notion of doing the rail trail became reality thanks to reasonably priced air tickets and to one of our trio who persisted with arranging an itinerary.
Booking with Clyde-based Trail Journeys, one of several tour and hire companies, we had a train trip to the start of the trail, three nights' bed and breakfast, bike hire, booking fee and cartage of our bags from one night's stay to the next all organised.
Split three ways it came to $620. Add dinners with alcohol, $150.
We flew into Dunedin, caught the vintage train for the 77km ride to Middlemarch, which is as far as the rails go these days; cycled the 150km to Clyde and, from there, drove to Queenstown Airport for our flight back to Auckland.
By the time we left the train - with a cheerful history lesson from the train manager and stops for photographs at heritage and scenic spots along the way - we were in awe of the people of a century ago who built the line's viaducts and tunnels, living in basic camps, slowly extending the road of iron to serve remote gold mines, farms and orchards.
A later generation showed its grit too. When the Government closed the line in 1990, the public raised $1.2 million for a trust to take over the gorge railway and keep it going. They backed another trust to join the Department of Conservation in keeping the rest of it as a recreation reserve open to cyclists, walkers and horse riders.
We arrived at Middlemarch Station to be greeted by the aroma of barbecued steak and onion sandwiches being cooked on the platform. Behind was the township, a few streets in the middle of a plain, dotted with the depots of bike hire companies.
Our bikes from Trail Journeys were near new, with springs and 21 gears to take the strain, and a comfort seat. High up on a seat adjusted to ease the knees and feeling the chunky balloon tyres grip the gravel, it felt like I was cruising in a Range Rover. But the V8 grunt had to come from me and I was more like the 1950 Morris Minor I saw at rest in a paddock.
Still, I was cocky during the first hour's pedal, leaving a wake of dust and lifting the front wheel on any mounds. I had thought that with the rails removed there would be room on the embankment for riding three abreast. But cyclists, like the trains they replaced, follow two thin lines worn smooth in the loose gravel and go into single file when someone comes the other way.
Sucking at the air served fresh and warm from the Rock and Pillar Range, I marvelled at the strangely smooth-edged puffball shape of the few clouds around.
No one knew what sort of clouds they were. We found out later when we reached the first hill and entered a cutting. An 80km/h wind ambushed us. A few hours of struggle, at a feeble 7km/h according to the bike's speedo, took us to a trestle bridge high above a rocky creek. It was safer to dismount than be blown off. Walking the bike, I managed 5km/h and my heavier companions went ahead. The back of the bike was being picked up off the ground and I had to hang on to the handlebars like I was wrestling a bucking steer.
I found the others were sheltering in a cosy railway ganger's shed, one of a dozen on the trail.
Nearby, was a lovingly crafted stone cairn. It was a memorial to 21 people who died in 1943 when the Cromwell-Dunedin express failed to take a bend at double the normal speed.
By 6pm we reached the Hyde Hotel where 50 cycles were parked, their riders camped for the night and at the bar. They were being entertained by a dust storm driving sheep up the main street into a stock truck yard.
Thankfully, my companions thought that we too should call it a day. Hyde was 17km short of Kokonga Lodge, where we had beds and dinner booked. Under normal conditions it was an hour away, and you would have time to clean up and down a reviver before the dinner gong. But not with this gale tearing at our reddening noses.
A call to the lodge brought a cheerful "be there in 20 minutes". Honour was restored when the lodge host arrived and said he would bring us back over the hills to our bikes in the morning so we would not miss anything.
Next morning, the wind had passed through the valley and left drizzly rain. I was relieved because overnight I had worried about whether preparation at home - an hour's ride, twice a week, gliding along smooth paths - would be adequate for the demands of a bumpy four hours a day.
On the other hand, the tour brochure said only "moderate fitness" was needed and the trail was flat enough for a steam train to chug along icy rails without sliding backwards. Sometimes, I wondered how the locomotive drivers managed to do that when the trail was tilting skyward for 70km. Cyclists coming the other way seemed to flash by effortlessly.
But one group slowed enough to advise us to grab a cellphone and book right then for dinner at a town where we were to stay that night. "There's only one food place and it's Saturday night," said our informant. Sure enough, when we rolled up through the mist to the old stone pub several parties were in full swing, thrown by tourists and locals.
Central Otago's restaurants and vineyards are highlights for foodies on trips down South. But the rail trail cyclist is on a different mission. Pleasure is finding somewhere to take a breather, chat and have a light meal, and cuppa and cafe quality varies.
At a town stop, my companion said his chocolate milkshake was undrinkable and his spring roll inedible. At a rural cafe, I had an awful flat white.
I was shocked because looking at the women serving the queue of padded waddlers, I knew any of them could whip up a banquet of tea and scones and jam for a hungry shearing gang in their sleep. Pandering to city tastes should have been up to city standard, because they were charging city prices.
But we were there for the journey and it generously set out before us a platter of dramatic scenery and carefully restored heritage sites. One of our trio repeatedly said: "It's a pity the train isn't still going. This scenery would be opened up to a lot of people who can't ride a bike."
But then we thought of how as a cycling trail the old line was now attracting the families, the couples, the groups, the active 60- and 70-year-olds. Many of them wobbled for the first hour on a machine they had not ridden since school, but as confidence grew they relaxed and were converted to cycling as a way to enjoy scenery and learn more about the blobs on the map.
Through my watering cyclists's eyes, stinging with smears of sun tan lotion, it was clear the rail trail has delivered thousands of customers to struggling townships. A farmer at Lauder, a town with a friendly pub, recalls a 1980s suggestion that cyclists could take over from the train. "I stood up at a public meeting and said 'Once you rip those rails up you will kill this town'. Look at it now ..."
Further information: See otagorailtrail.co.nz