You can't run and nor can you hide in a Syrian bath house, explains JJ Somerset.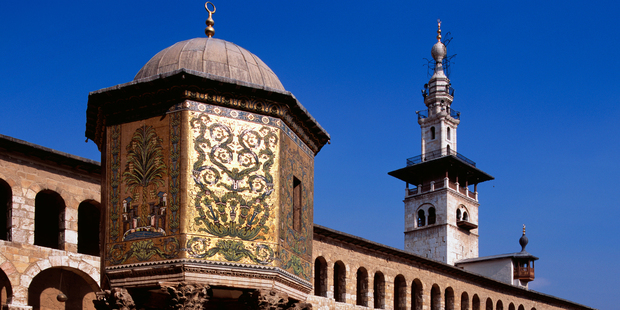 She turned me over so I lay naked on my back, picked up my leg, rested it on her stomach and started scrubbing.
She didn't stop until black rolls of skin formed on my shin, my knee and my thigh. The only concession to modesty was a small cloth that she tossed between my legs.
It wasn't quite what I'd expected when I decided to visit the Hammam in Damascus.
Sure, I was ready for a good scrubbing, but my 12-year-old daughter, who did not want to be "scrubbed raw by some random masochist", had insisted she would read while she waited to go with me to buy perfume, handbags and candy in the souk.
But it changed when she heard massages were part of the line-up. Thinking she'd receive something similar to the demure massages I'd given her at home, she insisted - in the way pre-teens do - on having a massage.
Now I don't mind being naked while I'm massaged or cleaned but I could never be a life model. My daughter is also uncomfortable when it comes to nudity. She has me guard her changing room in shops. Imagine our horror when we were obliged to disrobe in front of everyone in the Hammam.
As soon as we paid, we entered what resembled a harem's dressing room. Scantily clad women entered and exited. Towels were dropped, semi-naked women stood in front of mirrors donning makeup or drying their hair. Some women sat in lacy underwear drinking tea and smoking. Others were lolling on cushions relaxing with nargillah (water pipes).
A woman with transparent undies but no English came over to us. I thought she was going to take us to a private changing room but she took us to centre stage, handed us towels and indicated that we should undress.
I've tried to convey to the men in my life the horror of undressing in front of an audience, but none of them quite get it. "Is it because every woman thinks her bum looks big?" they ask. I explain dressing room etiquette and the tacit understanding that you keep your eyes to yourself.
But the dearth of Western tourists in Syria made my daughter and me conspicuous. Within a minute the entire room of women had tuned in to watch us. We took off our coats slowly and deliberately. We prevaricated by placing our shoes with exaggerated care.
But the members of our audience weren't going to avert their eyes and they weren't going to let me to loiter in bra and panties. Thinking I'd misunderstood instructions, they clicked their tongues and motioned for everything to be taken off. I unsnapped my bra and wrapped a towel around me. Reaching underneath the towel I took off my panties. I tried to assuage my daughter's growing alarm, "Don't worry. You don't have to undress yet."
The woman in transparent undies had other ideas.
She came over to my daughter and started tugging at her clothes. My daughter resisted but "transparent undies" was one determined stripper. I tried to distract her but it was useless. I ended up taking her arm and, pretending to play-fight, I pushed her away, trying to create the impression it was all fun.
More than 20 pairs of eyes watched the drama. Not surprisingly. If I'd been in the audience I'd have been riveted.
To give my daughter a modicum of privacy, I held a towel aloft, pretending to inspect it. Very shyly she took off everything but her bra and panties and I wrapped the towel around her slender body.
It was a relief to be led off stage and shown to the steam room. As it was now apparent no area in the Hammam was private, I thanked Allah we were alone. When I suggested to my daughter she use the privacy to take off her underwear she vented steam the likes of which the room had never before seen. "Why do I have to take all my clothes off? I can't believe you brought me here."
That's when the scrubbing woman came to get us. Large mounds of flesh hung over the top of what looked like Trinny and Susannah body-sculpting panties.
She did not suffer modesty either but whipped off my towel, pulled me on to a marble slab and started scrubbing the beejezus out of me. My daughter watched aghast as she contorted my body, rested her heavy bosoms on me and then scoured vigourously. At times her breasts and tummy whipped me as she worked. But for the traumatised face of my daughter, I may have burst out laughing.
Halfway through buffing my buttocks, and without warning, she grabbed my daughter, dragged her to a water trough, whisked away her towel and threw a bucket of water at her. The situation was so ludicrous I couldn't muffle a chortle. Thankfully my daughter rolled her eyes and grinned. We were going to survive this.
After my Hammam, and my daughter's massage, we were taken to a room where naked women sat around water troughs pouring water over themselves. With modesty forgotten, we did the same. But it was hardly euphoric.
Later, as we finished dressing, two women entered. One was a tall European. Within seconds all eyes fixed on her. She took off her coat slowly and deliberately. It was uncanny, but she too showed exaggerated care when it came to placing her shoes on the floor. I wish I knew how she handled the rest of it. Did she deftly use her towel for modesty? Did she try to leave her underwear on?
I will never know because we averted our eyes and left.