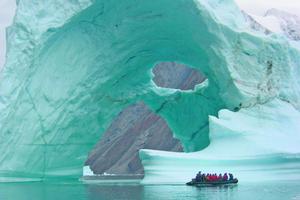 We were about halfway up our small climb when a loud crack pierced the air. It was followed by a low rumble from below. Spinning around, I quickly scanned the horizon but my sudden movement saw me slide down the hill a couple of metres, stopping just short of a resting crab-eater seal. Gumboots are not known for their wonderful grip and penguin poo makes for a very slippery surface.
We had panoramic views of the massive glaciers surrounding us from this hillside vantage point. The setting seemed to be just waiting - almost demanding - for something dramatic to happen. As if on cue, a towering block of ice, the size of a small building, carved off the side of an almighty glacier and started a slow slide into the freezing waters below.
We were lucky to witness this sobering demonstration, even if we were in Antarctica, the home of glacial activity. Most carving occurs inside the glacier, so whilst always audibly impressive, it's not always visible.
Antarctica is a land of "-ests": the highest (50 per cent of land here is at least 200m above sea level), driest, coldest, windiest continent on Earth.
It also contains two-thirds of all Earth's fresh water. And it is, I now know, the most spectacular place on Earth.
World Expeditions' adventure to Antarctica starts in the small town of Ushuaia, near the southern-most point of Argentina. From there it is a one-and-a-half day boat trip aboard the ice-strengthened ship Plancius, which holds some 114 passengers in surprising comfort, across the Drake Passage to the Antarctic Peninsula.
The passage is a wild stretch of water also known as the Drake Lake and the Drake and Shake - although, luckily, for us the seas were relatively calm.
On the other side of the passage sits the Antarctic Peninsula, a wisp of land stretching north from the Pole. It's the most northern, and therefore warmest, point of the continent - and the most accessible, making it the destination for most Southern polar voyages. As it contains almost all the exposed rock found on the continent and, come summer, it is also home to the majority of its penguin rookeries and seal colonies.
Our days on the peninsula were filled with twice-a-day shore excursions aboard rubber Zodiacs. When travelling on land, there's a strict adherence to the "five-metre" rule: nobody gets closer than five metres to any animal, to avoid stressing them.
Penguins, though, don't seem too concerned about breaking the rules.
We'd often look down to find inquisitive chinstraps or adeles, in various stages of moulting, pecking impertinently at our wellies.
On-shore, penguins are far less graceful than they are underwater.
There's something endearing in the way they hop and waddle from rock to rock, often tripping over themselves.
And they're a noisy bunch. To protect against predators, the young are herded into penguin creches, identifiable to their parents only by their varied hollering cries. Not all of our animal sightings occurred on land. A huge roar would break out whenever a whale was spotted off the bow of the ship, followed by a frenzy of diving for cameras. Late January to March is whale-spotting season in Antarctica and, in total, we glimpsed some 12 of these immense creatures meandering past the boat.
Shore excursions were tempered with others among the huge ice floes. We would enter natural amphitheatres on the Zodiacs, surrounded by jagged mountains covered in ice, pulling up right alongside icebergs.
On top of these chunks of ice, seals could invariably be seen basking in the sun, lazily raising their heads to see what the commotion was about before returning to sleep.
To see so many animals so close, so obviously unaffected by our presence, was incredible - but for me, it was all overshadowed by the majestic beauty of the landscape. It's as if every horizon has been sculpted by an artist. The Andes mountain range, which forms the backbone of South America, dips underwater and reappears at the Antarctic Peninsula, creating towering cliffs, island outcrops and narrow channels.
The Plancius' indoor observation deck is a perfect place to stop and watch this incredible world go by - although you do have to occasionally walk out on to the deck, confronting the Antarctic winds, just to remind yourself you are not watching a stunning documentary in 3D.
Scott Pinnegar travelled to Antarctica with World Expeditions.