Guns, temples and French replicas punctuate Laos, says Brett Atkinson.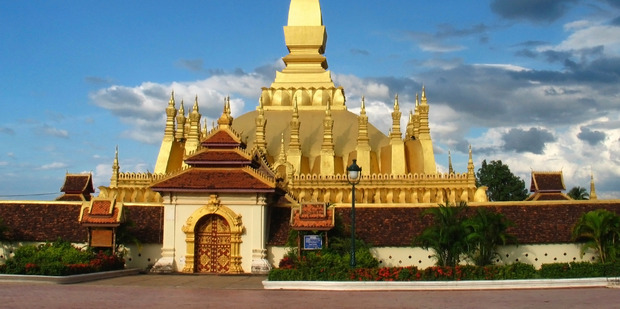 In the early 1970s, Indochina's least known capital was shared turf for a shadowy collection of spies, drifters, and clandestine Air America pilots trafficking drugs on the CIA's payroll. Keeping busy on the fringes of the Vietnam War and the Cold War, their home base of Vientiane was known as a place where anything goes.
In 1975's The Great Railway Bazaar, travel writer Paul Theroux observed, "The brothels are cheaper than the hotels, marijuana is cheaper than pipe tobacco, and opium easier to find than a cold glass of beer."
Almost four decades later not much has changed. After just one day in the capital of Laos, I've already been shot at twice by AK47-toting motorcycle riders.
OK, the gunmen are just toddlers wielding plastic rifles probably available at The Warehouse, but Vientiane is still a beguiling and bizarre national capital.
While neighbouring Bangkok and Hanoi rush headlong to a restless modernity, this city is a languid collection of wide French-style avenues furnished with cruising tuk tuks, and plane-tree studded neighbourhoods dotted with Buddhist temples and French colonial architecture.
Even my pickup from sleepy Wattay airport to the restored heritage ambience of the Settha Palace hotel is memorable with a twist; a London taxi, complete with leather upholstery, and daubed a fetching shade of British racing green.
Vientiane's slightly surreal ambience is reinforced by the city's own version of the Arc de Triomphe. Bookending the expansive Lan Xang Ave, the Patuxai monument was built in the 1960s using cement originally provided by the United States for a new airport runway.
A Francophile arch punctuated with garish Buddhist ornamentation was deemed a much better use of the funds, and local wits quickly dubbed Patuxai "the vertical runway".
A few other Vientiane locals reckon Lan Xang Ave to be the Champs-Elysees of the East. Bordered by a ditzy musical fountain donated by China, and al fresco stalls selling Beer Lao and grilled chicken, it's probably not the world's most accurate analogy.
Another essential combination of good food and quirky design lingers at Vientiane's Buddha Park, a dusty one-hour tuk tuk ride from Patuxai's faux-Gallic overkill.
The second half of this journey skirts the northern banks of the Mekong River, now exceedingly low due to a seasonal lack of rain. Local gossip also maintains China has been holding back water in their hydro-electricity dams further upstream. China: population 1.33 billion; Laos: population 6.8 million. You do the math.
The Thai city of Nong Khai is across a river now studded with sandy islands doubling as makeshift football pitches. Nearby, the Australian-funded Thai-Lao Friendship Bridge facilitates trade between the two countries, but the contrast between the northern Lao and southern Thai banks of the Mekong is marked.
Across in Thailand, multi-storey hotels and modern hospitals dot the near horizon, but in Laos my tuk tuk journey to Buddha Park drifts past faded low-rise Buddhist temples with grassy absolute waterfront locations. It's a Saturday afternoon, so every few kilometres a local wedding segues into vision. The sinuous guitar lines of traditional Lao country music ebb and flow as we putter past, along with the occasional rice whiskey-fuelled invitation to stop to share the celebrations.
Weekends are also the preferred time for Lao families to visit the idiosyncratic Buddha Park. Between tucking into plates of sticky rice and tam maak hung (green papaya salad), Lao families spy concrete versions of Hindu superstars like Shiva and Vishnu mingling with the park's giant reclining Buddha. The park was designed and built from 1958 by Buenleua Sulilat, a local sage and shaman who morphed Buddhist and Hindu philosophies before escaping across the Mekong in 1975. In bright Vientiane sunshine, the statues hint at Asian fairytales, but come dusk the shadows lengthen and the potential storylines darken.
I've already decided on an alternative destination for my final Vientiane dusk. Scores of makeshift restaurants fill the Mekong riverfront in central Vientiane, and the agglomeration of ad hoc dining is yet another slice of South East Asia's most surreal capital city.
During the day, a workers' paradise of bulldozers, earthmoving equipment, and sand dredges creates mini-canyons amidst the red dirt banks of the Mekong. At dusk, shimmering fairy lights and Thai-style cushions emerge to create an oddly magical ambience in the terracotta tropical haze.
Unlike Paul Theroux, you'll definitely struggle to uncover any opium, but a combination of fresh spring rolls, spicy grilled Isaan sausages, and ice-cold Beer Lao may seem equally hallucinatory in this oddly likeable town lingering on the fringe.
CHECKLIST
Getting there: Few major airlines fly to Laos. One of the best ways to get there is to go on Cathay Pacific to Hanoi or Ho Chi Minh City and then connect with Vietnam Airlines.
Where to stay: Try the Settha Palace, a restored colonial hotel reopened in 2000 after being closed for the first 15 years of the country's socialist revolution.
Where to eat: Vientiane features inexpensive but excellent French restaurants, most with expat proprietors who usually look like grizzled graduates of the Foreign Legion or the French national rugby team. Near the Mekong, the rustic Le Côte D'Azur, at 62/63 Fa Ngum Rd, specialises in duck, rabbit and Provence-style seafood. For a surprisingly refined mini-splurge of classic French cuisine, head to Le Siliapa 17/1 Th Sihom Rd.