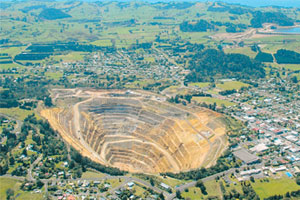 What is opencast mining really all about? Anti-mining protesters might regard a tour of the Martha Mine at Waihi as a form of disaster tourism.
But while debate continues over mining on conservation lands, it's a chance to see for yourself one of the country's biggest opencast mining operations.
Newmont Mining Corporation - a Denver-based company which took over the mine in 2002 - provides thought-provoking two-hour tours of the yawning pit and the stages involved in extracting precious metals from the rock under the slogan "get to the bottom of it".
Mine tours leave from the Waihi Visitor Centre in Seddon St, near the magnificent 1903 Cornish Pumphouse that sits on the skyline as the mining town's new landmark, having been shifted there by Newmont from a risky, unstable spot closer to the pit, at a cost of $4.2 million.
They're refreshingly far from a propaganda exercise, and in fact are run by Vision Waihi Trust, not the company. The guide for our tour, Murray Elliot, a good-humoured, long-time local whose grandfather came from Cornwall to work in the mine, is obviously pro-mining but doesn't duck environmental questions.
He points to some of the many regulations (and significant bonds), which prevent the company from walking away from environmental problems. And he outlines environmental rehabilitation measures.
More than half a million native plants grown in Newmont's own nursery have been planted around the mining operations. The tailings dam has a "non-toxic" lake that's home to a healthy flock of water fowl and the company has its own project to help breed endangered New Zealand dotterel.
All the water from the various processes is laundered by a high-tech water treatment plant before it's discharged into the Ohinemuri River. And Newmont's ultimate plans for the pit itself centre on the creation of a landscaped lake.
We learn also that the mine is the major employer in this town of 4500, providing jobs directly for 350, and indirectly many more who provide Newmont with goods and services.
First stop on the tour is a viewing platform with a hawk's view of a breathtaking hole in the ground, 260m deep and more than 700m wide. The pit is so large that the over-sized dump trucks hauling tonnes of ore look like Tonka toys.
"Incredible - in the middle of town," exclaims an elderly English tourist, a little inaccurately.
A surprise is the lack of high-decibel industrial din or dust clouds from the mine's workings. Diggers and trucks are not permitted to produce more than 55 decibels in daytime - far less than a group of school children at play, our guide notes - and water trucks constantly damp down the dust.
It takes around 20 minutes for one giant $2 million-plus truck to crawl slowly back to the surface with 90 to 100 tonnes of ore for processing. That will yield nine teaspoons of gold and 90 of silver.
At the pit-edge, behind a large safety fence, Elliot tells of Waihi's tough early days as a goldmining town.
In that era of hard, dirty, laborious work, he explains, miners "worked around" the early accident compensation system. A lost digit was worth £400, enough to buy a miner's cottage, and "those desperate enough had their mates cut their thumbs off ..." They called the homes built with the money "thumb houses".
While the spectacular open pit grabs most media attention, Newmont also operates Favona, an underground mine nearby, where 40-odd workers spend 11 hours underground at a time. There are 3000 steps to clamber up from the mine tunnels, so there's no urge to visit. Instead we move on to a 2.7km conveyor belt, used to transport ore to the processing plant's stockpile, where it's fed into a grinding mill and mixed with hardened steel balls, lime and water. It takes days for the balls to crush the ore to a talcum powder consistency.
Extracting the precious metals is a technical process in several stages, involving the use of a weak cyanide solution to dissolve the gold and silver, then carbon granules for the gold and silver to attach to.
At the end of the process, amid tight security, a muddy sludge dried to a powder is smelted at 1100C to produce molten lava. The bars produced, a mix of gold and silver, weigh around 20kg and are worth from $100,000 to $280,000.
The gold bullion leaves the site under top-secret conditions, says Murray - "I've never seen it" - to an specialised industrial mint in Perth where the two metals are separated.
A highlight of the tour is the chance to handle an ounce of gold that our guide quips he has been told to "guard with my life" and a small bar of silver.
So this is what it's all about. On the day we were there that ounce of gold was worth nearly $1600.
Is it worth the destruction? There is some reassurance from actually seeing a mining operation for yourself. And our guide quotes Newmont as saying they have no plans for another opencast mine on the Coromandel, so any further work would be underground.
CHECKLIST
Further information: It takes just over two hours to drive from Auckland to Waihi, or just under an hour from Tauranga.
Waihi Gold Mine Tours cost $25, departing from the Waihi Visitor's Centre, 126 Seddon Street.
Phone: (07) 863 9015 or visit waihi.org.nz.
Grant Dyson visited Martha Mine courtesy of Waihi Gold Mine Tours.