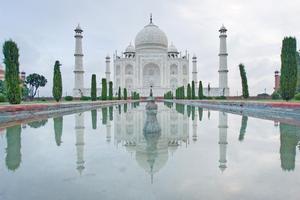 Liverpool lass Davina Hassell is an unlikely link to the opulence of India's Mughal rulers who created such magnificent monuments as the Taj Mahal, the Agra Fort and the abandoned city of Fatehpur Sikri.
She started her working life as a beautician working with footballers' wives, graduating to cruise liners, then salons and spas in Dubai and Doha.
Now she works in Agra running the largest luxury spa in India - 9200sq m of pools, gardens and treatment rooms - at The Mughal hotel not far from the Taj.
She greets clients in a peach Punjabi suit and that unmistakeable accent to explain not so much the treatments but "the journey" that awaits them.
It's a journey that had its beginnings, in a way, with the Emperor Akbar, one of Agra's Great Mughals, who ruled large parts of India from 1526, when Henry VIII was on the throne in England, to the early 1800s when the British captured Delhi and Agra.
The spa at the luxury hotel, named after the Mughals, has been refurbished with a pomegranate theme, it being an opulent fruit introduced to the area by Akbar, flourishing despite water shortages.
With glistening watery, cherry-red seeds, the pomegranate is everywhere, at the hotel breakfast buffet, at fruit stalls in the streets, in the welcome drink to your hotel (a mix of pomegranate, banana, pineapple, papaya and lime juice) or, if you prefer, smeared all over your body.
This treatment fit for a Mughal and his companion is to be had in the King and Queen room, what Hassell calls "a total journey of mind, body and soul" with double bath, double bed and double tables so customers "can have some alone time".
Hassell moved to Agra from Mumbai about a year ago and it is not hard to detect that the adjustment has been big.
"In Mumbai I lived in my own apartment and that was great," she said. "Everybody on that road knew me. All the Indian shopkeepers, security guards would wave, all the local dogs would follow me, the local kids, begging.
"Agra is totally different. It is truly India. Mumbai is a metro, Mumbai is a city; whereas Agra is a little bit in the outback, we are a little bit isolated."
Coming from Delhi and Jaipur, as we did, Agra does have a more rustic feel to it. Cows and water buffalo are more prevalent, and there are plenty of dogs that seems to have a lazy life, too.
Hassell doesn't know Agra well enough to offer any special recommendations apart from the musical show about the royal love story behind the Taj Mahal - Mohabbat the Taj: the Saga of Love, which I had already seen at the Kalakriti Cultural and Convention Centre.
With seats priced between $7 and $22, the 80-minute show begins with an apology of sorts, in case any offence is taken: "This play is totally none to hurt religion."
It is a simple drama with lavish costumes that brings to life the love of the meltingly handsome Mughal Emperor Shajahan for his beautiful and kind wife Mumtaz Mahal who died giving birth to their 14th child.
Theatre-goers are given headsets to follow the narrative in their own language . "You are the purpose of my life," he says. She responds "This abundant love will make me go crazy." It looks soppier on the page than it is and is really worth seeing if you like shows.
The venue, the Kalakriti, is where many a tourist is taken after a visit to the Taj. It is one of the government-approved arts and craft outlets in Agra where you can see artisans at work, making inlaid marble products including with paua from New Zealand.
The glue that sticks the paua and semi-precious stones to the marble is made from a jealously guarded formula known only to 2700 people, we are told. The Taj Mahal itself is built of red brick with a white marble veneer so its real bones are just like the red-stoned Agra Fort where the royal couple lived not quite so happily ever after.
One of the best preserved parts of the fort are the chambers that belonged to them. They look across to the Taj site that would later become Mahal's memorial.
Another part of the fort being restored is the large royal bathing area where Barun, our guide, insists there would have been no mixed gender bathing in those days.
Barun first met us at Fatehpur Sikri, a magnificent fort-cum-palace about 35km from Agra on the way from Jaipur. It was built by Shahjahan's grandfather, Akbar, in 1569 in honour of a holy man there, whose blessings apparently helped him produce a son and heir.
The Royal Treasurer of the day was also the Royal Astrologer. And Ludo was played on a giant board in an inner courtyard where there was only one rule, says Barun: "Every time the Emperor is the winner. If you try to win the game against the Emperor, you do not love your life."
Aspects of the private lives of the Mughals have been lost to time, but not some of the formulas used to enhance their sex lives. R. Nath, in the book Private Life of the Mughals of India, sets out some of the concoctions used to optimise pleasure, his recipes suggesting that pomegranate must have some remarkably magic qualities.
Back at the hotel after a hard day's sightseeing would seem the perfect time to "take a journey" with a pomegranate.
The spa caters for all styles of massage - Swedish, Thai, Indian, Ayurvedic, even a Turkish bath - and most pockets, from $500 for the three-hour Taj Mahal Romance to $83 for the 40-minute Pomegranate Sugar Scrub. Somehow men get away with paying a relative pittance, just $11, for anything to do with styling, trimming or dying their beards.
Hassell gives away the recipe of the pomegranate scrub: brown sugar, orange peel and lime all mixed together with a pomegranate mist - distilled water with pomegranate juice - that all turns into a paste. After the massage and a shower, the client is finished off with a pomegranate moisturising cream.
Unfortunately, because I spent too long being driven round the town in a tuk-tuk for last-minute shopping, I don't have time for anything other than rolling up my trouser legs for a truncated Indian foot massage - or what the spa calls "a foot journey".
But what does it matter? It feels like bliss in any dialect.
Free to fabricate the medieval masters
There is no copyright on old carpet. That is why I have a memento of medieval India on my living room floor plus a dash of modern New York.
It is a copy of a carpet which, according to Agra carpet salesman Yogi Sharma, once lay next to the crypt of the Empress Mumtaz, in whose memory the Taj Mahal was built.
Sharma once lived in Ashburton - immediate connection with Kiwi customer - and the names Methven and Fairlie slipped off his tongue.
The firm he worked for had decided to replicate the special carpet as a special project, he said, with only 21 being made. Two had been sold already and seven were ready for purchase.
The original, he added, was now hanging in the Museum of Metropolitan Art in New York, a claim which turned out to be verifiably true - I saw it on the MOMA website - making the rest of his pitch more believable.
Regardless, I was sold on the 4m x 6m carpet, which I bought for about $650, getting a certificate of authenticity stating it was "fabricated by hand in the cottages, which are Units of Cottage Industry as defined in the agreement between European Economic community and the republic of India Trade in Textile products".
Actually there are no factories in Agra, Sharma explained, because the Government bans mass-produced factories in a bid to keep alive the skills of local cottage industries. Most are made by women at home - there are apparently 9320 looms in Agra - who take about four months to make a 5m x 7m carpet. "Carpets are like pixels in a camera. The more number of knots, the better the quality."
In the basement of this showroom the cottage industry is humming, literally. There are a couple of demonstration workers, men, who are singing as they work the loom.
Not necessarily in happiness. It's called the Singing of the Colours and it has a practical purpose. One works from one end of the loom, and one from the other, and they sing the moves they are making to keep the design symmetrical.
In another room a skilled craftsman is restoring a 94-year-old carpet that is about to be sent to Christie's in London for auction where Sharma hopes it will fetch maybe 40,000 ($89,000). And a handful of men are gathered in a separate room working on drawing boards for original designs ... perhaps to be replicated in a century or two.
CHECKLIST
Getting there: Cathay Pacific has same-day connections from Auckland, via Hong Kong, to Delhi, Mumbai, Chennai and Bangalore. For fares and bookings.
Getting around: Adventure World organises individualised tours in India. The six-day Golden Triangle tour covering Delhi, Agra and Jaipur - with your own driver - costs from $952 per person, twin-share low season. For more details phone 0800 899 111.
Where to stay: For further information on The Mughal hotel go to luxurycollection.com.
Reading: A visit to English language bookshop, the Modern Book Depot, that has been operating in Agra since 1946, is highly recommended. It's in a shopping area, the Sadar Bazar, but despite the locality don't try to bargain for books.
Recommended reading on India: India After Gandhi by Ramachandra Guha; The Last Mughal by William Dalrymple; Private Life of the Mughals of India by R Nath; Jinnah, India-Partition-Independence by former foreign minister Jaswant Singh, who was expelled from the BJP party in 2009 for his complimentary biography of Pakistan's first Prime Minister; I by Sam Miller; and The Case of the Missing Servant, a crime thriller by Tarquin Hall.
Further information: See incredibleindia.org.
Audrey Young visited India as a guest of Cathay Pacific and Adventure World.