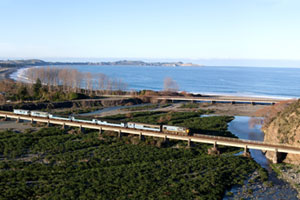 As the train burst out of the darkness of a tunnel on to the raging beauty of the Kaikoura coast I spied a fur seal perched like a statue high on a rock above the raging sea.
"Look, there's a seal," I said nudging my wife, and then we saw another, and another, and another.
In fact it quickly became apparent that the whole of that stretch of coast is lined not just with pounding waves, great clusters of bull kelp, bleached white driftwood and stony beaches but also with hundreds of seals. We quickly gave up any pretence of reading our books and watched the passing parade outside.
The first part of our journey from Picton on the TranzCoastal had been intermittently interesting with its mix of denuded hills, valleys glowing with yellow broom, endless acres of grapes and the odd paddock of sheep or cattle.
On one hillside someone had created a giant picture of a leaping frog, a Kiwi version of the Stone Age Long Man of Wilmington, by the look of it made of white stones.
Why? Is it the symbol of some ancient god... or a new winery?
The salt works at Lake Grassmere, with its great piles of salt and those evaporating white-rimmed ponds in blue, pink (due, apparently, to some algae) and grey, is a remarkable sight.
Lake Elterwater was also interesting, not only for its pretty scenery and teeming wildlife, but also because a few years ago following a period of dry weather it disappeared. Now, thanks to a few years of higher rainfall it has re-appeared better than ever.
And I was intrigued by the presence of towns named after prime ministers - Seddon, commemorating King Dick Seddon, and Ward, after Sir Joseph Ward - and couldn't help thinking, if it was good enough for those old scoundrels why don't we also have towns called Lange and Muldoon, Fraser and Holland?
But it's not for nothing this route is called the TranzCoastal because the obvious highlight is the magnificent stretch that runs along he coastal strip between the mountains and the sea.
Unfortunately, the day we travelled the clouds were concealing the snow-capped majesty of the Seaward Kaikoura Range on the one side. But the coastline on the other side was worth the price of admission on its own and the stormy conditions seemed entirely appropriate for such a rugged part of the country.
The track runs along the shoreline for many kilometres; apart from making regular dives into tunnels through headlands, giving us views of a endless series of magnificent bays.
These are wild places with pounding surf sending a thick white foam up on to the dark stony beaches, piles of driftwood and kelp, patches of coastal scrub and sometimes a few weatherbeaten cattle grazing the patches of grass.
As well as seals - once harvested for their fur almost to the point of extinction but now making a powerful comeback - this coast is also famous for its crayfish and there were plenty of indications that they are still present too.
At Waipoua Bay, for instance, a mountain of cray pots rose alongside the track; nearby a chunky crayboat was parked on a trailer hooked up to a bulldozer and a little further along a sign advertised fresh crayfish.
At Rakautara a few mad surfers were riding the raging waves while a warning sign asked motorists to watch out for seals. The TranzCoastal stopped alongside a layby on the coast road, the train manager explaining that it was a convenient spot for a road-rail interchange of crew. But I noticed that it was also very close to Nin's Bin where crayfish was for sale.
Geoffrey Churchman's booklet On the TranzCoastal Route, which I had brought along to read, had a photo of this very spot with the comment, "Rakautara still sees trains stop occasionally as their engine drivers buy crayfish..." Hmm.
Unsurprisingly this coast is focused on kai moana. The next settlement we went through was Mangamaunu which, according to Churchman, refers to the bait used for catching fish. Then followed Hapuku, the South Island spelling of the name for the groper.
We were actually going to stay here, at the fabulous Hapuku Lodge, but the train doesn't stop at the tiny station, though I was told that a friendly word with the engine driver has been known to result in the train slowing enough for passengers to jump out.
Forgoing that option we carried on to Kaikoura - whose name means a place to eat crayfish - and where, sure enough, there are lots of restaurants offering them, including one which emphasises the point with a statue of a giant red cooked crustacean outside.
A car took us back to Hapuku and the lodge, where we were staying in one of their amazing tree houses, perched high up in a grove of kanuka trees, with all home comforts and stunning views of the snow-capped mountains which were just emerging from behind the clouds.
But the highlight, for me, came at dinner that night where the speciality main was "oven roasted whole local crayfish, roasted potato and glazed carrots." How could I resist? It was superb, the crayfish served with a wine and butter sauce which perfectly complemented the taste, as did a glass of excellent Gibson Bay pinot gris from just down the coast.
The meal was so lip-smackingly perfect that I briefly felt guilty about my gluttony. But, as the maitre de said, "What else would you do in Kaikoura but eat crayfish?"
Next week: Spotting whales, remembering Charles Upham, VC and bar, and on to Christchurch.