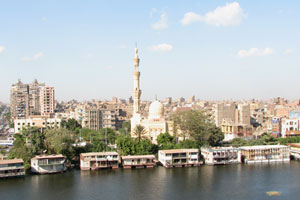 Air travel can be a discombobulating business. One day, shortly after being one of the few unveiled women in Libya's Tripoli airport, I found myself in Dubai being ankle-tapped by a young Egyptian woman with big hair, a tight white shirt and a jangling collection of gold jewellery, who was trying to push past me to get on the plane to Cairo.
When I turned round to find out who was trying to shave all the skin off my heel she looked my Warehouse blouse and Ezibuy jeans up and down and said "I am in First Class, please move".
I waved my Silver Emirates card and pointed out the queue was the same for her and riff raff frequent travellers like me.
I never saw her again, probably as much to her relief as mine, but the sense of dislocation continued in Cairo when, just after we left the airport my travelling companion asked our driver to stop at a service station so we could buy water.
After Libya's small convenience stores - stocked, it seemed, mostly with biscuits, chocolate and shampoos - this was a dose of reverse culture shock.
For a minute I thought I was back in Timaru (which was disconcerting enough) as the range of products was just the same - excepting the lack of Mrs Macs pies.
Downtown Egypt was cosmopolitan, clogged with traffic and sitting under a light haze of pollution.
At first glance we could have been almost anywhere in the world. But emerging through the smog were signs that this was the Middle East.
There were minarets shooting skywards every few blocks - some frilled with ornate balconies, others more Ottoman and streamlined.
As midday prayer time approached, the azan rang out from each mosque, cranked up to a sufficient volume to overpower the cacophony of car horns.
Then there was the police/security presence. Uniformed men stood outside government ministries and near the major hotels behind wheeled bullet-proof screens.
Even though it is more than 12 years since 58 tourists and four Egyptians were gunned down near Luxor, the authorities are still not taking any chances with their increasingly crucial tourism industry.
Eventually the gridlock spat our taxi out on the Corniche el Nil. And there it was. One of the world's greatest rivers - the Nile.
Few other rivers can have been so intertwined for so many millennia with a country's culture and history.
In the past I've been disappointed by my first sight of famous rivers - I was stunned to discover, for example, that the Rio Grande, along a stretch of the Texan border with Mexico, had been reduced to a trickle at the bottom of a concrete drain.
But although the Nile was soupy and green and hemmed in by high rises, it still managed to retain an aura of power.
Once pharaohs and their queens floated in gilded barges on its waters which flow nearly 6700km from its source in the heart of Africa north into the Mediterranean.
I was sightseeing with an Arabic-speaking Jordanian who decided that we wouldn't wait until Luxor to take to the waters of the Nile. As twilight approached we walked along the Corniche while he bargained with the touts working for the flotilla of sightseeing craft moored below the promenade.
I imagined a sunset sail in a traditional felucca or maybe a cruise on one of the elegant motorboats decked out with fairy lights. But no. We climbed over a rickety ladder and clambered down a rock-strewn bank before literally walking the plank onto a flat-bottomed boat about 20 metres long.
Coloured lights draped over its canopy were pulsating to the beat of a sound system turned up so loud it was making my teeth vibrate.
In the centre of the boat, three girls, hair scarves covering every wisp of hair (adherence to hijab in Egypt has increased in recent years) were dancing. Hips and boobs were gyrating in all directions - it was made all the more incongruous because the girls were wearing high necked woollen sweaters and long skirts.
I was intrigued, explaining to my friend that at home the girls might go out in a lot less clothing but that dancing this suggestive would be unlikely outside the more seedy of establishments.
"Ah well," he said, "There's a saying ... pleasing God and pleasing men at the same time."
The skipper, who appeared to be about 12, was not casting off until the seats along each side of the boat had filled up. I only hoped this happened before my ear drums burst.
Eventually the touts beside the road had inveigled sufficient other passengers (who, although Egyptian, looked as bewildered as I did by the entertainment) so that we could leave.
Once we'd left the shore the volume was reduced slightly from irreversible damage decibels to merely ear-splitting. Our sound and light show puttered upstream past the Nile Hilton and the Semiramis Intercontinental, Cairo's premier havens for the rich and famous. I couldn't imagine any of their guests bobbing about the Nile on a disco boat with girls of questionable virtue.
Moored in dignified silence nearby were retired Nile cruise boats, now serving out their declining years as floating restaurants. Through their windows we could see tables being set with white linen and flowers for dinner.
On the opposite bank the Cairo Tower rose up, its lattice-like exterior illuminated in pale blue lights.
"Next we go there," said my friend, who was clearly getting into sightseeing stride. I hate heights and try to avoid telecommunication-type towers like the plague but at least it couldn't be as noisy up there.
The tower sits on Zamalek Island in the middle of the Nile and rather than working across the Qasr el-Nil bridge which links it to the east bank, we flagged down a caleche (horse-drawn carriage) and after some cut-throat bargaining we careered off into the still heavy traffic.
After clopping over the very French bridge which is guarded at both ends by a pair of lions, we found the entrance to the Cairo Tower down a dimly lit street in the centre of which was what looked like a massive curtain fig tree. How Cairo's chaotic traffic coped with this in rush hour was anyone's guess.
My companion nearly abandoned the idea of going up the tower when he discovered the cost (nearly NZ$17).
"But I am an Arab!"
His appeal fell on deaf ears. Although there is a non-Arab and Arab price differential at historical sites, this was not the case here.
But when in Rome ... we shot up the 185 metres in frighteningly quick time.
The observation platform was open to the skies and below us a showjumper was being put through its paces in a floodlit arena. The Nile glittered with the reflections of millions of city lights and floodlit minarets pointed the way to heaven.
Weaving their way up and downstream were the disco boats - their starburst neon lights flashing.
Wafting up to us came the thump of the Arabic disco beat.