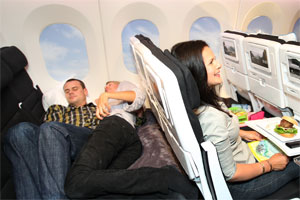 Last week I checked out the future of air travel and found it ... actually quite comfortable.
I had this glimpse of tomorrow, surprisingly enough, in a scruffy warehouse in a rundown part of central Auckland.
On the street frontage, workmen were erecting a banner proclaiming: "TOP SECRET: The future of long-haul flying is being developed right here."
Inside, in a sort of mocked-up Boeing 777-300 cabin, Air New Zealand executives and cabin crew were proudly showing off the new look that they think will revolutionise air travel.
They may well be right. The innovations unveiled last week played a big part in US-based aviation magazine Air Transport World recently naming Air NZ as its Airline of the Year. And Australian-based Flightpaths last week called the cabin makeover "quite possibly the most dramatic since the introduction of the [Boeing] 747 in 1970".
So what have they done to create all the excitement? The most spectacular idea is the economy class Skycouch which has been hailed as transforming cattle class into cuddle class.
But that is just one of a series of innovations from a three-year-long development programme involving industrial designers, Kiwi boatbuilders, and Boeing and international seat manufacturers.
The mocked up cabin actually contains five new kinds of seat as well as an improved entertainment system and a dramatically revamped food and drink service.
For instance, instead of everyone eating when the trolleys come round, passengers will be able to use their touchscreens to order food and drink when they want it. Air NZ is also planning to install proper ovens so food can be cooked fresh instead of just warmed up.
At the demonstration, chief executive Rob Fyfe enthused about "being able to order a medium rare steak in business premier ... whenever you want".
But I liked the look of a plain boiled egg with buttered toast soldiers ... just the thing for breakfast after a good night's rest at 11,000m.
And the changes do provide hope for getting some sleep.
The basic economy class seat has been tweaked to give it thicker upholstery, slightly more leg space (it's now 5cm more than in rival Qantas's A380s), a fractionally wider seat, a better recline angle, a much improved winged headrest with a slip-on pillow that actually stays in place instead off falling into the aisle and a bigger screen.
I gave it a test run, lying back with the headrest folded to keep my head in place, shutting my eyes and trying to decide how easy it would be to get some sleep. Actually, it would have been fairly easy, because I didn't get much rest the night before and, although space is still very tight, the new economy class seat certainly feels more comfortable than the old one.
Then there's the celebrated Skycouch, created by folding up the legrests in a row of three seats to create a flat bed 156cm long and 76cm wide (a standard single bed is 190cm by 90cm).
When I happily flopped down for a test nap my legs protruded into the aisle. However, when I lay on my side and curled up, it was very cosy. Was that me snoring?
But ... the problem is you're generally going to have to share the couch with someone else and there isn't a lot of room. As my wife pointed out, "It wouldn't do for us because you're too hot and I'm too cold." She also fidgets.
On the other hand, for a young couple, or a mother with small children, it would be great.
Ed Sims, Air NZ's international manager, says people who've tried the Skycouch have been "split 50:50. Half of them love it and half don't think it would work for them". That sounds about right.
What it does do is to give us choices we didn't have before.
Premium economy has also been revamped with a brand new Spaceseat, available in two configurations. The Outer Space seats, in pairs by the windows, are angled to provide privacy for people travelling alone. The Inner Space seats, also in pairs, are for people travelling together.
In the past I've been slightly disappointed by the seats in premium economy but, after trying these, I feel they're definitely more comfortable and have extra elbow and leg room.
Finally, there's business premier which has long been superb. Personally, I think the flatbed the airline uses under licence from Virgin Atlantic provides the best sleep in the air. That's been further improved with a softer bed and a thicker duvet.
However, encouraging though these changes are, the most exciting thing I saw in the test hangar was a prototype bunk seat.
This is a block of four facing seats, like on a railway sleeper carriage, which converts into four very nice-looking bunks, two above and two below.
That idea is on hold for now, because of concerns about how it might work in practice, but Sims said "It's definitely something we'll be looking at further in future". I hope so.
Perhaps the best thing about all this creativity is that it is primarily focused on economy class and long-haul flights because, as Fyfe acknowledged, "most of our passengers fly economy class" and "we have a higher proportion of passengers flying long-haul than any other airline".
Most airlines, as he said, put a huge effort into developing the world's best first class. "We think it's more logical for us to develop the world's best economy class."
I'd agree. Not many of us can afford to fly business class so it is nice to have a bit of attention paid to the cheap seats. And I'm not overly bothered about conditions on a 2-3 hour flight. It's when you've got to spend 24 hours in a plane that comfort really matters.
The cost of comfort
Air NZ is reluctant to talk specific fares for the new configuration because tickets won't go on sale until April, flights won't start until December and all long-haul planes won't have the new product until 2012. But based on what the Air NZ website is offering right now, and the indication that a couple wanting to use the Skycouch would have to pay for 2.5 seats, comparative individual fares for Auckland-Los Angeles return will be something like:
Business Premier $6890
Premium Economy $2665
Skycouch economy $2031
Standard economy $1625