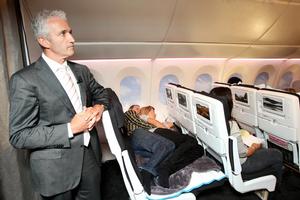 Air New Zealand's latest cabin redesign looks set to transform the claustrophobic economy cabin from cattle class to cuddle class.
The national carrier yesterday unveiled the interiors for its new Boeing 777-300 aircraft, which includes the Skycouch, the first economy seating that allows the traveller to lie flat, or a couple to curl up.
Each plane will have 22 sets of Skycouch seats, which will be priced on passengers buying two economy tickets and paying half-price for a third.
A cuddle class round trip for two to London is projected to cost around $6285, about $400 dearer than two economy class seats.
The new economy seats come with small added comforts, such as a pillow that fits over the winged head rest, a port for your iPod, and a larger entertainment monitor.
A hammock foot net at the base of the seat in front is on the way, project manager Kerry Reeves told the Herald.
But the biggie is the lie-flat seating.
The arm rests between the three seats of the Skycouch fully retract and flaps come up to meet the seats in front to create a platform.
Tickets for December flights between Auckland and Los Angeles go on sale in April.
The new seats will be available on all Air New Zealand's long haul services from mid-2012.
Former top cyclist and new mum Sarah Ulmer reckoned the new lie-flat seating was "just genius".
Air New Zealand's other celebrity seat tester, All Black Mils Muliaina, who has just flown economy from Hawaii with his baby son lying on his stomach, said he liked the privacy features of the redesign and the potential for avoiding the "angry eyes" of child-free fellow passengers.
Premium economy will get the Spaceseat, which will either incline inwards or angle outwards from each other, catering for couples who want to snuggle and dine at a common table or for individual passengers who'd rather not talk to their neighbour.
The seats have hard-back shells, meaning the base slides forward when you lie back so that the seat doesn't recline into the person behind.
The seats in front have cubbyholes to stretch your legs into, and premium economy also comes with a small beanbag footrest called "Otto".
Air New Zealand general manager international Ed Sims said he and the project team had "lived and breathed" the redesign project for three years.
Air Transport World magazine senior editor Geoff Thomas said that the lie-flat seating was an innovation likely to be copied by other carriers.
THE LONG HAUL
Return flights for two adults from Auckland to Los Angeles:
Economy: $4244 (tax added)
Cuddle Class: *$5250
Premium Economy:$6844
Business Class: $18,644
Return flights for two adults from Auckland to London:
Economy: $5830.20 (tax added)
Cuddle Class: *$6250
Premium Economy: $10,028.40
Business Class: $21,493.80
*House of Travel estimate for November 2010