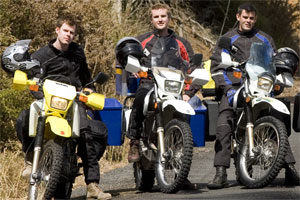 It's an easy mistake to make. Anyone who has learnt to ride a motorbike will tell you, hill starts are not an easy business. You just need to twist the accelerator a little too hard and ... Vroom. You're up on one wheel.
Fortunately, when Rob Gray learned this lesson, he was just out of sight of the Suzuki dealership where, just moments before, he had picked up his shiny new, sponsored motorbike.
Still, the dealership staff must have suspected something was amiss when Gray and his friends, also collecting their new bikes, couldn't work out how to start them.
The truth is, it was only Gray's second time on a motorcycle. Yet somehow he and his four friends - Rob Climo, Tom Anselmi, Mike Jacobson and Misha Kravcenko - had convinced Suzuki to give them five gleaming motorbikes to travel the breadth of Europe, from Vladivostok to London, on the adventure of a lifetime.
The 25,000km journey, which they've named The 51st Traverse, will see them set off from the eastern seaboard of Russia in May and travel through some of the most remote and dangerous countries in the world, including Siberia, Mongolia, Kazakhstan, Kyrgyztan, Uzbekistan, Turkmenistan, Azerbaijan and Georgia.
With six months set aside for the journey, the boys hope to raise $25,000 - $1 per kilometre travelled - for the New Zealand-run Russian charity, Living Hope.
Their chosen route is a challenging one, even for hardened motorcyclists. So just what makes these guys, all aged 24-26, think they are going to crack it?
"However you decide to do it, you have to train," says Climo.
"We talked about cycling up the eastern coast of Australia. To do that, I'd have to train to become a cyclist. With a motorbike, it's no different. We had to train, we had to learn how to use them, how to ride them."
Climo and Gray began planning the trip two years ago, after they returned from an exchange programme in Copenhagen.
The pair had used their European base to visit a number of unorthodox tourist destinations, including Kosovo and Bosnia. As they returned to Auckland to start legal careers at two leading law firms, they began dreaming up a new adventure.
"It was basically to have something else on the radar that we could look forward to," says Climo.
After musing the thought of cycling across America or Australia, the pair struck upon the idea of motorbikes.
"I just wanted to go to the most different and interesting places that we could," says Gray.
"I figured you can do western Europe when you're 60 and the kids have left home. You probably wouldn't want to be dragging your wife around Kosovo when you're 60. Or the back-blocks of Siberia."
With the added engine power of a motorcycle, the boys realised they could push their travel horizons a lot further afield.
"With motorbikes, we could pull out the full world map and say, 'okay, we want to go from here to here'. Also, as opposed to driving, you're out experiencing everything. It's cold, you're wet and freezing. You get the smells and all the sensations," says Gray.
After discussing the idea with their flatmates, the pair were soon joined in their planning by Jacobson and Kravcenko.
"I don't think there was any sort of formal invite, actually," laughs Gray. "All of a sudden, they were talking about the trip as well and they were coming."
A year later, another friend, Anselmi, wanted to join the trip. But the group took a long time to agree to another member.
"We just had to weigh up the dynamics mostly. You want to get in touch with local people and the more people you have, the harder it is to do that," says Gray.
"A fifth person is another person you have to look after on the road. It's another tent. But he's a great guy, a top bloke."
Anselmi also had a vital skill-set the team was lacking. He is a mechanic.
With their fifth member in place and the support of Suzuki, the boys went public with their plan last November. Until then, they had kept the trip on the down-low, in case it didn't go ahead.
But now, there's no turning back.
"It [the trip] has got its own critical mass now," says Climo.
"There's no way of stopping it, it's got to go ahead. The plan might change along the way. You can do your best to follow a line across the map but you just need to be flexible and work with the windows of opportunity that open as you go."
Flexibility will certainly be key to the trip's success. Despite their fastidious planning, the boys are up against a number of unknowns. Part of their journey relies on a road across Russia which no one has confirmed exists. There are conflicting reports as to whether the road is complete yet. The boys hope it is, but if not, they will simply find another route.
More worrying for the team is whether they will get visas to enter Russia, where their bikes should (hopefully) be waiting for them in Vladivostok. The bikes will have to be shipped approximately two months before the boys arrive in Russia and before they have secured their entry visas.
"That's my biggest fear," laughs Climo.
Gray adds: "It's not a nice thought, sending your bikes to a remote Russian port when you don't have permission to enter the country. There doesn't seem to be any way around it though."
The boys are waiting to hear back from the Russian embassy in Mongolia to see if they'll grant them an exception. If they do, it will be one less challenge to deal with. But there will be plenty more to come, as their mothers continually tell them.
While most friends, family members and workmates have supported the group's plans, many of them envious of the epic adventure, their mothers have provided a much-needed reality check.
"Mums react as you'd expect mums to react," says Climo.
"They ask all the hard questions. Unfortunately, you don't always have answers for every one of those things, for every single little problem you're going to encounter.
"Anyone bar fiances, girlfriends and mums are really stoked," he laughs.
Which brings us to another interesting twist in the tale. If traversing some of the world's most rugged terrain wasn't challenging enough, the boys are working to a strict deadline. At least, one of them is.
Gray is set to get married in early December, back in New Zealand. That leaves just a two-month window of flexibility for any delays and setbacks they may encounter.
Gray shifts somewhat uncomfortably when this is raised, while Climo laughs and says: "I'm going to hold off on the RSVP. If we are in Tajikistan and it's the day before the wedding, I'll just go, 'hey Rob, I'm not going to your wedding'."
Hopefully, it won't be an issue. The boys have set a realistic target of covering 200km a day. That's just four hours riding a day, travelling at an average of 50kph.
Of course, some parts will take longer than others. River crossings and high altitude mountain climbs could see the team spend up to 12 hours a day on their bikes. But once they hit Turkey, the boys reckon they're home free.
"People have got from Istanbul to London in three days," says Gray.
Their plan is nothing if not ambitious. Anyone who has seen Ewan McGregor and Charley Boorman's documentary series Long Way Round will know just how challenging long distance motorcycle tours can be. And they had bottomless pockets, a support crew and intensive, specialist training.
But it is not an impossible goal. Motorcycling expert Nick Reader of Epic Events provided some off-road training for the boys and thinks they will complete the journey. It may just prove trickier than they expect.
"I think it's towards the pointy end of a challenge for them ... They don't have a background in motorcycling. That struck me big time. That doesn't mean to say they can't or won't do it. They've got a great sense of fun and a sense of adventure.
"The good thing is, they've been putting in the miles in New Zealand on gravel roads, which is what they'll mainly be doing."
Unlike McGregor and Boorman, who travelled on powerful but cumbersome BMW bikes, the boys will be riding smaller, lighter off-road bikes. Which Reader says is a big advantage.
"McGregor's bike would have weighed 240kg and these guys' bikes weigh 150 to 170 ... They've chosen some good bikes. That particular model, I think it's been 20 years since they changed the design. The Suzuki DR650, that's been around forever. They've got very, very reliable bikes and that's a big positive for them.
"I think they'll find it tougher than they think but it is possible. They're no mugs, they're just inexperienced."
Simon Meade of Suzuki New Zealand, who is sponsoring The 51st Traverse, shares Reader's view.
"I'm an on and off-road rider and have been for a long time so I know how difficult it can be and just how tiring it can be. There are some interesting challenges ahead for the boys. It might just take a little bit longer and be a little bit harder than they expect."
The rise in popularity of adventure touring has seen Meade and his team at Suzuki overrun with requests for sponsorship. But Climo and Gray's proposal stood out because of its philanthropic cause.
"We get so many approaches from so many different people, it's hard to weed out the crop. The thing behind us giving assistance in this case is the fact that we're not paying for someone else to have a holiday. We're actually providing an opportunity for them to earn money for a charity."
The charity, Living Hope, is run by New Zealander Rachel Hughes and helps street children in Vladivostok. The money raised by The 51st Traverse will go towards a new 24-hour shelter in the Russian port city, to help renovate the third floor and furnish the dormitories and bathrooms.
"Basically, they're kids that we call social orphans," says Hughes. "They might have parents but they might be alcoholics or drug addicts and just have no interest in looking after their children. In a lot of cases, the children are safer on the street than in their own home environment."
It's a situation Gray has witnessed first-hand, after spending time in a Siberian city with another charity worker.
"That was just mind-blowing," he says. "It's just such a different world. We went into the basements and sewers where they lived and saw these young kids addicted to drugs. A lot of them have Aids and the stuff they are doing is just really, really sad.
"From then on, I felt like I wanted to go back to Siberia so when we did this, we thought it was a great opportunity to support something like [Living Hope]."
To date, the team has raised $1700 of their $25,000 target but they are confident they will meet their goal.
"We think it's high but achievable," says Gray. "If everyone who has joined our Facebook page gave $25, we'd have our entire amount. It's not unrealistic. It's just persuading people to open their wallets."
On top of the $25,000 for Living Hope, the boys are hoping to raise some funds towards the cost of the trip itself, which they estimate to be $20,000 each, or a total of $100,000.
"We're shelling out for everything ourselves," says Gray, who admits they were somewhat surprised when Suzuki agreed to sponsor them. "You've got to try these things. We're still trying for various sponsorship things. We're still looking for an outdoor gear sponsor and video camera support. And a sat phone."
The team have already secured two helmet cameras, which they will use to film the six-month saga and they plan to upload blogs and videos to their website throughout the journey.
The boys are hoping it will make for interesting viewing, particularly as they come to grips with the local customs along the way. Limited to what they can fit in their panniers, they have no choice but to travel light and fit in with the local way of life en route.
"We will be eating local food as much as we can. We'll have to," says Gray. "We'll have two or three days supplies for tricky situations but people live the whole way along our route and people eat the whole way along our route."
Climo adds: "The real key will just be to slot in with whatever the local people are eating. If that means eyeballs, then so be it."
He's also prepared to cull any unnecessary items along the way.
"You have your list then you cull it by half, then you cull it by half again. It's a torturous process to go through because you really think you need this vital stuff but in a lot of cases, you really don't. It will just turn out to be surplus.
"The telling point for if you've got too much gear will be the first river crossing. When you're pushing your bike through mud on the other side of the river, you'll realise you just don't need that extra piece of weight that you're trying to push and it will be jettisoned pretty quickly."
As their departure date grows closer, Climo and Gray have experienced every emotion on the spectrum. From sleepless nights stressing about what still needs to be done, to utter elation at the adventure ahead, every day sees a new feeling creep into the mix.
Despite their enthusiasm and excitement, the boys also know it will not be an easy road.
"We're aware that it's not all going to be fun," says Gray emphatically. "To be honest, I think we're going to get to day three or four and it will be raining, there will be mosquitoes and we'll be tired, cold and hungry and we'll be thinking, 'I just want to survive the next six months'.
"But once we're over there, we'll have a return ticket from London and we'll have bikes with us. There'll be no other way of getting home than to ride on. So we'll be riding. There won't be any question."
And the boys are confident that their planning and preparation will see them complete the potentially perilous journey.
"I don't think it's too dangerous," says Climo. "We've done the best that we can do to make it safe. We've surrounded ourselves with a strong team. It is going to be hard work but we all bring a different set of skills to the table.
"Whenever you attempt a hard project like this, there's so many reasons why it shouldn't be done and can't be done. But you just have to overcome each on of those little obstacles."
Says Gray: "I don't think we're naive. We're well aware of all the potential hazards but we know what they are, which is a good start. We've done as much research as we can into what the dangers are - from tics that can bite you and paralyse you, to bandits and climate and things. There are a lot of risks. You've just got to prepare as best you can and know how to work well as a team. It's also nice knowing we have really comprehensive medical insurance behind us."
* The team have set up two channels of fundraising on their website, one to raise money for the trip itself and one for Living Hope. All money donated to Living Hope will go directly to the charity. Visit 51sttraverse.co.nz